2011 Fantasy Football: Week 5 Start 'Em
October 5, 2011
Wesley Hitt/Getty Images
These are a few guys you'll succeed with in Week 5. I'm not in the business of naming the obvious, so I won't be listing guys like Aaron Rodgers, Adrian Peterson, Roddy White—players you should be starting on a weekly basis. Good luck!
Start 'Em QB
Matthew Stafford vs. CHI—The Bears are in the bottom five in pass defense through the first four weeks of the season. They'll probably be in the bottom three when Stafford, Megatron and Co. are done with them.
Cam Newton vs. NO—Who's been more impressive, or should I say surprising, than Cam Newton this season? It's getting to a point where you should probably have him starting weekly, unless you have one of the big name guys. 
Josh Freeman @ SF—Despite losing, Michael Vick played pretty well against the 49ers, who have one of the worst pass defenses in the league so far. Freeman can do it with his arm and legs, so expect a big week from him against San Fran. 
Start 'Em RB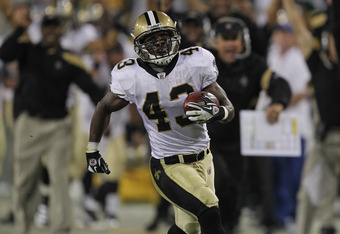 Jonathan Daniel/Getty Images
Darren Sproles @ CAR—Sproles has probably been the biggest fantasy surprise at running back this season. He's kind of like a smaller, more elusive Jamaal Charles. The Panthers have the second-worst rush defense in the NFL.
Jahvid Best vs. CHI—The Bears defense hasn't been very good against the run or pass in 2011. In case you haven't noticed, running and receiving are what Best does best.
Joseph Addai vs. KC—This is more of a gut feeling than anything, and the fact that the Chiefs are 26th in the NFL against the run and the Colts aren't going to rely on Curtis Painter, or Collins, all day.
Start 'Em WR
Steve Smith (CAR) vs. NO—Talk about renewing your career. Cam Newton has revitalized Steve Smith and propelled him back into fantasy glory. By the way, the Saints have allowed eight receiving touchdowns through the first four weeks. 
DeSean Jackson @ BUF—Jackson has been somewhat of a disappointment this season, but he put up big numbers against San Francisco last week and the Bills have also allowed eight receiving touchdowns so far this season. Keep D-Jack in your lineup.
Jordy Nelson @ ATL—Nelson is developing more and more of a chemistry with quarterback Aaron Rodgers. He tallied five catches for 91 yards and a score against Denver last week and I wouldn't be surprised if he put up similar numbers against the Falcons in Week 5.
Start 'Em TE
Jimmy Graham @ CAR—Graham had a career outing against the Jaguars last week: 10 catches, 132 yards and a touchdown. He's becoming one of, if not, Brees' favorite targets. 
Owen Daniels vs. OAK- With Andre Johnson out with an injury, Owen Daniels is now Matt Schaub's go-to-guy. With Johnson out last week, Daniels recorded five catches for 69 yards and a touchdown.
Jermaine Gresham @ JAC- See Graham, Jimmy.
Start 'Em D/ST
Bengals @ JAC—Believe it or not, but Cincinnati boasts the best overall defense going into Week 5. With Jacksonville rookie quarterback Blaine Gabbert still getting used to the NFL, look for the Bengals to continue that whole best defense thing in Week 5.
Lions vs. CHI—Detroit's defense wasn't too pretty in the first half against the Cowboys, but they sure made up for it in the second half. We all know Jay Cutler can't stand in the pocket for more than two seconds. He'll be harassed all day against the Lions tenacious D.