San Francisco 49ers: Weapons on Display as 49ers Make Case for Playoffs
October 3, 2011
Rich Schultz/Getty Images
San Francisco's victory over the Philadelphia Eagles, after being down 20-3 in the first half, solidified the legitimacy of the 49ers as the team to beat in the NFC West, and a potentially dangerous playoff contender.
Yesterday's come from behind win, however, should be observed not as an impressive individual achievement, though it definitely merits applause for Alex Smith, but rather as an exclamation mark of improvement and a commitment to each other that is sure to propel them to the top of the NFC West come December.
While the first half prominently highlighted the Houdiniesque tendencies of Michael Vick (I'm convinced his uniform is slathered with butter), and the lightning speed of Desean Jackson, the second half emphasized a new attitude and resolve throughout the entire 49ers' organization. A resolve that extends from the players who kept their composure to the coaches who made serious adjustments.
The second half exemplified everything 49ers' fans have been clamoring for, as the talent, intelligence and overall 49ers' culture came together in a valiant effort to overcome a big deficit.
Frank Gore's power running paved the way when short yardage was needed.  Gore even managed to bust through the collapsing wall of green a couple of times. In doing so, he reminded us all that he's still capable of being the heart of this team. From Matt Maiocco of CSNBayArea.com:
"I saw something in Frank that I've seen from the first time I met him and that is a guy with a huge heart and just a warrior out there. I know what that word means, warrior, in the context of football. But I think it applies to certain guys and Frank is one of them." - Jim Harbaugh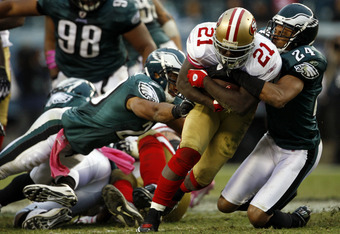 Rich Schultz/Getty Images
Rookie Kendall Hunter's contributions to San Francisco's success should not be overlooked. Combined with Frank Gore's downhill running style, Hunter provides a delectable speedier and more mobile option.  Together they combined for 259 total yards of offensive output.  If they can continue this type of production, the passing game should reap the benefit of play-action.
Alex Smith resurrected himself in the second half, not only managing to keep possession of the ball, but unleashing a few passes down field which we had yet to see this season.  Finishing with 291 yards, two touchdowns and no interceptions has to feel good for a guy who's been unfairly and repeatedly used as the scapegoat.  That's not say that he's blameless, but yesterday's improvement in protection during the second half is a good indicator of what can be accomplished the rest of the season if you give him more time in the pocket.
Vernon Davis, Michael Crabtree and Josh Morgan are solid receiving options that proved highly important if the Niners hope to continue moving the ball.  Not only are these three individuals extremely talented and physically gifted, they enhance the variety of looks for any defense trying to contain the 49ers.  If Alex Smith can keep up the respectable numbers he's put up through four games, and with the return of Braylon Edwards, you're looking at a 49ers' team with many weapons.
Complimenting an offensive front with a defensive front seven that won't quit, again, highlights a new team mentality and increases the chances of success.  Despite being torn apart by an elusive Michael Vick, who hardly anyone can contain once he takes off running, the 49ers' defensive line and linebackers showed why they get respect around the league.  
The defense does have some concerns in the backfield, however.  The defensive backs must make improvements and continue to learn in order to account for whatever gaps may exist physically between themselves and the receivers they must cover.
Jim Harbaugh has this team believing in themselves and producing wins.  Thus far, the rookie head coach has done more than show he can bring his team back from 20.  He's instilled confidence in his players, something that's imperative to the success of any athlete regardless of talent.
Furthermore, a weakening and inconsistent set of rivals within the NFC West greatly improves the probability of this team to make the playoffs.  While this may be the knock on the 49ers throughout the rest of the league, it must be pointed out that three non-division teams have already suffered at the hands of the scarlet red and gold—only two have lost, but the third one definitely sweated it out.
Improvements are still needed, and no game is to be overlooked, but for the time being, the 49ers have rejuvenated hope within themselves and instilled morale into a fan base that very badly needed something to look forward to besides next year's draft.