Jacksonville Jaguars: Why Their 2011 NFL Season Was over Before It Started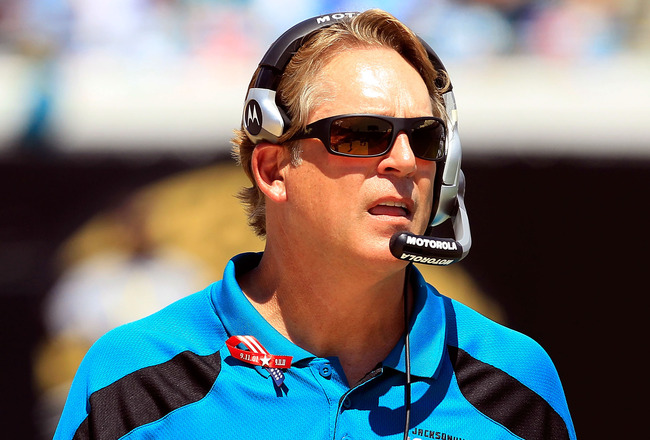 Sam Greenwood/Getty Images
For the Jacksonville Jaguars, "dreary" doesn't begin to describe the first quarter of their NFL season.
After a less-than-convincing win to open the season against the Tennessee Titans, the Jaguars have not caught a break since. They've dropped three straight, including two drubbings from the New York Jets and New Orleans Saints.
This is discouraging for all Jaguars fans, but it may not come as a surprise to them after a bizarre offseason. It was difficult to understand general manager Gene Smith's philosophy after trading-up to nab a highly-touted rookie quarterback and also spend $99.5 million on defensive free agents.
Was Smith stockpiling for the future? Or was he trying to win right now?
That mixed message can leave a team in a personnel limbo, which appears to be the case in Jacksonville. Here are a few offseason head-scratchers that are surfacing quickly in wake of a dismal 1-3 start.
Cutting David Garrard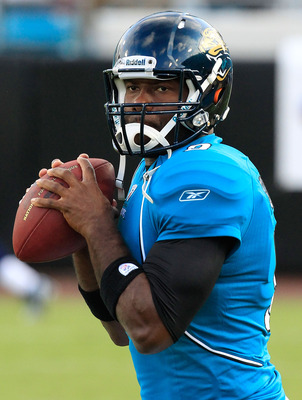 Sam Greenwood/Getty Images
The confusion that surrounded the football world after David Garrard was cut is well-documented, but it won't hurt adding one more article to the file.
It's fine that Jack Del Rio and Gene Smith don't think Garrard is an elite quarterback. There is plenty of evidence that indicates this. What isn't fine is the disorganized manner they conducted this roster move in.
Garrard was cut just days before the Jaguars' opener, therefore wasting many preseason snaps that could have gone to rookie Blaine Gabbert or opening-day starter Luke McCown. While we can speculate the true reasons for Garrard's sudden departure, what can't be ignored is the inevitable result of this move.
The offense will need time to adjust, regardless of whether this transaction will pay off in the long term. Garrard has been at the helm for over half of a decade, and there will be a share of growing pains over the course of the season.
Unfortunately for the Jaguars, it's not looking like that adjustment will be a quick one.
Offensive Line Problems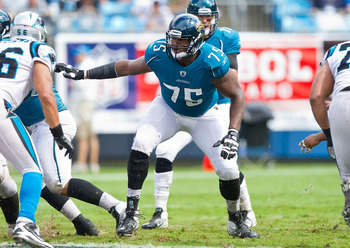 Brian A. Westerholt/Getty Images
Maurice Jones-Drew's stellar seasons have masked many problems with the Jacksonville Jaguars offense. Despite giving their star sufficient lanes to make plays in, the offensive line leaves much to be desired in pass-protection. The Jaguars did very little to address this in the offseason.
Uche Nwanieri, though promising, allowed five sacks in 2011, which is abnormally high for a guard to surrender. Eugene Monroe allowed five sacks as well in 2010, which was piled atop nine costly penalties.
Against the New Orleans Saints, we saw what happens to the Jaguars' offense when faced with heavy pressure.
Though rookie quarterback Blaine Gabbert completed 12 passes for 165 yards in the first half, his production dwindled when the Saints applied more blitzes in the second half. Gabbert completed just four passes after halftime, none of which came in the third quarter.
Not all of that blame can be placed on the offensive line, but in a game where Gabbert is better protected, the Jaguars would have had a real shot at an upset.
Limited Time for a New Defense to Gel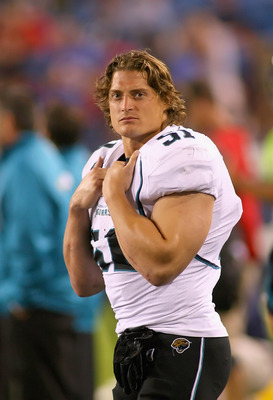 Rick Stewart/Getty Images
Of the teams having the most success in the early goings of the NFL season, the ones with returning players and schemes have been doing the best.
Jacksonville's defense has shown promise despite having many new players join them this summer. They rank 12th in the league in total defense despite having a stagnant offense that keeps them on the field often.
Generating a pass-rush continues to be a problem, though. With only six sacks, the Jaguars rank 23rd in the league and have not been able to cause enough turnovers to make a difference. A negative two turnover differential will not carry a team that has nearly no margin for error.
Jack Del Rio Is Still the Head Coach
Jeff Zelevansky/Getty Images
Jack Del Rio has not led the Jaguars to a postseason appearance since 2007, and it's clear that whatever worked then will not work now.
Since their postseason berth, Del Rio has compiled a 21-31 record, which could go further south with games against Houston, Pittsburgh and Baltimore on the horizon.
The offense is dead last in the NFL, averaging less than 10 points per game, and there hasn't been any indication that that statistic will improve.
The Jaguars have a long list of tangible shortcomings, but it's the intangibles that are clearly lacking as well. This is a team that is playing uninspired football, and unless Jack Del Rio can turn that around in his ninth season, expect him to be an ex-NFL coach very soon.
Keep Reading

Jacksonville Jaguars: Like this team?