Chelsea FC: The New Team to Beat In Premier League Title Race
October 3, 2011
Michael Regan/Getty Images
After finally adapting to Andre Villas-Boas' philosophy, Chelsea could be emerging as front-runners in the Premier League title race, ahead of both Manchester United and Manchester City.
The Blues' 5-1 demolition of Bolton Wanderers at the Reebok Stadium marked a turning point in their campaign, the moment where they finally seemed to understand what the new manager's football ideas are all about.
As hat-trick hero Frank Lampard said, "We are trying to show what we are about in training, and when a new manager comes in, sometimes it can take time for his effect on the training ground to carry on over onto the pitch."
"I think there have been a lot of signs of our developing understanding in recent games, but Bolton was the day where we put it together as the finished article."
And it has taken a while for Chelsea to come to terms with a style totally different to that of Carlo Ancelotti.
They were held to a goalless draw at Stoke City, struggled to a 2-1 home win over West Brom and wobbled in their next two games as they beat Norwich City 3-1 and Sunderland 2-1.
It wasn't the worst-ever start to a season by any means, and it could've been a lot worse—they could have been Arsenal.
However, in those opening four games they scored seven goals, compared to 18 scored by Manchester United and 15 by Manchester City—it was clear they already had a lot of catching up to do.
But as the games progressed, the Blues started to find their rhythm, and despite their 3-1 defeat at Old Trafford—a game in which Chelsea had more shots on target, more shots off target, and more corners won—looked like a team waiting to come alive.
Against Swansea City they looked in top form, against Valencia CF in the UEFA Champions League they looked even better (and were very unlucky that Salomon Kalou decided to throw away three points for the team), and the pinnacle so far came in the last match against Bolton.
Finally, they understand almost everything Andre Villas-Boas does with them at Cobham.
The players are getting to grips with AVB's way of football thinking, but what exactly is the 33-year-old manager's philosophy?
Back in June when the Portuguese tactician signed with Chelsea, he said he wanted his players to "play with freedom."
He told the media: "I'm no dictator, I encourage freedom of choice in football. Players can only achieve their true potential if they are not shackled and are able to stand on their own two feet."
It's those ideas that helped him win an historic treble with FC Porto in 2010/11, with the unpredictability in their play seeing them crush almost all opposition and helping Radamel Falcao and Hulk score so many goals (74 between just the two of them in all competitions last season).
But it's that way of thinking which can also be so hard to understand, especially in top European leagues like the Premier League, where almost every single player's movement is dictated.
As an anonymous Premier League player writing in the Guardian said, "The level of detail that goes into games still, to this day, amazes me."
"Every player has his own script, what to do, when to do it, information on the player he's up against, including weight, height, age, strengths, weaknesses, even what that opponent is likely to do when the ball comes to him in certain situations."
"We memorise every single set piece, where we have to stand, run and end up. We even memorise this for the other players so we know where everyone else will be at any given time."
That's why Andre Villas-Boas' philosophy is so different. The ball isn't always played to Frank Lampard through the middle, Jose Bosingwa doesn't always have to stay back as Ashley Cole goes forward, Juan Mata doesn't have just make runs down the flank or only cut in at certain times during a game.
His Chelsea players have the freedom to make their own choices, to do what they think is best.
It's why their passing has been so varied, why Ramires has scored goals this season, why Bosingwa has also got in on the act, and partly why Fernando Torres has rediscovered his form (the other part being help from Juan Mata).
But it's also the reason Chelsea took so long to get going, with the team under Carlo Ancelotti immediately in tune with the movements of their teammates.
Unlike the Ancelotti regime, where the Blues were a predictable, albeit very well-drilled machine (especially when they won the Premier League and FA Cup in 2009/10), now they are a creative, unpredictable force with players that are almost impossible to track for a full 90 minutes.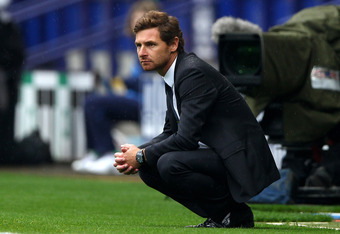 Clive Brunskill/Getty Images
It means they can neglect their defensive duties at times, like in the 3-1 defeat to Manchester United, but it also means they are capable of scoring many more goals from all over the pitch.
Nine goals from two league games proves that point, with Villas-Boas' new style of play working brilliantly.
Chelsea have sprayed around the fourth-highest amount of successful passes in the Premier League this season and have created more chances on goal than any team barring Manchester City, with the third-highest amount on target.
But if we take just the last two games into consideration, Chelsea have scored more goals than any other team, had more shots on goal and made more successful passes, showing just how well Andre Villas-Boas' game plan works when learned properly.
In contrast, league leaders Manchester United have scored just three goals in their last two games, while Manchester City (the team said to be playing the best football at the moment) have scored six.
The Manchester teams had hardly any new tactics to learn for this season—Chelsea, on the other hand, had to come to terms with a whole new way of playing the game.
Now that the light bulb has been switched on and the Blues have to come grips with the new tactics, leveling out the playing field, it's clear to see who the team to beat really is.
With Manchester United deleteriously believing their own hype and Manchester City still just on the brink of hitting top gear, now could be the time for Chelsea FC to take up the mantle of Premier League front-runners.