Troy Polamalu Scares Folks at the Wax Museum, DeSean Jackson Inspires the Youth, and Today's Best Videos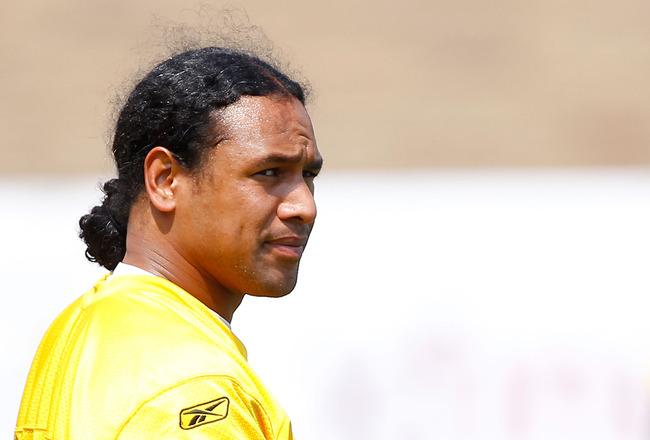 Troy Polamalu waxes on, waxes off
In other news, several people have confused Kerry Collins for a wax statue given his propensity to remain immobile like a statue in the pocket.
DeSean Jackson is so inspirational
It isn't clear on the video, but I'm guessing this kid probably disappeared for the rest of the game and didn't catch another pass. Chances are he wasn't pleased with the portion of the snack he received afterwards, either.
Real lions in Detroit sort of sniff around a fake Chicago Bear
Life is good in Detroit right now, so we can forgive the city for being a little joyous and cheesy right now. From the Detroit Free Press:
The piñata, with pipe legs, shoebox-lid feet, square blue torso and a red "C" across the front, looked more like Mr. Bill than a Chicago Bears football player, but the African lions probably didn't care.

In advance of Monday night's football game between the Detroit Lions and the Chicago Bears, the Detroit Zoo staged a fun event: Stuffing a piñata full of meat and plopping it in the lion exhibit just before play time Wednesday morning.
In what the entire city is hoping is not an omen, the lions did not devour the piñata at all and mostly ignored it.
Tom Verducci gets nailed with champagne.
The perks of being a journalist, ladies and gentlemen.
Adam Morrison gets the boot in Serbian basketball game
Remember that Adam Morrison guy from Gonzaga, who was supposed to be really good and what-have-you? Yeah, he's playing in Serbia now. From The Hoop Doctors:
The former 3rd overall NBA draft pick, turned NBA bust, turned two-time NBA champion (from the pine), signed an NBA contract a couple of weeks ago to play for the Serbian team Red Star Belgrade.
And he gets himself kicked out of the game. At least he's still in that league.
Hitler reacts to Hank Jr. Getting the Axe
Yes, somebody did a "Hitler reacts" video for the axing of Hank Williams, Jr. from ESPN's Monday Night Football. Be sure to turn the closed captioning on so as to see the updated dialogue.

My name is Timothy Rapp, and I put the "grrrr" in Swagger.
Most recent updates:
This article is
What is the duplicate article?
Why is this article offensive?
Where is this article plagiarized from?
Why is this article poorly edited?