Chris Cooley Measures His Odds in a Cage Fight—Yes, a Cage Fight—Against Tony Romo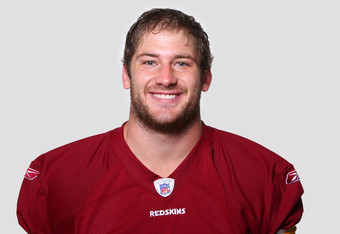 Let's get right into it. Here's an excerpt about Tony Romo choking against the Lions from Cooley's weekly appearance on Washington, D.C.'s LaVar and Dukes radio show, via Shutdown Corner:
"I'm just saying, I'm up 24 points in the third quarter, if I'm the head coach, I feel like I could probably just take a knee for the rest of the game, punt it away and there's no way that Detroit's gonna drive on you that many times. The only way you're gonna give up that many points is turnovers, right? It's hilarious to watch him throw pick sixes, too, back-to-back. I loved it. But it wouldn't be as good as my cage fight."

Wait, what? As usual, Cooley threw us a conversational left hook. Cage fight, you say? As it turns out, LaVar Arrington had asked Cooley the week before just how long it would take Cooley to beat Romo in a cage match.

"For me to beat Tony? I'm gonna be honest, I don't know what kind of cagefighting skills he has," Cooley said. "I would probably try to incorporate my wrestling ability, like when I was in high school. Obviously it's been a while, but I didn't like to beat people fast. I like to embarrass 'em a little bit. Like, take a 24-point lead, and then just play with it a little bit."
Frankly, I don't think this one would be a contest, and Rex Grossman would certainly ensure a victory before the fight even began. Sure, Romo would land a few quick blows, and people would be wondering why Fred Davis seemed more active yelling out instructions from behind the cage than Cooley was in the fight.
But eventually Romo would try to over-punch, leaving himself exposed for some easy counters by Cooley.
Inevitably, Dez Bryant would run into the ring and attempt to aid his quarterback, though he would be too out of breath to offer any assistance. Rob Ryan would contend that Calvin Johnson wouldn't have even made it over the cage, though everyone would think he was a moron for suggesting such mularky.
And with Romo lying on the ground, clutching at his ribs after the Cooley KO, Terrell Owens would make a shocking appearance and carry him out of the ring, tears streaming down his face.
And Larry Merchant would tell TO in the post-fight interview that if he was 50 years younger, he'd kick his ass. And we'd all love him for it.
My name is Timothy Rapp, and I put the "grrrr" in Swagger.
Most recent updates:
This article is
What is the duplicate article?
Why is this article offensive?
Where is this article plagiarized from?
Why is this article poorly edited?