Brooklyn Decker on Fantasy Island, Marion Barber's Fail and the Week's Roll Call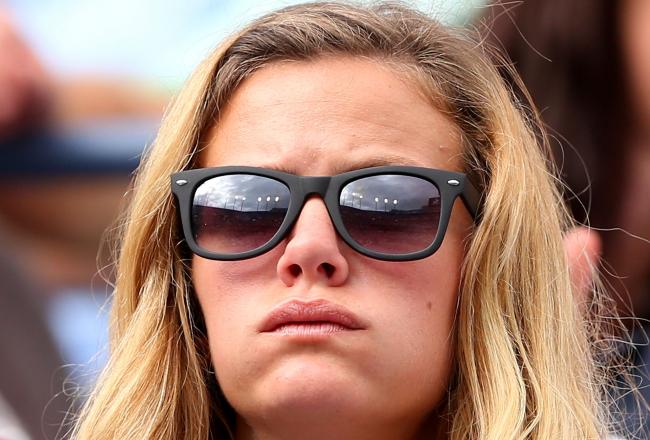 Cameron Spencer/Getty Images
If you happen to live in Philadelphia, Phoenix or possibly New York (unless you are a Giants fan), this morning is probably a painful one for you.
But fret not, ye who suffered a painful football and postseason baseball loss last evening, for Brooklyn Decker is here to soothe your mind. And your eyes.
Mostly your eyes.
Decker—along with Irina Shayk, Hilary Rhoda, Esti Ginzburg and Christine Teigen, to name a few—will be featured in the forthcoming the Sports Illustrated Swimsuit Portfolio: "Fantasy Islands" book. What's that, you ask? Here are the details:
It's the ultimate supermodel yearbook. Join the four photographers whose work was featured in the 2011 Sports Illustrated Swimsuit Issue on a behind-the-scenes account of their travels, revisiting their experiences through never-before-seen images and exclusive commentary. In this large-format, 176-page collection, Swimsuit Portfolio: Fantasy Islands showcases 17 of the world's most exquisite bodies at four exotic beach locations-Turtle Island in Fiji, Sentosa Island in Singapore, Peter Island in the British Virgin Islands and Boracay Island in the Philippines.
But if all of that reading doesn't interest you, I understand—here are some hot pictures of Decker that will be appearing in the book. Oh, and Guyism dug up a behind-the-scenes video of Decker from a 2009 Esquire photo shoot that was recently uploaded.
Stunning.
Still not feeling better? Would Marion Barber attempting a backflip but landing on his face help?
That's just embarrassing. Though I can't tell if Barber feels the same way...
GOLD MEDAL PERFORMING BACKFLIP ALL DAY.....YEAAOWWWW
Apparently, Lil John writes his tweets.
Be sure to keep it here this week for all of the offbeat news, shenanigans and sexy updates from the world of sports.
Photo from Esquire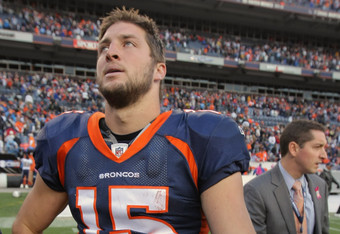 Luisa Yanez of the Miami Herald reports that Broncos quarterback Tim Tebow is being considered to replace Bruce Willis in the Die Hard franchise. Tom Rothman, co-chairman and CEO of Fox Filmed Entertainment appeared on The Jim Rome Show and mentioned Tebow for the role. The actor chosen for the role will play the son of action hero John McClane.
Generally I tend to give reports like this the benefit of the doubt, but I'm calling BS on this whole thing. That doesn't mean I'm calling Luisa Yanez a liar or anything, it's more than possible that the producers have tossed Tebow's name into the discussion. Maybe the producers really do want Tebow, but it's absolutely not going to happen.
First of all, Tim Tebow is a football player. He's a quarterback in the NFL, and if he's telling the truth (and I think we all know he is) this is what he's dreamed of for most of his life. Tebow is desperate to prove that everything we've heard is wrong and now that he's finally getting the opportunity to start in Denver and there's absolutely no chance his head is anywhere else.
Secondly, Tebow doesn't have the acting experience one would expect is required to take over a major movie franchise. When asked for his thoughts about Tebow in the role, Rome said, "He might be too nice. But no one would work harder to make it work." That was a surprisingly diplomatic answer from the usually harsh Rome.
But again with the intangibles and the hard work… a little elbow grease is not the only thing required for success in a given field.
Finally, this movie begins filming in January 2012. Obviously the Broncos won't be gearing up for a Super Bowl run, but their regular season runs through January 1st. Doesn't that seem like a pretty tight window to transition from quarterback to star of an action movie franchise?
This whole thing is just ridiculous. Rothman knows Tebow is good for ratings; so he decided to throw his name into the mix to get people buzzing.
Guess it worked.
This article is
What is the duplicate article?
Why is this article offensive?
Where is this article plagiarized from?
Why is this article poorly edited?
Pete Carroll is joking again, and once again most of us don't get the joke.
Carroll's shtick is getting old. Do we even know if this whole thing is a joke?
Carroll isn't incredibly funny, and he's tone deaf to the perception of him in the media, so allow me to help him out… here are a few actual jokes:
The Seattle Seahawks are a joke. They are 3-2, and their unconvincing 13-10 victory over the Cardinals isn't exactly something to hang their helmets on. Tavaris Jackson is the only starting quarterback available in my fantasy league; someone even picked up John Kitna (despite the fact that I have Tony Romo).
They are absolutely one of the worst teams in the league this year, but not quite bad enough to have any hope of landing Andrew Luck in the draft.
Pete Carroll is a joke. What this guy did at USC is appalling. Nobody knows the full scope of what Carroll knew or didn't know about the NCAA infractions surrounding Reggie Bush and various other players during his nine-year tenure, but obviously he knew something.
He let kids run wild for a decade and basked in the success, then he skipped town after the allegations surfaced; leaving USC to rebuild the program he decimated and shamed.
LeBron James is a joke. There are very few in the media willing to go to bat for this guy anymore. Even Stephen A. Smith, one of James' most vocal supporters, seems to have turned on him. LeBron James used to be called the "next Michael Jordan." Now he's called "not Dwyane Wade." Not only has James has never won a championship; his play has directly resulted in the loss of a championship.
It's hard to tell if James doesn't understand the perception of him or if he doesn't care. The fact that he's consistently whining about "haters" would lead one to believe that he does, in fact, care. He spends his days on Twitter jumping to the defense of people who he sees as being wronged by fans and/or the media; like Tim Tebow.
Tim Tebow doesn't need his help. Tim Tebow isn't on Twitter joking about anything. Tim Tebow would give anything to have the natural ability that James has. Which brings me to…
Lebron James to the NFL is a joke. Anyone think this guy could withstand more than one hit from the likes of Troy Polamalu or Ed Reed? Didn't think so.
Pete Carroll and LeBron James have nothing to be laughing at right now, so perhaps they should both just shut up.
This article is
What is the duplicate article?
Why is this article offensive?
Where is this article plagiarized from?
Why is this article poorly edited?
After three seasons on VH1's Basketball Wives, Royce Reed took to Twitter to address her future with the show:
@Roycelr Good Afternoon! As of right now I have decided NOT 2return 4 Season 4 of BBW due 2 artistic differences. Things may change but as of now, NO!
Wait, are we seriously quitting jobs on Twitter now? Anyway, whatever.
According to Black Sports Online, what Dwight Howard's baby momma calls "artistic differences," the rest of us call "not playing well with others." It seems Reed is generally ostracized by the rest of the cast for being a dancer and for feuding with members of The Circle.
In case you aren't familiar with the show, "The Circle" is what the cool kids on the show call their clique. In reality, The Circle is nothing but a bunch of sadistic middle aged mean girls who are only on television because at some point in their distant pasts they possessed the ability to lure a basketball player into their beds.
Congratulations for making it on your own merits ladies, we're all very impressed!
Considering she used the phrase "as of now" twice in a single Tweet, Reed doesn't seem entirely committed to quitting the show.
Perhaps this is just part of some ill-conceived scheme to get a raise, although if that's the case, she's definitely gone. Since being an ex-wife, girlfriend or ex-girlfriend all qualify someone as a basketball wife, something tells me these broads aren't difficult to replace.
In any event, hopefully she does herself a favor and walks away.
This article is
What is the duplicate article?
Why is this article offensive?
Where is this article plagiarized from?
Why is this article poorly edited?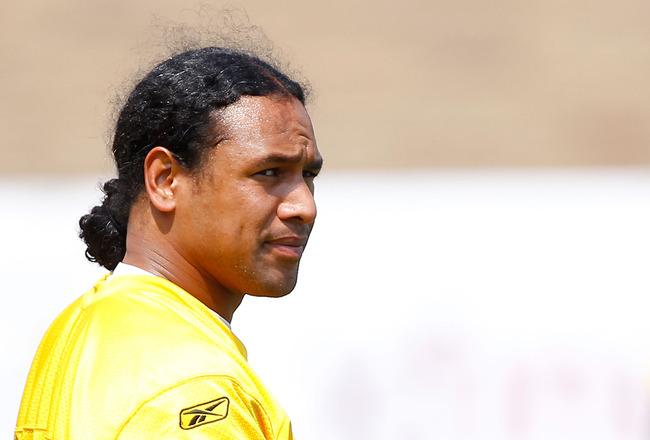 Troy Polamalu waxes on, waxes off
In other news, several people have confused Kerry Collins for a wax statue given his propensity to remain immobile like a statue in the pocket.
DeSean Jackson is so inspirational
It isn't clear on the video, but I'm guessing this kid probably disappeared for the rest of the game and didn't catch another pass. Chances are he wasn't pleased with the portion of the snack he received afterwards, either.
Real lions in Detroit sort of sniff around a fake Chicago Bear
Life is good in Detroit right now, so we can forgive the city for being a little joyous and cheesy right now. From the Detroit Free Press:
The piñata, with pipe legs, shoebox-lid feet, square blue torso and a red "C" across the front, looked more like Mr. Bill than a Chicago Bears football player, but the African lions probably didn't care.

In advance of Monday night's football game between the Detroit Lions and the Chicago Bears, the Detroit Zoo staged a fun event: Stuffing a piñata full of meat and plopping it in the lion exhibit just before play time Wednesday morning.
In what the entire city is hoping is not an omen, the lions did not devour the piñata at all and mostly ignored it.
Tom Verducci gets nailed with champagne.
The perks of being a journalist, ladies and gentlemen.
Adam Morrison gets the boot in Serbian basketball game
Remember that Adam Morrison guy from Gonzaga, who was supposed to be really good and what-have-you? Yeah, he's playing in Serbia now. From The Hoop Doctors:
The former 3rd overall NBA draft pick, turned NBA bust, turned two-time NBA champion (from the pine), signed an NBA contract a couple of weeks ago to play for the Serbian team Red Star Belgrade.
And he gets himself kicked out of the game. At least he's still in that league.
Hitler reacts to Hank Jr. Getting the Axe
Yes, somebody did a "Hitler reacts" video for the axing of Hank Williams, Jr. from ESPN's Monday Night Football. Be sure to turn the closed captioning on so as to see the updated dialogue.

My name is Timothy Rapp, and I put the "grrrr" in Swagger.
This article is
What is the duplicate article?
Why is this article offensive?
Where is this article plagiarized from?
Why is this article poorly edited?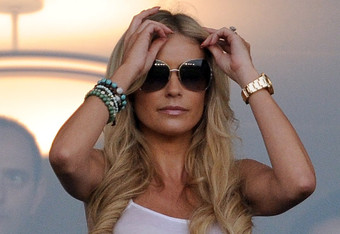 The wife of Robbie Keane—who signed with the LA Galaxy this August—may soon be coming to a television near you. From Herald.ie:
Dubliner Claudine, who has relocated to Los Angeles with her footballer husband Robbie, is reportedly in discussions with the major TV network E! about starring in her own reality series.

Claudine would be something of a coup for the channel, which is home to global ratings hit Keeping Up With The Kardashians.

The model confirmed the major channel have been in touch – and she's considering all her options.

"E Entertainment contacted me last week for a meeting and it's just been going incredibly," the lingerie model said. "It's just been an amazing whirlwind experience."
Wait, did I read what I thought I read? Did that excerpt mention that she was a lingerie model?
Oh yes it did, my friends. And it is little wonder why. (Click on that link—trust me.)
Apparently, she is 57 percent hotter than Victoria Beckham, at least according to TMZ. I would tend to agree.
I'm sure the show would be pretty damn boring, which is why it is time for a new reality show: The Extreme WAG Challenge. Bring in some of the world's most infamous WAGs—Keane, Kardashian, Beckham, Gemma Atkinson, etc.—and have them compete in various challenges while completely removed from all of the luxuries they've come to expect.
It's Survivor meets The Real Housewives of..., and it would be awesome.
I think.
My name is Timothy Rapp, and I put the "grrrr" in Swagger.
This article is
What is the duplicate article?
Why is this article offensive?
Where is this article plagiarized from?
Why is this article poorly edited?
And some of them are really hot, such as the one featured here of Alicia Sacramone. Others that are pretty sexy include Gretchen Bleiler, Stephanie Gilmore, Suzy Hotrod, Natasha Hastings, Belen Mozo, and Vera Zvonareva.
It should also be noted that Steven Jackson is an absolute beast. Seriously, the dude has muscles on muscles, which are on top of even more muscles.
You can see the entire gallery here.
The four different covers will feature Bleiler, Hope Solo, Blake Griffin and Jose Reyes. USAToday talked with Bleiler about her decision to do the magazine (she turned down the opportunity in the past):
Why say yes this time?

There's some history that comes with all of it. Basically, when I was younger, when I was just kind of having success in snowboarding, I did some sexy, half-naked shots (for FHM magazine). Afterwards, I chose to eliminate those opportunities from my plan. I was pretty outspoken about why it wasn't for me. The reason I've chosen to say yes now is I'm at a point where I want to do this. Before it was something that I felt like I had to do. But I was younger. Now I'm at a point in my life where I wanted to do it. I didn't think there was a better way to do it than with ESPN and their Body Issue. ... (The issue) shows every type of body can be strong and powerful and beautiful. I love that about it.
I think Bleacher Report should do something that falls in between "The Body Issue" and Sports Illustrated's Swimsuit Edition. A little something I like to call "Bleacher Report's Ladies in Uniform."
It's a working title.
Basically, it would be some of Bleacher Report's favorite sexy women—Allison Stokke, Roberta Mancino, Jess Gysin, Leryn Franco, Kim Kardashian (I'm sure she would totally do something like this), etc.—modeling for the site wearing the sexy version of their favorite team's uniform.
Let's make this happen, guys.
My name is Timothy Rapp, and I put the "grrrr" in Swagger.
This article is
What is the duplicate article?
Why is this article offensive?
Where is this article plagiarized from?
Why is this article poorly edited?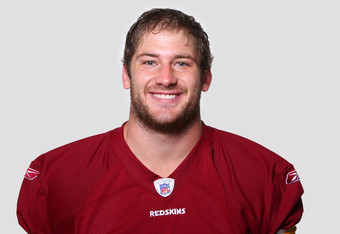 Let's get right into it. Here's an excerpt about Tony Romo choking against the Lions from Cooley's weekly appearance on Washington, D.C.'s LaVar and Dukes radio show, via Shutdown Corner:
"I'm just saying, I'm up 24 points in the third quarter, if I'm the head coach, I feel like I could probably just take a knee for the rest of the game, punt it away and there's no way that Detroit's gonna drive on you that many times. The only way you're gonna give up that many points is turnovers, right? It's hilarious to watch him throw pick sixes, too, back-to-back. I loved it. But it wouldn't be as good as my cage fight."

Wait, what? As usual, Cooley threw us a conversational left hook. Cage fight, you say? As it turns out, LaVar Arrington had asked Cooley the week before just how long it would take Cooley to beat Romo in a cage match.

"For me to beat Tony? I'm gonna be honest, I don't know what kind of cagefighting skills he has," Cooley said. "I would probably try to incorporate my wrestling ability, like when I was in high school. Obviously it's been a while, but I didn't like to beat people fast. I like to embarrass 'em a little bit. Like, take a 24-point lead, and then just play with it a little bit."
Frankly, I don't think this one would be a contest, and Rex Grossman would certainly ensure a victory before the fight even began. Sure, Romo would land a few quick blows, and people would be wondering why Fred Davis seemed more active yelling out instructions from behind the cage than Cooley was in the fight.
But eventually Romo would try to over-punch, leaving himself exposed for some easy counters by Cooley.
Inevitably, Dez Bryant would run into the ring and attempt to aid his quarterback, though he would be too out of breath to offer any assistance. Rob Ryan would contend that Calvin Johnson wouldn't have even made it over the cage, though everyone would think he was a moron for suggesting such mularky.
And with Romo lying on the ground, clutching at his ribs after the Cooley KO, Terrell Owens would make a shocking appearance and carry him out of the ring, tears streaming down his face.
And Larry Merchant would tell TO in the post-fight interview that if he was 50 years younger, he'd kick his ass. And we'd all love him for it.
My name is Timothy Rapp, and I put the "grrrr" in Swagger.
This article is
What is the duplicate article?
Why is this article offensive?
Where is this article plagiarized from?
Why is this article poorly edited?
It would seem that Jay Cutler and Kristin Cavallari are giving this thing another go. Frankly, after seeing her in that dress, it isn't much of a surprise. Though Beyonce she is not. From CBS:
Cavallari tried to bring out her inner Beyonce. She doesn't quite have the bottom for it. Moreover, her legs seem just a little too slow and spindly in trying to express sexy energy. It was like watching an elongated sparrow trying to bring out its inner Beyonce.

But, wait, some scandal. That was the Chicago Bears' Jay Cutler in the audience - her former fiance. What could this mean? That he wanted to prevent her from having an affair with her partner Mark Ballas - an affair that wouldn't really be an affair anyway?
Jay Cutler should have been in his damn playbook, after he only got me a measly 2.2 fantasy points this week (I'm in a two-quarterback league). But let's move on.
How did Hope Solo do? Hope brought it, that's how she did. From the Seattle Post Intelligencer blog:
Hope Solo cha-chaed her way to her best score yet on "Dancing with the Stars" on Monday.

Dancing to Enrique Iglesias' "Tonight," Solo and her partner, Maksim Chmerkovskiy, came up a bit short on the details but delivered overall, according to the judges. They earned 24 points.

"I just want to take you and work on your walk," judge Carrie Ann Inaba said.
She made need to "work on her walk" (whatever that means), but my goodness did she look sexy. She doesn't always look like the most graceful dancer out there, but you try doing the cha cha after spending a career diving after soccer balls.
On second thought, just take my word for it.
My name is Timothy Rapp, and I put the "grrrr" in Swagger.
This article is
What is the duplicate article?
Why is this article offensive?
Where is this article plagiarized from?
Why is this article poorly edited?
Are you ready for some football political controversy?
For some reason country singer Hank Williams Jr. appeared on Fox & Friends to breakdown the 2012 Presidential field. Co-host Brian Kilmeade introduced Williams by saying:
"It's not all about music for this country superstar, he knows a little about politics too"
Turns out he knows very little about politics, which is probably what Kilmeade was thinking by the end of this interview.
Williams appeared via satellite and was decked out in his finest button-up with leather trim, sunglasses, a ripped Alabama cap and a full beard. Kilmeade astutely observed "your body language says, uh, leave you alone." It's instantly obvious that Williams is on this show because he's got something to say and he wastes little time getting down to business.
Turns out Williams has been steaming since early June about House Speaker John Boehner's round of golf with President Obama, Vice-President Joe Biden and Ohio Republican Governor John Kasich. The very rational Williams said of the golf game:
"That was one of the biggest political mistakes ever… Come on, it'd be like Hitler playing golf with Netanyahu, Okay?"
Kilmeade responded, "I don't understand that analogy actually."
Wait, so a round of golf the President of the United States and the Speaker of the House played in June is like Adolph Hitler (responsible for the deaths of over 46 million Europeans over the course of WWII) playing a round of golf with Benjamin Netanyahu (current Prime Minister of Israel).
I don't understand it either, but Williams pressed on:
"In the country this shape is in... the shape this country's in I mean... They're the enemy... Obama and Biden! The Three Stooges!"
Then, in what was the by far the best part of the interview, co-host Steve Doocy replies with a smirk as he looks off camera, "That's only two." Priceless.
The bad news is that the level of political discourse in this country continues to devolve into offensive, yet nonsensical, talking points. The good news is that Hank Williams Jr. is finally off Monday Night Football, just two decades after he stopped being relevant.
This article is
What is the duplicate article?
Why is this article offensive?
Where is this article plagiarized from?
Why is this article poorly edited?
And she isn't afraid to lay the smack down, so opponents of the Seattle Mist best take notice.
Andy Roddick doesn't like stupid questions. Andy Roddick is leaving now. From SI's "Beyond the Baseline":
During the postmatch news conference, a reporter asked this of the 15th-ranked player in the world:

"Andy, I remember you said that if your ranking dropped to a specific place you would retire. How far do you think your current position is from that spot? As for retirement, who do you think, [Roger] Federer or you would retire earliest?"

Roddick gave it some thought and responded, "I think that you should retire." Then, amid laughter and applause, Roddick got up and left. That's about as close to a "mic drop" as you'll see in a press conference.
It's good to have Gus Johnson doing NFL games again, isn't it?
What the hell, Ronnie Brown? Jonathon Tamari from the Philadelphia Inquirer was wondering the same thing.
Brown said the play, from the San Francisco 1-yard line, was designed to be a run-pass option to a tight end, though it seems that the "pass" option would ideally be used before he was wrapped up and going to the ground.

"I just have to make a better decision with the ball," Brown said. "I think I tried to outthink myself a little bit. It was a pass play, and I was thinking once the guys slipped off, you know, just try to throw the ball away and give us another chance on fourth down."
This is one crazy goal, scored by Eren Derdiyok of Bayer Leverkusen.
My name is Timothy Rapp, and I put the "grrrr" in Swagger.
This article is
What is the duplicate article?
Why is this article offensive?
Where is this article plagiarized from?
Why is this article poorly edited?
Just four weeks into this NFL season, the Super Bowl halftime performer has already been leaked. SB Nation is reporting that Madonna will be this year's choice to sing some songs while you go to re-load your plate with hot wings.
I do not envy the guy who chooses the halftime act each year. It's a thankless job. Not matter who would be announced, the choice was going to get obliterated.
What were the other options? They could have gone with Lady Gaga or Katy Perry and gotten pretty much the same reaction. But I don't think anybody trusts Lady Gaga not to sacrifice a goat on stage and they probably didn't want Katy Perry shooting whipped cream from her ta-tas. Remember, it's supposed to be a family friendly show.
And either of those choices would have been killed by people as "too commercial" like the Black Eyed Peas. Other obvious choices like Maroon 5, Bruno Mars or (God forbid) LMFAO would have sent internet commenters into fits.
Let's face facts here, there are a lot worse options out there. And the options that you think would be great, just wouldn't work for the Super Bowl halftime show. Nobody is going to put Adele out there just to sing and all those little indie bands you love so much don't have the name-brand power to keep people tuned in.
So we're stuck with Madonna. I'll tell you what will happen. She probably won't wear pants, but is too old to get too much more scandalous than that. She'll "sing" her hits of the 80s, probably sneaking in at least one crappy song from the past 20 years. And there will be a huge spectacle, like any Super Bowl halftime show should have. Just don't bring any hydrangeas.
Is that so bad? Yeah, I didn't think so. We barely pay attention to the halftime show any way. So stop your whining and repeat this to yourself: it could have been LMFAO. It very easily could have been LMFAO.
Posted by Matt King
This article is
What is the duplicate article?
Why is this article offensive?
Where is this article plagiarized from?
Why is this article poorly edited?