The Tebow "Package," 2010's Worst QB and Other Thoughts from Broncoland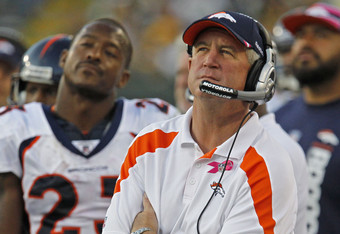 Matt Ludtke/Getty Images
You've got one game to win. Who do you want as your starting quarterback? Aaron Rodgers? Tom Brady? Drew Brees?
OK, but it's lets change the question. It's the current NFL season and you have one game you have to lose. Who do you want? Kyle Orton? Tony Romo? Mark Sanchez? I'd take Romo right now, but Sanchez and Orton are in the running.
Chants you will hear at Sports Authority Field at Mile High stadium next week as the Broncos face the Chargers: "TE-BOW! TE-BOW TE-BOW!"
Don't get me wrong, I'm not saying that Tim Tebow is going to fix the Broncos' woes. But we already know what we have with Kyle Orton. Shouldn't we at least find out what Mr. Tebow is capable of doing?
I mean, otherwise, aren't we doing all of this again next year?
If there were a race, and it was between Orton running and Knowshon Moreno's injury recovery time, which would you choose?
So let me see if I have this straight—the Broncos' Tim Tebow "package" consisted of one quarterback draw? I've gotten packages from the IRS that were more interesting.
Chants you could hear at Sports Authority Field at Mile High stadium next week as the Broncos face the Chargers: "HEN-NE! HEN-NE! HEN-NE!"
Broncos' safety Brian Dawkins says that he wants to coach football when his playing days are over. I love you Dawk. I love your passion, and your leadership. But after watching the first four games, my kid's peewee team really needs a coach this Saturday.
If you had one gameyou HAD to lose right now which starting quarterback would you choose?
Von Miller is the best defensive rookie I've seen in Denver since Elvis Dumervil. Miller is going to be a fun player to watch for a long time. I just wish he had more help with the pass rush.
The only consistent rush the Broncos have is blitzing Miller. Otherwise, teams just double-team Dumervil and the quarterback has nothing to fear.
I have to admit, I don't think I understand instant replay in the NFL. I really thought that the replay of Aaron Rodgers showed conclusively that when his knee touched the ground the ball hadn't crossed the plane of the goal line. Touchdown.
Then, in the Jets vs. Ravens game, I thought the replay showed conclusively that Mark Sanchez's arm was going forward. Once again, I was incorrect. I must be missing something. I think there needs to be better communication with the officials.
Jim Nance and former NFL quarterback Phil Simms had the CBS broadcast for the Broncos game on Sunday. Simms remarked that while the Broncos were trailing the Packers by 20-plus points, they still shouldn't give Tebow any reps.
"It will just stir up a controversy."
Thanks Phil, things are currently a utopia here in Broncoland.
Did Simms wear a helmet during his playing days?
Chants you might hear at Sports Authority Field at Mile High stadium next week as the Broncos face the Chargers: "MC-DANIELS! MC-DANIELS! MC-DANIELS!"
This article is
What is the duplicate article?
Why is this article offensive?
Where is this article plagiarized from?
Why is this article poorly edited?

Denver Broncos: Like this team?