Auburn Tigers Football 2011: The October Gauntlet Begins with Arkansas
October 3, 2011
Streeter Lecka/Getty Images
It has been a very interesting season so far. The work-in-progress that is the 2011 Auburn Tigers has been entertaining to watch. There have been highs and lows, but not a complete game for the entire team so far.
The young Tigers visited Columbia, South Carolina this weekend and finished the growing up process they had started in Clemson, South Carolina two weeks prior. Auburn fans can mark off another obstacle in the path of their talented team.
Previous Opponents
Despite averaging 463.5 yards per game of offense, and averaging 37.5 points per game, Utah State has dropped three games in the final minutes or in overtime. They are also ranked a respectable 29th in total defense, but it seems the team simply does not yet know how to win. Their latest loss was to BYU this week in the final minutes 24-27.
Fans have watched the Mississippi State offense implode with the overwhelming list of injures on their offensive line. They could manage only 10 points against a soft Georgia defense this week. They managed only 55 total rushing yards in the game. This was simply not enough as they lost 10-24 to the Bulldogs in Athens, Georgia.
Clemson is averaging 466.8 yards and 34.8 points per game after knocking off their third ranked opponent in three weeks. Virginia Tech could only manage 258 yards and one field goal against the stingy Clemson defense as the Tigers won 23-3.
Florida Atlantic lost 34-37 to Louisiana Lafayette as they continue to be one of the worse teams in FBS football.
Steve Spurrier has said his Game Cocks are due for some change after being shut down in Columbia this week. South Carolina only produced 289 offensive yards and 13 points this week. Their top offensive threat was held to only 66 yards rushing and the entire team only had 129 yards rushing after averaging over 200 yards per game previously.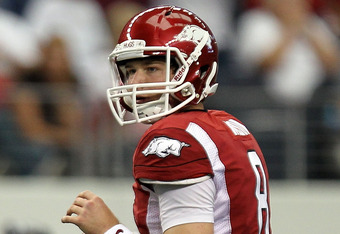 Ronald Martinez/Getty Images
Shout Outs
Steven Clark: placed five punts inside the South Carolina 20 to keep the Gamecocks in poor field position for most of the game.
Mike Dyer: had 41 carries 141 yards and a touchdown. His performance allowed Auburn to control 35:47 minutes of the game with their offense. Many of his yards were after initial contact.
Keihl Frazier: came off the bench and delivered some crucial first downs from his nine carries for 50 yards.
Auburn Defensive Backs: actually turned and looked for the football. They made mistakes all game, but played with enough grit and heart that it did not matter in the end.
Auburn Front Seven: had their best game of this season. It was a gutsy, gritty performance that must be recognized.
Philip Lutzenkirchen: it is impossible to describe how much of a clutch player he has been for Auburn so far. Striping the ball after a turnover, catching the game winning pass and then recovering the game saving fumble for the touchdown, incredible!
Gene Chizik and Staff: created and followed a brilliant game plan that absolutely removed the South Carolina staff from the game. It was an excellent display of superior game planning, preparation and coaching.
Next Opponent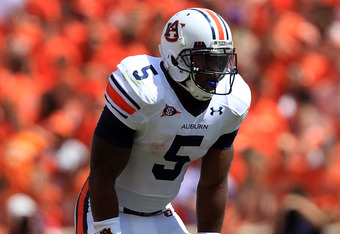 Streeter Lecka/Getty Images
Arkansas struggled in the first half against Texas A&M, and then proceeded to dominate the second half and win the game. They produced 581 yards of offense and quarterback Tyler Wilson had 510 yards passing in their 42-38 win.
Interesting Facts about Arkansas
Texas A&M had 381 yards rushing in the last game Arkansas played. Alabama rolled off 197 yards rushing in the game before that. Both teams Arkansas faced primarily used an inside rushing attack to achieve those results.
Texas A&M, Alabama and Troy had significant success passing the ball as well. Arkansas has not played a solid defensive game this season.
Arkansas has only played one defense ranked in the upper half of the FBS division and they managed 226 total offensive yards and 14 points in that match.
Arkansas has only lost one game this season, in that game the opponent dominated the time of possession and limited Arkansas to only 59 offensive plays. In their win over Texas A&M they were allowed to run 81 offensive plays and their opponent still controlled time of possession in the game.
Arkansas has thrived when facing soft zone coverage.
Arkansas has given up five sacks and numerous quarterback hurries in the last two games.
The Hogs have not established a consistent rushing attack in any game this season.
Tyler Wilson is the No. 26 ranked quarterback in passing efficiency thus far this season. He is also currently ranked 21st in total offense averaging 305.6 yards per game.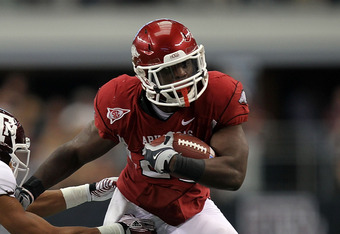 Ronald Martinez/Getty Images
Joe Adams is ranked sixth in the nation in punt returns at 18.1 yards per return.
Analysis
Arkansas can be severely slowed down on offense by an aggressive defense. An aggressive zone has produced good results when combined with well disguised blitz packages. To cover the Arkansas receivers in press coverage it requires a large number of proficient defensive backs. They will use their deep receiving corps to simply run the legs off of the best and exploit their replacements otherwise.
The Arkansas defense has not proved to be improved for 2011. They have sustained several injuries and will have many that are still not fully recovered for the game this weekend. The depth is not good on the defense and they can be worn down and exploited, especially in the rushing area.
Arkansas has not been exceptional on converting third downs, but they have been exceptional gaining first downs. Of their 126 first downs this season, 77 were gained by passing the ball. They average 25.2 first downs per game. In their one loss, they were limited to 14 first downs.
If Tyler Wilson is given time, he will pick any defense apart. Any team that uses soft coverage will only be contributing to another personal best passing day for him. Arkansas is very deep with receivers that will make plays given the chance.
Arkansas is not good at gaining turnovers. They have gained only four all season. Arkansas has turned the ball over eight times this season.
Prediction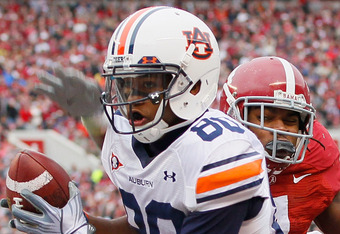 Kevin C. Cox/Getty Images
Auburn will be able to run or pass the ball with consistency on the Arkansas defense. The problems for opponents of Arkansas arise when they decide to get into a shootout. Most teams simply do not have the stamina on offense to score enough to overcome the Hogs.
Last season Auburn outlasted Arkansas in a shootout by scoring 65 points.
Where Arkansas really suffers is when a game is slowed down for them. They simply do not function well when facing an aggressive, fresh defense. Ideally, limiting their time of possession to less than 26 minutes is the best game plan for success.
While Auburn fans enjoyed the high scoring shootout filled with big plays in 2010, it is more likely that Auburn will attempt to bleed the Arkansas defense with small increments in this game. If they allow the game to become a shootout, it is unlikely Auburn has the stamina on offense to prevail.
Prognostication
Auburn will attempt to utilize exceptional special teams play and a power offense to control this game and limit the opportunities for Arkansas. Most of the big passing plays in this game will be attempted by Arkansas.
Arkansas will likely have little success stopping the Auburn offense, and Auburn will only have moderate success in stopping the Arkansas offense. This will not be a game where Auburn can simply try to stop the opponent on third down when the opportunity arises. To win, Auburn will have to play very aggressively for the majority of the game.
The only two glaring advantages Arkansas has in this game are at quarterback and receiver. This is a very winnable game for Auburn with the right game plan.
Auburn -3