Carlos Boozer vs. Chicago Bulls Bench Mob: Who Will Play a Bigger Role?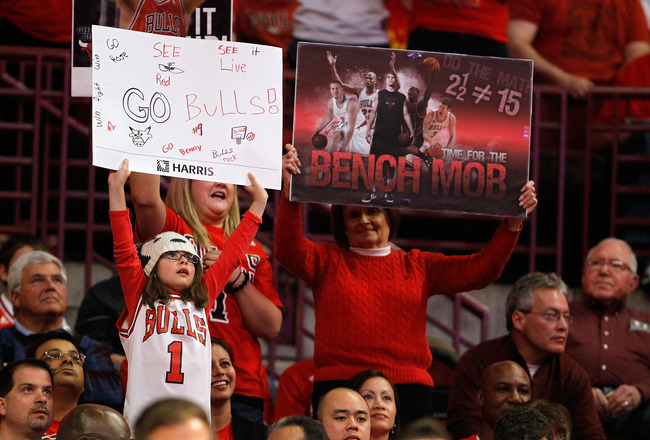 Gregory Shamus/Getty Images
Carlos Boozer and the "bench mob" come from opposite ends of the spectrum in the 2011 season.

Boozer comes in as a disappointing contract who struggled with injuries, consistency on offense, toughness and, most of all, defense.

The bench mob, on the other hand, were a huge success. Potential future stars such as Taj Gibson and Omer Asik began to shine as the season wore on, and they played a larger and larger role.

Which of these two will play a bigger role in 2011, though? The single starter with the currently outrageous contract? Or the role players on the rise?

Let's decide.
Bench Mob's Case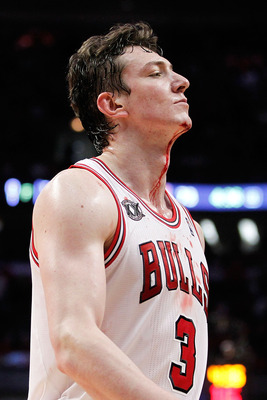 Gregory Shamus/Getty Images
Carlos Boozer is just one starter. How could the bench mob not play more of a role? Omer Asik, Taj Gibson, C.J. Watson and Ronnie Brewer, among a few others, provide the starters with a much-needed rest while they hold their own against almost any competition, sometimes even gaining a lead.
Their inspired, hard play is nothing short of impressive. Their growth from the beginning of the season has been stupendous. Omer Asik was an awkward lanky rookie that looked confused and flustered on the court towards the beginning of the season. Come playoff time, he was making big defensive stops and slamming it down.
But he still can't shoot free throws.
Taj Gibson has looked better than Carlos Boozer, at least in the playoffs, given Boozer's injury.
Ronnie Brewer plays excellent defense on anyone he's matched up with.
C.J. Watson does a mean poor man's Rose impression.
Kyle Korver can hit the long ball consistently, assuming it isn't against the Heat in the conference finals.
This bench is absolutely huge for the Bulls.
Carlos Boozer's Case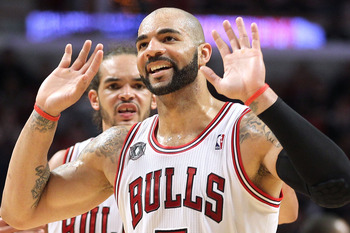 Mike Ehrmann/Getty Images
Carlos Boozer was a disappointment in 2011. He struggled with injuries throughout the season, especially missing the first third of the season. His playoff performance was an enormous letdown for Chicago, and fans jumped on him quickly for it. He isn't tough. His defense isn't spectacular whatsoever. However, he has the ability to be a huge threat on the offensive boards.
If Boozer gains the ability to play decent defense and can stay injury-free, he could play a giant role for the Bulls. He struggled against length on offense, so he would have to find a way to get around that.
Essentially, when it comes to Boozer, he has to become what the Bulls hoped he would be, despite never being that player in Utah.
The Verdict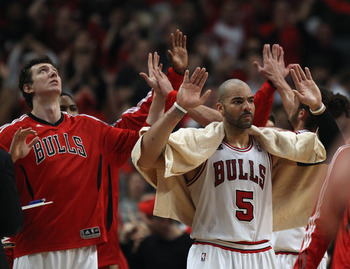 Jonathan Daniel/Getty Images
The bench mob will have a stronger role. Carlos Boozer has too many "ifs" surrounding him. The bench mob keeps them Bulls in the game while the stars take a rest. Taj Gibson may be receiving more minutes, which means Boozer will be seeing the court less. Most Chicago fans hope Boozer will have more of an effect, but unfortunately, that's probably not going to happen.
And just to make sure that a Bulls' article doesn't go without saying "his" name:
Keep Reading

Chicago Bulls: Like this team?