College Football 2011: The 50 Best Games of October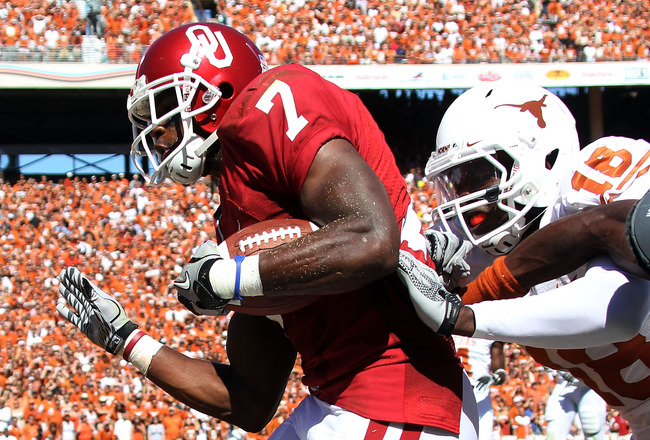 Ronald Martinez/Getty Images
It's hard to believe we're approaching the half-way point of the college football season, but here we are.
After five weeks, the college football picture is beginning to take shape. Already we've seen some upsets, disappointments and some pleasant surprises.
Without question, the month of October will have more drama, and the heart of the conference play never fails to provide excitement.
There are plenty of games to choose from in the upcoming month, so we're going to help you out when it comes to setting that DVR or making road trip plans with your buddies.
Here are the 50 best games upcoming in the month of October that you absolutely won't want to miss!
SMU at Southern Mississippi, Oct. 22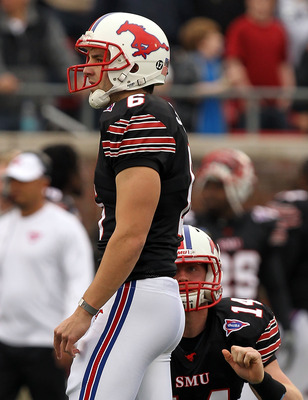 Ronald Martinez/Getty Images
This cross-divisional Conference USA matchup could be a deciding game between two teams that could be at or near the top of their respective divisions.
SMU is 2-0 in conference play thus far in 2011 and Southern Miss is 1-1, but both teams are 4-1 overall, and it's not out of the realm of possibility either of these two teams could find their way into the Top 25 at some point this season.
Troy at Florida International, Oct. 25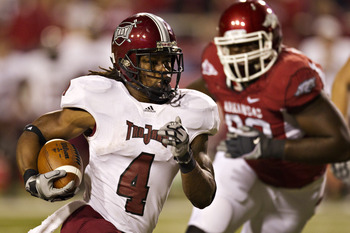 Wesley Hitt/Getty Images
There's not a whole lot of interest in the Sun Belt, and there's usually a good reason for that.
However, once in a while, there's a hotly contested conference game, and this Oct. 25 meeting between Troy and FIU could turn into an important game in determining the eventual conference champion.
FCS Massachusetts at FCS Delaware, Oct. 15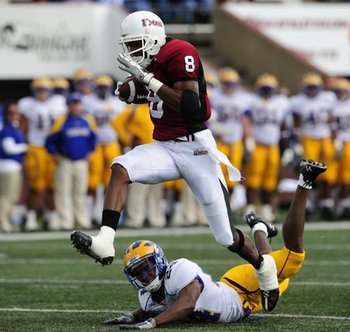 Why is this FCS game of interest to anyone outside of Massachusetts and Delaware?
Simple. UMass will be an FBS team next season as a football-only member of the MAC.
This clash with a traditonal FCS power Delaware will go a long way to announcing how ready UMass is for the jump to the big leagues.
Oregon State at Washington State, Oct. 22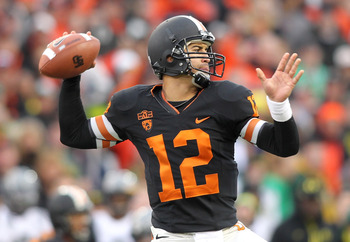 Jonathan Ferrey/Getty Images
It may be hard to believe, but the Washington State Cougars are 3-1 through the first five weeks of the season.
Maybe not as surprising is the 0-4 Oregon State Beavers.
This game could serve the purpose to announce the role reversals of these two programs. Rather than perpetually inhabiting the basement of the conference, WSU could be on the verge of a Renaissance.
D2 Ferris State at D2 Grand Valley State, Oct. 22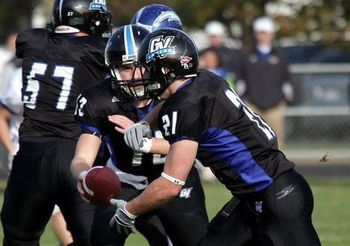 Prior to about 2000, Division II wasn't much better than a scholarship version of Division III or junior college football.
Times have changed, and D2 has grown into a popular alternative to Division I for many fans.
One of the most dominant teams over the past decade has been Grand Valley State. After Grand Valley State started the 2011 season 2-3, other teams began to smell blood in the water. One such team is the Ferris State Bulldogs.
Separated by less than 60 miles, these two schools have an intense all-sports rivalry. Ferris State hasn't beaten Grand Valley State in football since 1999, and the 4-1 Bulldogs are hoping to end 11 years of frustration on Oct. 22 at Grand Valley State.
Western Michigan at Northern Illinois, Oct. 15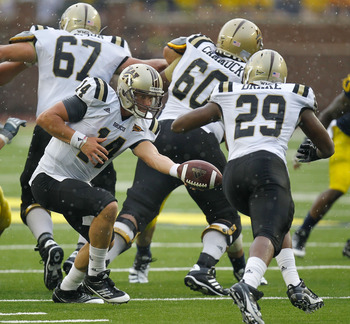 Gregory Shamus/Getty Images
One of the more surprising teams from the MAC so far in 2011 is Western Michigan.
The Broncos completed their upset of Connecticut on Oct. 1, despite the best efforts of the Big East officiating crew.
Another surprise is Northern Illinois, but for the inverse reason.
Widely believed to be a contender for the MAC-West title this season, NIU was beaten by a pretty bad Central Michigan team—the same CMU team that Western destroyed earlier in the season in Kalamazoo.
Will NIU be able to rebound or will WMU announce its arrival as a MAC contender?
East Carolina at Houston, Oct. 8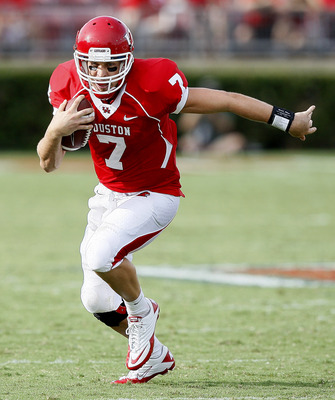 Bob Levey/Getty Images
If for no other reason, you should check out this game just to see Case Keenum. Actually, come to think of it, he might be the only reason anyone would check out a Houston game.
Keenum is the real deal, and it's likely he'll be demolishing some FBS passing records this season. Without Keenum, Houston is pretty thin on the depth chart, and there's not a lot of talent surrounding the star quarterback—which is further evidence of Keenum's amazing abilities.
ECU is off to a disappointing 1-3 (against some decent opponents), while Houston is 5-0 thus far (without having played anyone).
FCS South Alabama at FCS Texas-San Antonio, Oct. 8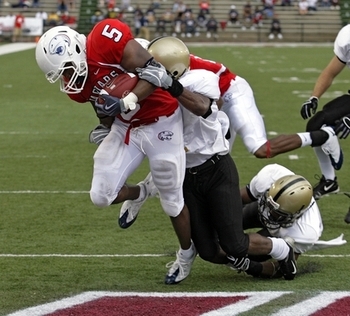 Like UMass, both of these FCS teams are in the process of making the move to the FBS. South Alabama and UT-San Antonio will become full members of the FBS, with South Alabama joining the Sun Belt and Texas-San Antonio joining the WAC.
This game will be a good metric to see the level of football each program has built (2011 is just South Alabama's second full season of NCAA football), and should give their new conferences a good indication of how they will be able to compete next season.
Army at Vanderbilt, Oct. 22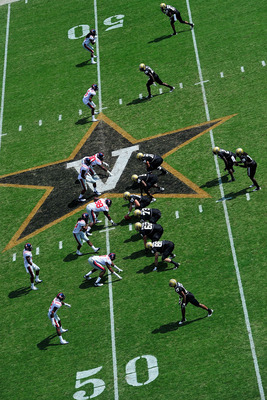 Grant Halverson/Getty Images
Sure, Vandy may be the SEC's doormat, but a win against any SEC team would be a good win for Army.
West Point has endured many, many seasons of futility on the gridiron, but the winds seem to be changing for the Black Knights.
While Army's 2-3 record isn't overly impressive this year, its win over a decent Northwestern team on Sept. 17 is.
A win over Vanderbilt could be just what the Cadets need to build momentum down the stretch leading up to their games against Air Force on Nov. 5 and Navy on Dec. 10.
D2 Delta State at D2 North Alabama, Oct. 13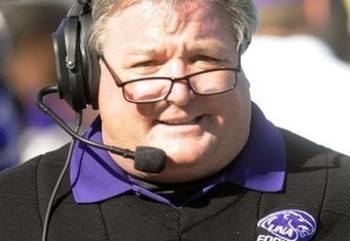 Through the first month of the Division II football season, shocking losses to so many teams in the top 10 have allowed North Alabama to ascend to the top spot in the polls.
North Alabama (4-0) has announced its intention to make the jump to the FCS in the coming years, and head coach Terry Bowden (yes, as in Bowden) may be looking to guide the Lions to one last hurrah in D2.
One team that stands in their way is Delta State (4-1). In the 2010 Division II National Championship Game, the Statesmen fell just short as they lost on a last-second field goal by Minnesota-Duluth. Delta State is hoping to erase that painful memory, and North Alabama is one of the biggest roadblocks left to that quest.
Louisiana Tech at Utah State, Oct. 22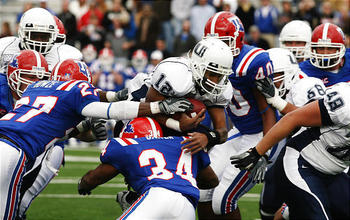 This Oct. 22 battle in the WAC is between two "almost" giant-killers of the SEC.
Utah State famously collapsed at the end of the season-opener at defending BCS champion Auburn while Louisiana Tech couldn't hold on against Mississippi State, losing in overtime on Sept. 24.
FCS South Alabama at FCS Georgia State, Oct. 22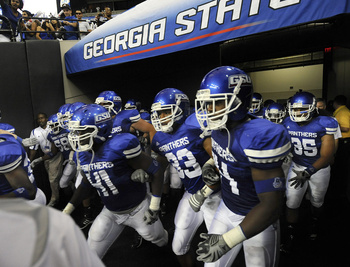 This is just the second season of football for both programs, and this will be a great game to determine who has come the furthest in the short time since the programs began.
As previously mentioned, South Alabama is making the jump to the FBS as a member of the Sun Belt next season. For the time being, Georgia State seems content to remain in the FCS, but this game in the Georgia Dome (where Georgia State plays its home games) could be a preview of a budding rivalry between these two very young programs.
Minnesota at Purdue, Oct. 8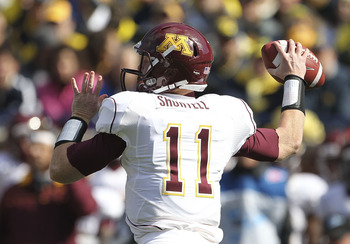 Leon Halip/Getty Images
As we saw this past Saturday at Michigan Stadium, Minnesota is a really bad football team. A 58-0 loss at the hands of the Wolverines was the biggest margin of victory for UM since the Wolverines beat Indiana by the same score in 2000.
Is Michigan that good or is Minnesota that bad?
Another team struggling mightily in the Big Ten is Purdue.
When the legendary names of Purdue football departed West Lafayette, it seems the heart and soul of the Boilermakers went with them.
When Joe Tiller left Purdue after 12 seasons, it seemed he took his 10 bowl trips (including the Rose Bowl in 2000) with him. Since taking over in 2009, Danny Hope has led Purdue to an 11-16 record, with a tie for sixth in the Big Ten as the best finish.
West Virginia at Syracuse, Oct. 21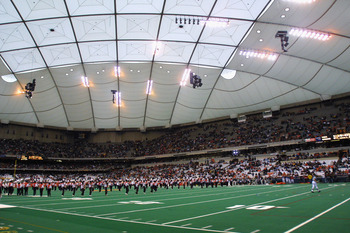 Rick Stewart/Getty Images
West Virginia's hope for a BCS championship run this season were dashed by a crushing loss to LSU at home a couple of weeks ago. The Mountaineers took out their frustrations on Bowling Green State this past weekend, and now set their sights on the Big East title and the BCS bowl berth that goes along with it.
Syracuse was a team from which not much was expected. However, so far this season, the Orange are 3-2. One interesting note about Syracuse this season is that in five games, they've played three overtime contests (2-1).
While West Virginia will likely be heavily favored, the Carrier Dome is a difficult place for visitors, and 40,000 screaming fans right on top of you with nowhere for the sound to go can get inside the heads of even the most well-prepared team.
As Syracuse prepared to depart for the ACC after the conference extended an invitation, it could be West Virginia's last chance to take out some frustration at being rejected by the ACC when WVU asked to tag along.
California at Oregon, Oct. 6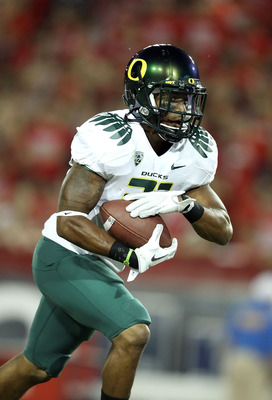 Christian Petersen/Getty Images
Last season, Cal nearly threw a giant wrench into the BCS picture with a "should-have" win against Oregon. It was only a penalty on the last-second field goal (which was good) that forced a retry for the Bears (which was not good). Oregon escaped with a narrow victory, went on the win the Pac-10 and earn a berth in the BCS National Championship Game.
Don't think the Bears have forgotten about that.
Miami at Virginia Tech, Oct. 8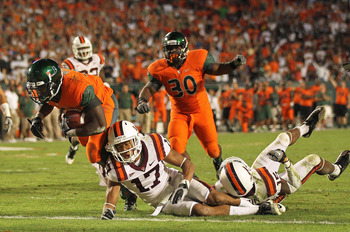 Mike Ehrmann/Getty Images
Virginia Tech was widely expected to be a top contender for the ACC title this season. While that's not completely out of the question, the Hokies' chances have certainly taken a hit after their conference loss to Clemson.
Miami is just fighting to cling to some sense of respectability.
After the program was thoroughly trashed by both the local and national media after its sins were revealed by one of the slimiest people you can find in a prison cell (which is really saying something), the Hurricanes are just trying to keep their heads down and get through this season with their dignity intact.
A win over Ohio State was a big help, and a win over Virginia Tech would be an even bigger help.
Connecticut at Pittsburgh, Oct. 26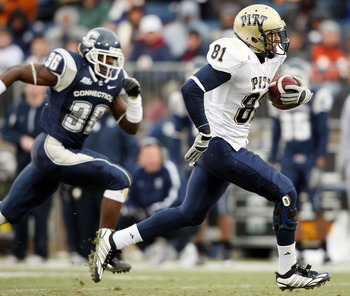 Elsa/Getty Images
Both of these Big East contenders have had their struggles early in the season.
Pitt suffered a heart-breaking fourth-quarter loss to Notre Dame while UConn was stunned by Western Michigan.
October is definitely the month for moving forward for both of these programs, and any time Pitt and UConn get together these days, it could have major implications on the Big East title picture.
Connecticut at West Virginia, Oct. 8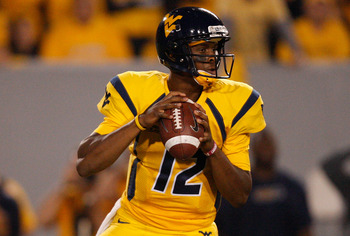 Jared Wickerham/Getty Images
The 2010 Big East Champion meets up with the favorite to win the 2011 Big East title.
Both of these teams know what it's like to win a conference title and earn a trip to the BCS. Both of these teams know what it takes to win the Big East. Both of these teams knows the other. Both of these teams will be ready to play.
West Virginia should be a heavy favorite, especially since the game is in Morgantown this season. However, that doesn't mean you should count the Huskies out quite yet. After a stunning loss to the MAC's Western Michigan, UConn will be very cranky next weekend, and the Mountaineers won't be able to sleepwalk through this contest.
Air Force at Notre Dame, Oct. 8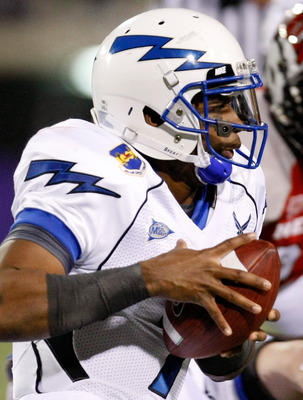 Ethan Miller/Getty Images
Over the past few years, Notre Dame has had a fair amount of trouble with one of the service academies.
This year, Navy is perceived to be weaker than in years past, or at least Air Force is improving to be its equal.
Either way, the current holder of the Commander-in-Chief's Trophy is Air Force, and the Falcons will get their own shot at knocking off Notre Dame this week in South Bend.
It's probably worth mentioning that Notre Dame is a much improved team over years past, and it remains to be seen if the service academies stand much of a chance against the Irish.
Chances are not, but we'll find out on Saturday.
Northwestern at Iowa, Oct. 15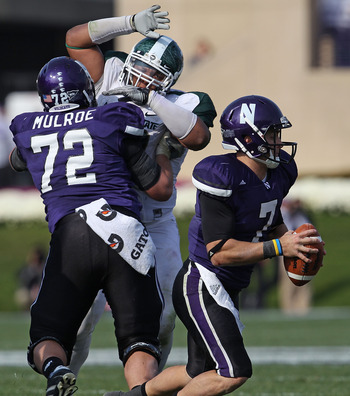 Jonathan Daniel/Getty Images
After a disappointing loss to Illinois in the Big Ten opener for Northwestern, the Wildcats will have a shot to steal a win from one of the more difficult and hostile environments in the conference in a couple of weeks.
Dan Persa is in the midst of his return for the Wildcats, and it's unquestionable that Northwestern is a better team with him under center.
Iowa is rebuilding this year, and no one is really sure how good the Hawkeyes can be in 2011—but they are currently 3-1, one spot better than Northwestern at 2-2.
Stanford at USC, Oct. 29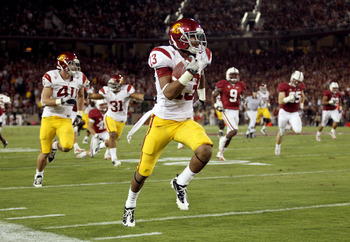 Ezra Shaw/Getty Images
On paper, this game probably isn't even close.
However, unlike years gone by, we're not talking about a USC blowout of its in-state rival. This time around, Stanford is the heavy favorite.
But like any intense rivalry, the team that wins on paper doesn't always win on the football field.
USC is desperately trying to get through its last season of postseason exile while maintaining that Trojan swagger that has been so dominating in the past.
Stanford, on the other side, is looking to prove that it can be a perennial contender in the conference, and the Cardinal are looking to earn a spot in the inaugural Pac-12 Championship Game. While we all know USC won't be allowed to play for a conference title this season, USC fans would revel in a chance to spoil Stanford's chances.
Arizona State at Utah, Oct. 8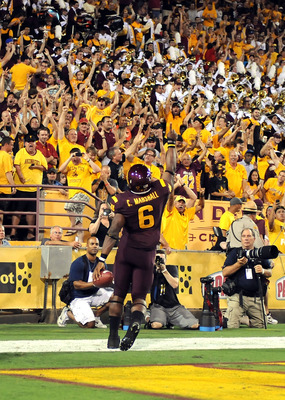 Norm Hall/Getty Images
Welcome to the big time, Utah.
So far, the Utes' move to the Pac-12 hasn't gone off quite as expected. Utah is 0-2 in conference play, and next week it will be facing a team ranking in the Top 25 and hungry to claim the South Division championship in 2011.
Arizona State is 4-1 and a perfect 2-0 in conference after knocking off both USC and Oregon State.
If Utah wants to show the rest of the conference that it can run with the big boys, now is the opportunity to do so.
Iowa at Penn State, Oct. 8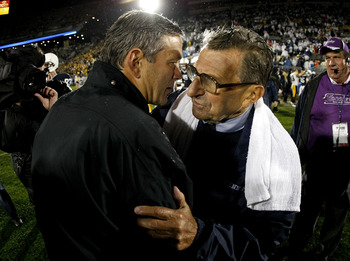 Gregory Shamus/Getty Images
For some reason, Joe Paterno has had a difficult time beating Iowa over the years.
Iowa has spoiled many a season for Penn State, and this cross-divisional matchup will provide the Hawkeyes another opportunity to throw an early wrench into Penn State's Big Ten title hopes.
Happy Valley is never an easy place to play, but Iowa has had as much success at Beaver Stadium as any team in the Big Ten. This should be an excellent game.
South Florida at Connecticut, Oct. 15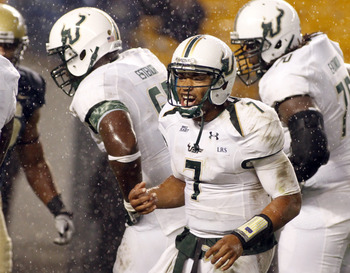 Justin K. Aller/Getty Images
South Florida was riding a perfect start and a Top 25 ranking into its Thursday night game against Pittsburgh—a game USF was expected to win fairly easily.
Instead, the Bulls were taken out behind the woodshed by the Panthers, and limped home after an embarrassing performance on national television.
Skip Holtz and the Bulls won't have much time to lick their wounds. This week, USF will travel to defending Big East champion Connecticut, where they will hope to regain some of the magic that failed them last Thursday at Pittsburgh.
Michigan at Northwestern, Oct. 8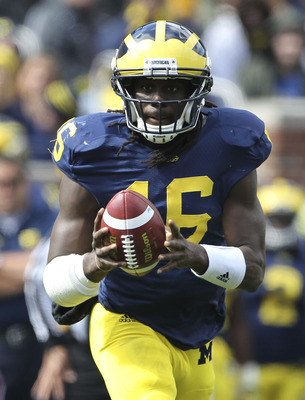 Leon Halip/Getty Images
On the surface, it looks as if the Wolverines are back in the national conversation. A lofty Top 25 ranking is the result of a 5-0 start, and some impressive play from Heisman-hopeful quarterback Denard Robinson.
However, scratch just a little below the surface and you see a Michigan team that has benefited more from formerly highly ranked teams losing than for any particular faith in the maize and blue.
Brady Hoke seems to have his new program on track, however, and the Wolverines will look to prove their new worth on the road this week at Northwestern.
In the "good old days," this game wasn't much more than a footnote. The only question would be "how many points will the Wolverines win by this week," and that's about it. Today, the Wildcats are led by standout quarterback Dan Persa, who recently returned from a Achilles' heel injury suffered last November.
The weak link for Michigan is the defensive secondary. Persa can pick apart a secondary as well as any quarterback in the Big Ten. It will be interesting to see how the UM defensive backfield deals with a talented Big Ten quarterback.
Navy at Notre Dame, Oct. 22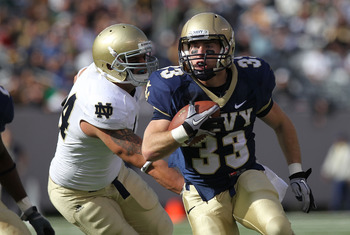 Nick Laham/Getty Images
After suffering through nearly five decades of futility against the Fighting Irish, the Midshipmen from Navy finally broke through a stole an overtime victory against Charlie Weis's Notre Dame. Then it did it again. When Brian Kelly took over, Navy welcomed him by handing Notre Dame its third loss in four years against the Midshipmen.
Sorry to burst your bubble, Navy, but the years of beating Notre Dame are probably behind you.
Notre Dame is certainly on the rise, and Kelly has his team playing much better than at the start of the season. Navy, while still a decent football team, is probably weaker today than it has been In the past few seasons.
However, anyone who is a fan of the grand traditions in college football should tune in to watch this game. The gross tonnage of respect that pervades this game and all the surrounds it is unmatched by anything other than perhaps the Army-Navy game each season.
There's just something special about the Navy players standing behind Notre Dame after the game for the playing of "Notre Dame, Our Mother," and the reciprocation the Irish provide for "Navy Blue and Gold."
Baylor at Texas A&M, Oct. 15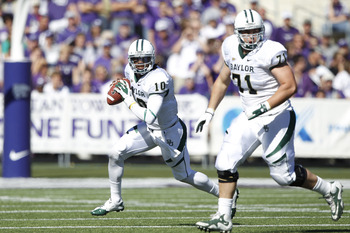 Joe Robbins/Getty Images
Both Baylor and Texas A&M had magical seasons and high hopes underway a few weeks ago. Since then, the ceiling has come crashing in on both programs with two epic second-half collapses by the Aggies and a crushing one-point loss to Kansas State for the Bears.
There's still much to play for between these two Texas programs, and after a couple of weeks to get past the losses, we should see a hard-hitting game highlighted by some great play from two awesome quarterbacks.
Ohio State at Illinois, Oct. 15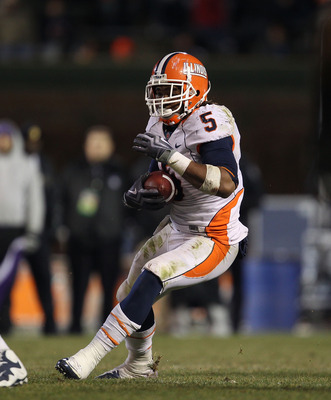 Jonathan Daniel/Getty Images
When Ohio State is good, Illinois had been able to play the role of spoiler. Now it seems the tables have turned.
Illinois has proven to be the better of the two programs so far this season, as the Illini come into the second week of October sporting a Top 25 ranking and a 5-0 record. Ohio State, on the other hand, is a 3-2 team with a 0-1 Big Ten record. This Leaders Division matchup comes on the heels of a showdown with Nebraska for the Buckeyes, and it's possible—or even likely—the Buckeyes will be sporting a 3-3 (0-2) record headed into this game at Illinois.
The Illini will need to avoid Ohio State returning the favor for spoiled seasons past at the hands fo the Illini.
Pittsburgh at Utah, Oct. 15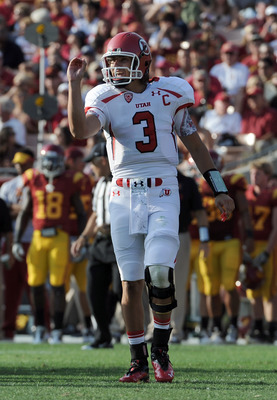 Harry How/Getty Images
It's probably safe to say that this Pac-12/Big East meeting is taking place between two teams that have thus far had some struggles.
Utah doesn't seem to be handling its move to the ranks of the BCS AQ teams very well, and Pitt has been up and down at times this season, losing to Notre Dame but walloping a ranked South Florida squad.
This non-conference game could certainly set the tone for the remainder of the season for both programs.
TCU at BYU, Oct. 28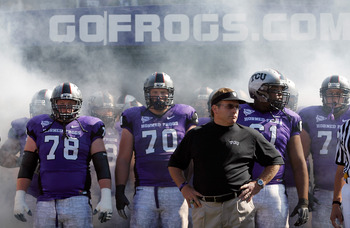 Tom Pennington/Getty Images
Before the season, if someone had told you that BYU would be 3-2 after five games, yet still have the best record among the FBS independents, you might have laughed.
And yet that's exactly where we are right now.
BYU has ditched the conference life and has stepped out on its own. Things haven't gone exactly as planned, but compared to Army, Navy and Notre Dame, the Cougars can't really complain too much.
TCU, on the other hand, has a lot to be concerned about.
After suffering their second loss of the season—this time to SMU—it's likely the Horned Frogs are out of the Top 25 for a while.
Washington at Stanford, Oct. 22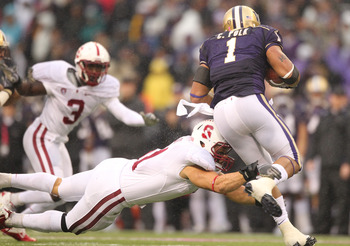 Otto Greule Jr/Getty Images
When Jake Locker graduated and left campus, there were more than a few observers who felt that the sun was setting on Washington's chances to beat the best teams, earn bowl trips and impress the nation with its play.
Apparently, the Huskies didn't get the memo about them sucking this season.
Washington is off to a 4-1 start, with their only loss coming at then-No. 11 Nebraska, 51-38, in a game that was much closer than the 13-point final score.
Since then, Washington has posted a 2-0 record in Pac-12 play and sits tied atop the Pac-12 North with none other than the mighty Stanford.
A lot will happen between now and Oct. 22, but Washington has only Colorado between now and then. With a likely matchup between these two clubs undefeated in conference play, the Huskies could find themselves playing for a lot more than respect. They could be playing for a permanent place atop the Pac-12 North.
Who thought that was possible four weeks ago?
South Carolina at Mississippi State, Oct. 15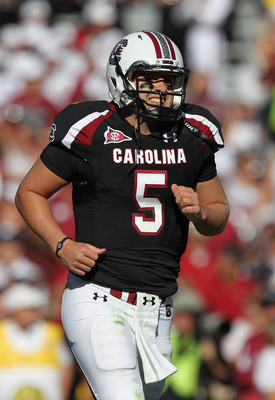 Streeter Lecka/Getty Images
After a crushing loss to Auburn under controversial circumstances, South Carolina head coach Steve Spurrier needs to ensure his team doesn't lose focus heading into the next few weeks.
The Oct. 15 game against a Mississippi State team that has been, well, disappointing thus far this season, is a major potential upset game. The Gamecocks are still in a pretty favorable position in the SEC-East (as every East team has at least one SEC loss, and USC has yet to play an East opponent), but a loss to a 2-3 (0-3) Mississippi State team could spell trouble for the Gamecocks.
Mississippi State, on the other hand, is looking at this game as a potential redemption game. Knocking off a team believed to be the best in the East would go a long way to mollifying some of the discontent from the Mississippi State faithful.
Tennessee at Alabama, Oct. 22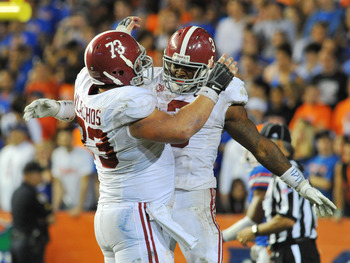 Al Messerschmidt/Getty Images
With all of the focus on Alabama, LSU, South Carolina, Florida and Arkansas so far this season, Tennessee has been quietly compiling a 3-1 record and positioning itself as a spoiler in the SEC-East.
More than that, Tennessee is still a contender in the East, even though it needs some help with Florida after the Gators handed the Vols their only loss thus far in the season.
If Tennessee can manage to pull off an upset against the Crimson Tide, it could signal the beginning of the Volunteers' resurgence in the SEC.
Wisconsin at Ohio State, Oct. 29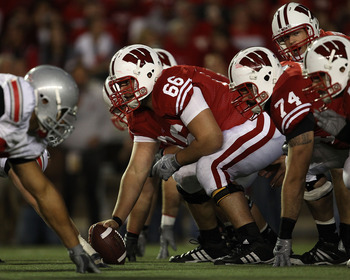 Jonathan Daniel/Getty Images
At the beginning of the season, it looked as if Wisconsin and Ohio State might have to duke it out in the Big Ten Leaders for a trip to Indianapolis this season.
As it turns out, Ohio State is a bad football team. The offense is just terrible, and the return of five suspended players—including four starters—might be a case of "too little, too late."
Even if Ohio State had been at full strength for the entire season, Wisconsin just looks crazy-good this season.
In the past, Wisconsin relied on a big power-running game supplemented by a serviceable pocket-passing quarterback. This season, Wisconsin again has a classic Big Ten running game (only better), but also has a mobile quarterback that can burn you with his arm or his feet.
Only the best of the best in the entire country can hope to stop the Badgers this year. Ohio State isn't anywhere close to that classification now.
Florida at LSU, Oct. 8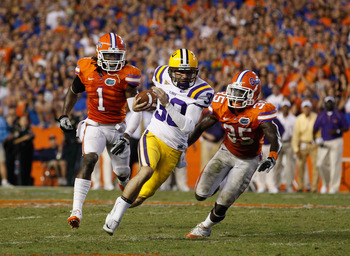 Sam Greenwood/Getty Images
Only a week ago this game looked like an epic SEC clash between two heavyweights.
Now Florida not only has a blemish on its record, but starting quarterback John Brantley is injured.
To make matters worse, LSU has ascended to the No. 1 spot in the AP's Top 25 poll, and the Tigers appear to be a team on a mission.
One should never count the Gators out, but beating LSU in Baton Rouge will be a very large mountain for the wounded Gators to climb this week.
LSU at Tennessee, Oct. 15
Sam Greenwood/Getty Images
However, before Tennessee even has a chance to knock off Alabama, it'll need to deal with the top team in the nation on Oct. 15—Louisiana State.
The Tigers are a very tough team this fall and have strung together some impressive wins in what is likely the most difficult schedule of any team to this point.
The Tigers are so strong, it's likely that Tennessee fans will have plenty of company cheering on the Vols on Oct. 15.
Ohio State at Nebraska, Oct. 8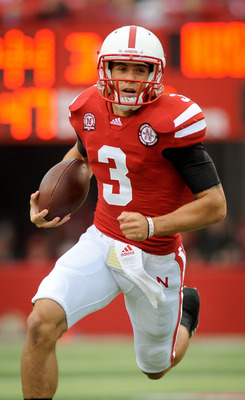 Eric Francis/Getty Images
Well, Cornhuskers fans, welcome to the Big Ten.
Rather than breezing through conference play en route to a Big Ten title in their first try, the Cornhuskers were given a rude Big Ten welcome by the Badgers in Madison this past week. In fact, the game between Wisconsin and Nebraska wasn't even close. Nebraska was utterly outmatched in every facet of the game.
While not every team in the Big Ten will be as tough as Wisconsin, the 'Huskers will need much better play from their quarterback and defense if they are to have any hope to winning their Legends Division in hopes of a potential rematch with Wisconsin in December.
The first-ever Big Ten home game for Nebraska should go a bit better for the Cornhuskers. A battered and bruised Ohio State team will be coming to Lincoln this week. However, this game is interesting for reasons beyond the historical implications. The Buckeyes will have five suspended players back in action in Lincoln, and everyone in the conference is very interested to see what kind of a difference that makes for Ohio State. Because up until now, the Buckeyes have been, well, pretty bad.
Texas Tech at Oklahoma, Oct. 22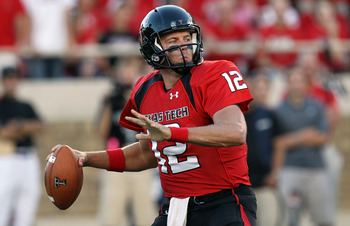 Ronald Martinez/Getty Images
Texas Tech is another Big 12 team that has quietly put together a fairly impressive 4-0 start to the 2011 season.
At the beginning of the year, the potential Big 12 stumbling blocks for the preseason No. 1 Sooners looked to be Texas A&M and Oklahoma State.
With four wins (over admittedly bad to mediocre programs) under their belts, Oklahoma might be well served by paying a little more attention to the Red Raiders.
Georgia vs. Florida, Oct. 29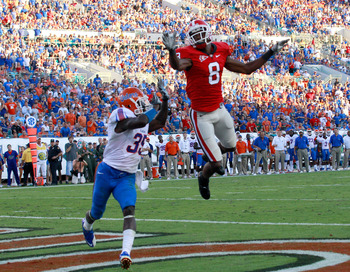 Sam Greenwood/Getty Images
Both Georgia and Florida have suffered through some disappointments thus far in the season. Georgia had a poor showing against a very good Boise State squad to open the season, and a close loss to South Carolina didn't help Mark Richt's job security.
Since then, Richt has righted the ship to some degree, and the Bulldogs are 3-2—far better than the 1-4 start last season.
Florida may have some issued going forward, depending on the outlook for starting quarterback John Brantley. If he's able to return soon, Florida may not miss much in terms of SEC position. However, Brantley isn't the greatest quarterback in the world, so his replacement(s) can't be much to write home about.
Still, even with both teams 2-1 in the SEC-East, this annual grudge match will have massive SEC title game implications.
Auburn at LSU, Oct. 22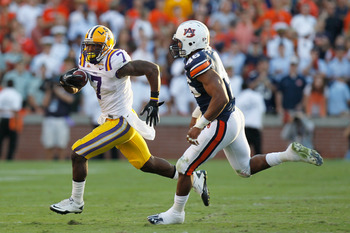 Kevin C. Cox/Getty Images
Don't think LSU doesn't remember last season.
The Tigers were painfully close to stopping the 2010 Auburn Tigers, but like so many other teams last season, LSU fell just a little short.
This season, LSU appears to be the team on a mission. Auburn survived some close scares early this season before finally losing to Clemson.
Auburn will need more than a few lucky breaks to win this game at LSU, but if Auburn can continue to grow and mature, it could end up being a great SEC-West battle.
Wisconsin at Michigan State, Oct. 22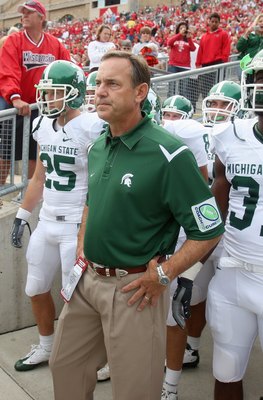 Jonathan Daniel/Getty Images
Last season, the Badgers went into East Lansing full of confidence and left with a loss.
This season, the Badgers will be heading into East Lansing full of confidence, and Sparty will need to dial up something special in order to send Wisconsin home with another loss.
So far this season, Wisconsin has looked darn-near impossible to beat. If the Badgers could destroy a top 10 Nebraska team like they did last Saturday, what hope does MSU have?
Michigan State edged past Ohio State this past weekend, completing Mark Dantonio's Big Ten circuit (MSU has now beaten every pre-expansion Big Ten team at last once under Dantonio), and the next goal to cross of the list is a trip to Pasadena.
By far the biggest Leaders Division road block at this point in Wisconsin.
These two teams have a pretty good history of upsets and great finishes. This late-October game at Michigan State probably won't be any different.
Michigan at Michigan State, Oct. 15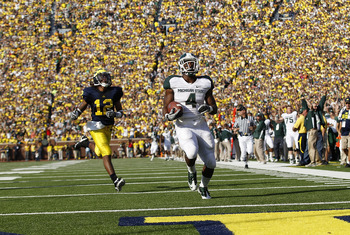 Leon Halip/Getty Images
A few years back when Michigan's Mike Hart rather callously referred to Michigan State as the "little brother," the Spartans got a bit riled up, maybe because Hart's admittedly classless comments hit a little too close to home. After all, Michigan had been dominating the series for the Paul Bunyan Trophy.
The "little brother" comment riled up Sparty enough that MSU has since never lost to Michigan, winning three straight since the infamous collapse by MSU at Spartan Stadium in 2007. It seems the little brother is all grown up.
MSU hasn't beaten Michigan four straight times in over 40 years. That record is definitely in jeopardy this month, and with the introduction of divisional play in the Big Ten, this Legends Division game has a lot more on the line than state bragging rights.
Michigan will attempt to turn the state back to maize and blue after several years of the state having a distinctly green and white hue. In addition, a win over a good Michigan State team will be yet another signal that UM is on its way back to relevance.
Air Force at Boise State, Oct. 22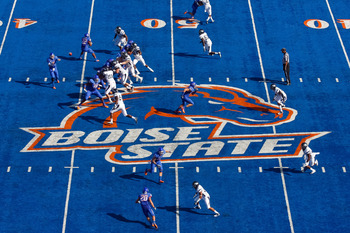 Otto Kitsinger III/Getty Images
Boise State has done the best they could to improve its strength-of-schedule position by leaving the WAC for the slightly greener (or is that bluer) fields of the Mountain West.
Without question the MWC has a few more tough opponents than the WAC, and Air Force is one of them.
The Falcons will be making the trip to play Boise on the Smurf Turf in late October, and the Falcons will need to bring their A game (and then some) if they have any hopes of knocking off one of the best teams in the nation.
By the way, Boise State hasn't lost a conference home game since the players were somewhere around second grade. Just thought we'd mention that.
Kansas State at Texas Tech, Oct. 15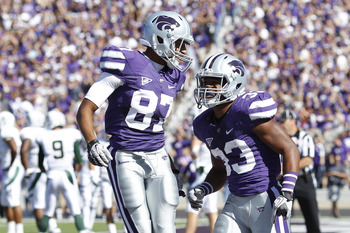 Joe Robbins/Getty Images
Wow. Who would have thought Kansas State would be 4-0 with a win over a Top 25 opponent at this point in the season?
For that matter, who thought Texas would be 4-0? Okay, so there were probably more people who picked the latter, but at least Kansas State has beaten a Top 25 team this season. Texas can't say the same, yet.
USC at Notre Dame, Oct. 22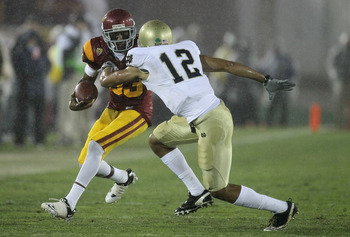 Stephen Dunn/Getty Images
When a team has no bowl game to play for, no conference championship to win, what's left is the rivalries—the games that fill the fan base with a sense of pride and ruin the opponents' week.
That's exactly the situation facing USC again this season, except this time the Trojans will be looking to actually defeat the Irish.
Last season, Notre Dame finally defeated USC, and did it in Los Angeles. The Trojans will be looking to return the favor this season when they come to South Bend hoping to restore some of the USC pride this season.
The USC-Notre Dame rivalry is one of the greatest in the game. You can't get much more traditional than the Trojans and Fighting Irish. The Trojans had quite a run of success against Notre Dame. Is it finally Notre Dame's turn to take over dominance in the series?
Michigan State at Nebraska, Oct. 29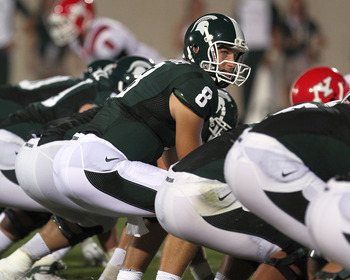 Dave Reginek/Getty Images
At the beginning of the season, Nebraska looked like the 800-pound gorilla in the Big Ten-Legends division. Now the Cornhuskers look like a very beatable team after they were absolutely embarrassed by a very good Wisconsin team last week.
Michigan State will need to hope that Nebraska is a beatable team as the Spartans will travel to Lincoln for their first Big Ten meeting with the 'Huskers.
We previously mentioned that MSU's win over Ohio State gave Mark Dantonio a win over every Big Ten school since taking over the head job in East Lansing. Every Big Ten team—except Nebraska. Dantonio and the Spartans could complete the full circuit in their first attempt on Oct. 29, but Sparty will need to play a near-perfect game if they hope to escape Lincoln with a victory.
Oklahoma State at Texas, Oct. 15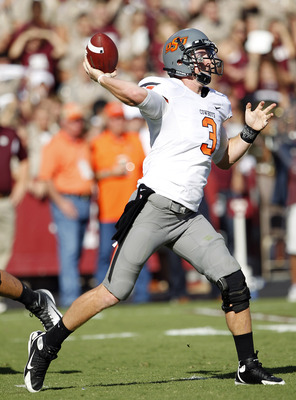 Bob Levey/Getty Images
Oklahoma State was widely expected to excel his season, but the jury was out on Texas until we began to see some results.
The verdict is in, and it looks like the Longhorns are much improved over their abysmal 2010 performance.
While the Cowboys will likely be heavy favorites in this game, leaving Austin with a victory is never an easy task. Oklahoma State will need to avoid a letdown against the Longhorns to keep their perfect record and potential BCS title game trip intact.
Arizona State at Oregon, Oct. 15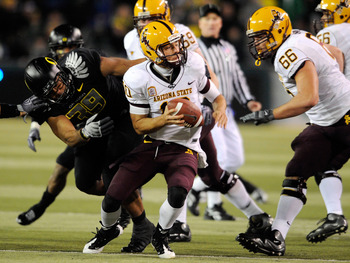 Steve Dykes/Getty Images
At the start of the season, many saw this game as a potential preview of the Pac-12 Championship Game.
After five weeks, not much has changed in that assessment. Both the Ducks and Sun Devils have had a non-conference slip up but are perfect in the young Pac-12 season. Both teams could be in the driver's seat in their respective divisions come this Oct. 15 showdown, and it's very possible that these two teams will meet again in December to play for a trip to the BCS.
Clemson at Georgia Tech, Oct. 29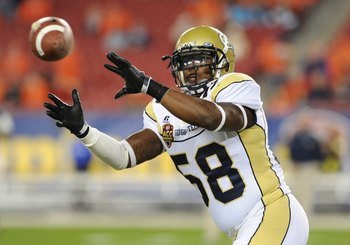 Al Messerschmidt/Getty Images
Our preseason picks for the top two teams in the ACC after five weeks were not Clemson and Georgia Tech.
Our picks for the top two teams in the ACC after five weeks now are Clemson and Georgia Tech.
Both teams are an impressive 5-0 and are sporting Top 25 rankings. With big wins on the résumé of both teams, it's looking more and more likely that this Oct. 29 showdown could be a preview of a possible ACC Championship Game matchup.
Oklahoma vs. Texas, Oct. 8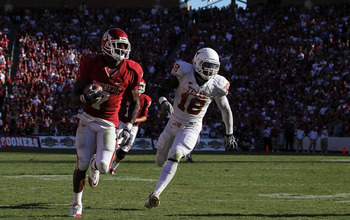 Ronald Martinez/Getty Images
Who knew that this year's Red River Rivalry game would have such meaning?
Coming into the 2011 season, Texas wasn't even considered much of a threat in the Big 12. After a 5-7 season, and some significant quarterback questions, there was more than enough reason to doubt the Longhorns would be able to put up more than token resistance to the preseason No. 1 team in the country.
Now, five weeks in, we're looking at two undefeated teams preparing to tangle at the Cotton Bowl with more than bragging rights on the line.
This game is almost always interesting, and the Longhorns and Sooners have no bigger rivals. Surprisingly, the 2011 Red River Rivalry will be the game of the week on Oct. 8.
Keep Reading