Tail Spin: Are Rex Ryan's "Super Bowl" Jets on the Brink of Falling Apart?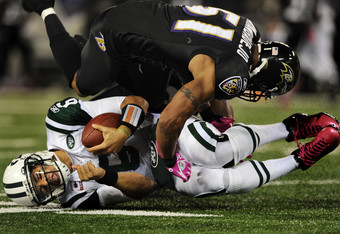 Patrick Smith/Getty Images
Well, the good news for the New York Jets this morning is that they are not the Philadelphia Eagles.
That's where all the superlatives end when it comes to Gang Green right now, because Rex Ryan's brash bullies of Super Bowl talk have been shot down and shut up so far this season after four games full of inconsistent play from the defense, as well as purely abysmal play from the entire offensive unit.
A quarter of the way through the season the Jets stand at 2-2, and if it were not for Joe McKnight's blocked punt in Week 1 against Dallas, you could make the argument that the Jets would be 1-3 right now. They have lost the first two games of their critical three-game road trip—both in excruciating fashion—and look progressively worse with each snap.
The Jets have been exposed.
No way is this a Super Bowl team. Heck, this might not even be a playoff team, let alone a .500 team, right now.
Their offensive line depth is atrocious. Without Nick Mangold, there is no glue to keep that unit together—it was on display against the Ravens, as Mark Sanchez couldn't get on the same page with center Chris Baxter. Even though Mangold will likely return next Sunday against New England, there are still visible problems with this offensive line. Vladimir Duccase is a joke, and Wayne Hunter has been horrible at right tackle.
Keep in mind this is a Jets team that was convinced Damien Woody was finished and that Hunter could step in and replace him. The Jets not only miss Woody on the offensive line, they miss his veteran presence in the locker room.
Do you think the Jets are at risk of falling apart?
Woody was a three-time Super Bowl Champion with the New England Patriots, a guy who was well respected in that Jets locker room, a true leader—he's no longer there.
The running game has been the Jets' biggest problem all season. A team that dedicates itself to the notion of "ground and pound," we have seen the Jets get grounded and pounded. Will we ever see the real Shonn Greene? Better yet, is this the real Shonn Greene?
Greene didn't step up his game at all last season, paving the way to LaDainian Tomlinson becoming the team's leading rusher. Greene had a decent second half and postseason last year, but he didn't replicate the burst of speed he had in the 2009 playoffs.
Greene has been a complete bust this season. Greene has only 157 yards rushing this year with one touchdown. He has even watched his yards-per-carry average drop over the last two seasons from 5.3 in 2009 to 4.1 in 2010 and now 3.1 in 2011. The Jets know they have to get him the football more often, but when he touches it, it's like like watching a man run through cement. The burst and power is not there right now.
I give Greene the excuse that the offensive line is not doing a good job up front. Plenty of blocking assignments have been missed, and with a lot of inexperience on the right side of the line, opposing teams are getting great pressure up front. That being said, Greene was supposed to be the guy, and up to now he has not delivered. If his struggles continue the rest of the season, you can rest assured that the Jets will use their first draft pick in 2012 on a running back.
Then there are the two biggest culprits of this offense: Mark Sanchez and Brian Schottenheimer.
Jeff Zelevansky/Getty Images
Ever since he became offensive coordinator of this unit back in 2006, Schottenheimer has received heavy criticism for managing the game too conservatively and relying too much on schemes that do not work over the course of the game.
Shottenheimer's offensive schemes have been down right schotty this season. Instead of relying primarily on the running game, this Jets offense has turned into a pass-happy unit that can't even get the ball down the field.
In some respects, Schottenheimer has been downright too pass happy on certain downs, such as having Sanchez drop back to pass on the first play of the Ravens game, when New York had the football in the shadow of their own goal line. The result? Sanchez was stripped sacked and the Ravens bagged a touchdown.
While Schottenheimer's play calling can certainly be questioned, the play of the quarterback is really baffling.
Sanchez doesn't have any more excuses. He is no longer a rookie quarterback and no longer a kid trying to learn the ins and outs of the NFL. Sanchez has 41 games under his belt, including six playoff games.
Now in his third year, the Jets have trusted Sanchez with leading this football team, and he has instead stumbled backwards. As Ray Lucas pointed out on Jets Post Game on SNY, Sanchez looks like a rookie all over again. Third-year quarterbacks are supposed to take their game to the next level; instead, Sanchez is validating the criticism of him since he came out of USC that he is a average quarterback.
Jonathan Daniel/Getty Images
Case in point is this entire season thus far. For three and a half quarters against the Cowboys, Sanchez was putrid against Dallas, going 18 for 29 for 201 yards, an interception and was sacked twice. It was not until the fourth quarter that Sanchez turned it on, completing 8-of-15 passes for 134 yards and a touchdown.
Against the pathetic Jaguars, Sanchez couldn't protect the football, throwing two interceptions and only 182 yards against a bad Jaguars team.
The past two weeks, however, have been the best examples of Sanchez's futility. Sanchez was sacked four times against the Raiders and was under constant duress for the entire game. Then against the Ravens, Sanchez was truly awful. Case in point, in the third quarter with his team down 27-17, still with shot to come back in the game, Sanchez did his best Vinny Testaverde, Neil O'Donnell and Brett Favre impersonation, when he reared back and threw a costly interception to LeDarius Webb, who went cost to cost for the 73 yard touchdown. Ball game over, Ravens win!
Sanchez went a woeful 11 of 35 for 119 yards and the pick. Granted a lot of QB's struggle against the Ravens, but this kind of play is becoming common place from Sanchez.
The most disturbing feature of Sanchez's game is the fact that he is not getting the football out to his big play makers. He has Santonio Holmes, Derrick Mason, Plaxico Burress, Dustin Keller and LaDainian Tomlinson at his disposal; opposing defenses can't cover them all, and any veteran quarterback would understand that and use it to his advantage. Not Sanchez.
Sanchez has looked timid with his throws, and he doesn't seem to trust his receivers. Santonio Holmes was held under four catches for the third consecutive game, and Burress was once again nowhere to be found against the Ravens.
Larry French/Getty Images
Even Mason started to question the team's resolve after the 34-17 beat down:
"Hey, you all saw it. There were cracks out there and nobody wants to identify it. Until we fill those cracks, we are going to have the same problems." Is Mason referring to Sanchez? Is he referring to Schottenheimer? Greene?
You are free to guess, but it says a lot about this football team, when a guy who never played on the Jets until now is voicing displeasure with the franchise, while a guy like Sanchez (aka the team captain) did his best to avoid controversy last night.
With all the problems offensively, it doesn't hide the fact that the defense has been spotty as well. Even thought they did their best on Sunday night in Baltimore and held Joe Flacco in check the entire night, these guys are missing tackles, they are still not rushing the passer with great authority, and they are being called for way too many penalties.
What ever happened to Bart Scott, the mad backer who was supposed to be Ryan's centerpiece to the defense? Whenever we see Scott, he is missing tackles and getting beat on every play.
What is with Antonio Cromartie? He was flagged for four pass interference calls against Oakland, and teams know they can pick on him for an entire game.
The best aspects of this defense right now are David Harris (his interception for a touchdown was huge and brought Gang Green back in the game) and of course Darrelle Revis, who continues to shut down opposing number one receivers. That's it, so far.
Jed Jacobsohn/Getty Images
The big question when it comes to the Jets is leadership. Where is it coming from? It can't always come from the coaches; at some point, the players have to step up themselves and lead this team. The last two seasons, the Jets had guys like Woody, Kris Jenkins, Shaun Ellis and Jerricho Cotchery in the clubhouse—good team guys who held the clubhouse together.
The Jets got rid of all of them because of contracts, and because they were getting a little long in the tooth—they wanted to get younger. It is up to guys like Sanchez to lead this team, and so far nobody is willing to take the baton.
Even in his postgame conference last night, Ryan sounded jittery. He tried to convince reporters that he could get this thing turned around, when he said, "I know we are the best guys for the job," but it was the way he said it. He murmured it under his breath, almost like he was trying to take it back. Could Ryan finally sense that this team has no bite to his bark? Perhaps he is realizing that all of the bold proclamations that he made during the offseason—that this was his best Jets roster and that this is a defacto Super Bowl champion—was a big mistake.
And now awaits the New England Patriots. Even though this is not a great Patriots team, they remember the Jets dancing around Gillette Stadium last January, and don't think for a minute that they would not love to stick it big time to the Jets and push their season into a full tailspin.
The Jets then have games against the Chargers (3-1), Bills (3-1), and Patriots (3-1) again before mid November. It could get worse real fast.
Right now, is there anything about New York's game that gives you confidence moving forward?
If this season is indeed spiraling out of control, the Jets will try to pin blame on the lockout, a poor excuse considering 31 other teams had to deal with the lockout as well. They will likely pin blame on Schottenheimer, whose play-calling has been so inept. They will pin the blame on the offensive line, the running back, and even on their outside linebackers. They will even pin blame on Burress and Mason for being too old. The fact you can see it coming now is all the more disturbing.
Ryan and Sanchez will avoid the blame ... for now. Then again, if things do indeed get worse this season, the heat will be on. This is what happens when you keep talking about being defacto Super Bowl champs.
This article is
What is the duplicate article?
Why is this article offensive?
Where is this article plagiarized from?
Why is this article poorly edited?

New York Jets: Like this team?