WWE: The Next Step for John Cena, CM Punk and Alberto Del Rio
October 3, 2011
After a controversial ending to Hell in a Cell, we are left with multiple questions. One is the future of John Cena and what he will get himself into after his title loss.
Before I get into all of that, let me recap the ending of the interesting pay-per-view. 
The match was almost over and John Cena had Del Rio in the STF. Ricardo felt immediate action was needed, so he punched out the ref, grabbed the key and lured Cena out of the cell.
While taking care of the obnoxious ring announcer, Cena found himself locked out of the cell. Thanks to Alberto and Ricardo, he found a new advantage, making the match just one-on-one.
Back and forth Punk and the Mexican Aristocrat went, near fall after near fall. Punk threw Del Rio over the top rope and that is where he found the equalizer: the steel pipe.
He ran back into the ring and nailed Punk with the pipe square in the head. You can guess what came next as the ref counted to three, naming Alberto Del Rio the new WWE Champion.
I don't necessarily agree with Alberto as the new champion, much like Stone Cold doesn't. That's an article for another day, I guess.
After the match, the cell lifted as Awesome Truth invaded the cell and started to beat up the ref and the match participants. Eventually, the whole WWE locker room was at ringside trying to rip open the door.
HHH and the police made their way down to ringside with bolt cutters to open the cell door. Immediately, Awesome Truth surrendered as the cops put them in handcuffs.
Walking the arrested behind the curtain, HHH lashed out on both of them, ending the show restrained by more security. One word describes the ending to this pay-per-view; different.
Like I said, I don't agree with Del Rio as the champion. I feel that he isn't ready, a bit too bland on the mic and just doesn't look like a champion.
Not to mention that he wasn't a credible champion to begin with. One title defense and a briefcase cash-in to boot. It looks like WWE wants to build Alberto as a legitimate champion.
Luckily, wrestlezone.com broke out a report that CM Punk will head into a feud with Del Rio, most likely for the WWE Title. If Del Rio comes out on top, that will be the perfect way to build him up.
As for CM Punk, I can see him winning a title, but not for awhile. Survivor Series would be a good place for Punk to win it. Remember, Vinny Mac wants this pay-per-view to be up near the Royal Rumble and WrestleMania.
If he wants to be successful in doing so, Punk being victorious is the right way to go.
Now, the superman you have been waiting for: John Cena. Logically, this looks like the time he will enter his feud with the Rock, which will build into their Survivor Series clash.
While I don't hate the idea, I would much rather have him feud with a rising star. What about Wade Barrett, Justin Gabriel or even Daniel Bryan? All three are in need of a main event feud, which would be very beneficial to both parties. Rocky could come in and mock Cena for losing to mediocre stars. Bam, that's your angle.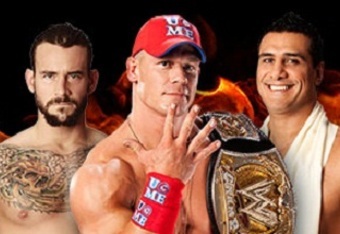 Tonight on Raw, Jim Ross tweeted that the show will be "revealing." I always believe Good Ol' Jim Ross. However, we have analyzed WWE's use of feuds for a while now. If they stay consistent,
I don't trust WWE Creative.
Surprised?
Thanks for tuning in to read my article. I really appreciate any feedback I receive. Have a great day everyone!
For the benfit of those with flash photography...