NFL Power Rankings Week 5: St. Louis Rams and 3 Teams Tumbling Down Rankings
October 3, 2011
Dilip Vishwanat/Getty Images
It's so easy to get caught up in the stories of surprise teams like the Buffalo Bills and San Francisco 49ers. Things like that are what make the NFL so great.
Just as many teams have had disappointing starts and find themselves falling down the power rankings at a blistering pace, those teams are, of course, easier to overlook.
The following are three of the teams that have had the hardest time.
St. Louis Rams
This was supposed to be the Rams year. They had come out of nowhere to make a run at the postseason last year and all that young talent was going to be a year older.
Needless to say, it has not worked out that well. The Rams are sitting at 0-4. They have played a tough schedule so far, but they haven't even been competitive for the most part.
I'm still hesitant to give up on the Rams because I think they have a lot of good talent on the roster, but at this point, I'll need to see it to really believe it again.
Philadelphia Eagles
I will grant you that the Eagles have dealt with some adversity already this season. Star quarterback Michael Vick has been dealing with a couple of different injuries.
But that can't be all that has led them to a 1-3 start on the season. The biggest problem seems to be stopping the run. The Eagles spent all of that money on bringing in Nnamdi Asomugha and others to improve the pass defense, but the run defense has been the bigger concern.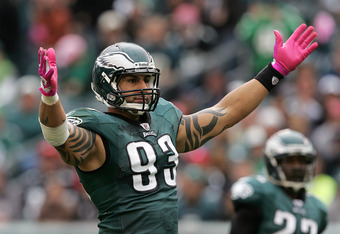 Rich Schultz/Getty Images
This week, the 49ers' Frank Gore, a running back coming back from injury mind you, ran for over 100 yards on them.
There is still a ton of football to be played, but the Eagles will have to get it in gear quickly to accomplish the goals they set out to achieve before the season.
New York Jets
Rex Ryan, as he always does, has big expectations for his team. He thinks they can end the season in the Super Bowl. Based on what I have seen so far, though, the Jets will struggle just to make the postseason.
Their offense once again looks nothing more than pedestrian. Mark Sanchez is a decent quarterback, but not someone you can lean on, and a running back duo of Shonn Greene and a past-his-prime LaDainian Tomlinson leaves a lot to be desired.
In Week 4, they got physically dominated by the Ravens. Baltimore's defense had their way with the Jets' offense. Their own offense wasn't great, but it was more than enough given the lack of points for New York.
Joseph Healy's NFL Power Rankings Going into Week 5
1. Green Bay Packers
2. New England Patriots
3. New Orleans Saints
4. Baltimore Ravens
5. San Diego Chargers
6. Detroit Lions
7. Houston Texans
8. Atlanta Falcons
9. New York Giants
10. Pittsburgh Steelers
11. Tampa Bay Buccaneers
12. New York Jets
13. Tennessee Titans
14. Buffalo Bills

15. Oakland Raiders
16. Chicago Bears
17. Dallas Cowboys
18. Washington Redskins
19. Philadelphia Eagles
20. San Francisco 49ers
21. Arizona Cardinals
22. Minnesota Vikings
23. Carolina Panthers

24. Cincinnati Bengals

25. Cleveland Browns

26. Seattle Seahawks

27. Jacksonville Jaguars

28. St. Louis Rams

29. Kansas City Chiefs

30. Denver Broncos

31. Indianapolis Colts

32. Miami Dolphins