College Football Rankings: No. 3 Oklahoma Sooners Must Still Prove Themselves
October 3, 2011
Brett Deering/Getty Images
The Oklahoma Sooners are the No. 3 ranked team in the nation, but if you're going by their strength of schedule, they shouldn't be.
Just who exactly has Oklahoma played that allows them to be ranked so high?
I know they started the year ranked No. 1, but even that was an overstatement, and their drop down the rankings proved so.
The Sooners may be one of the most overrated teams in the nation, so they need to start proving their worth.
Sure, they will probably go on to win the Big 12, and sure they will probably go on to an undefeated record, but as far as BCS title consideration is concerned, it's hard for me to take them seriously.
Take one look at their schedule for proof of the point.
The Sooners have cruised to a 4-0 record to start the 2011 season, but take a look at their opponents.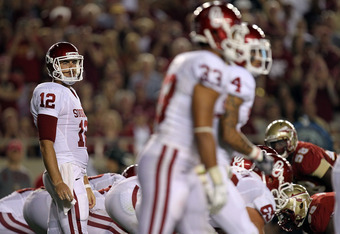 Ronald Martinez/Getty Images
They've beaten Tulsa, barely beat Missouri and beat up on an "intimidating" Ball State team. 
The only win they got that was relatively impressive was against Florida State, but the Seminoles played a majority of the game without starting quarterback E.J. Manuel.
Now, credit to the Sooners for knocking him out, but the point still remains the same.
The Oklahoma Sooners need to start proving themselves if they want to be considered a legitimate contender.
Right now they are purely hype, and it's hard to take them seriously.
If there was ever a game to do it, it would be this week with the Texas Longhorns coming in.
The Longhorns are rated No. 11 in the nation, and their rivalry with the Sooners is well documented.
This is the first real test for a Sooners team that hasn't faced many, so let's see how the No. 3 team in the land can handle their first bit of adversity.