NFL: Premature Playoff Predictions Based on Games Through Week 4
October 3, 2011
Larry French/Getty Images
After almost four weeks of play, we've seen plenty of surprises in the NFL. Detroit has stunned the world by going 4-0, Tennessee has surprisingly been competitive, and Green Bay has shown that despite not having the same defense as last year, nobody is ready to knock them off their perch.
That being said, here are early playoff predictions for both the AFC and the NFC.
AFC
| | | |
| --- | --- | --- |
| Seed | Team | Qualified as: |
| 1* | Baltimore Ravens | AFC North champion |
| 2* | New England Patriots | AFC East champion |
| 3 | San Diego Chargers | AFC West champion |
| 4 | Houston Texans | AFC South champion |
| 5 | Pittsburgh Steelers | AFC Wild Card |
| 6 | Tennessee Titans | AFC Wild Card |
Notable exclusions: New York Jets, Buffalo Bills
Let's start off with the exclusions.
The Buffalo Bills are merely a fluke. Their comeback victory against the New England Patriots was impressive, but they came down to earth this week against the Cincinnati Bengals. Their other victories were against the lowly Kansas City Chiefs and the mediocre Oakland Raiders.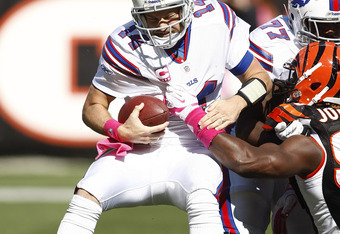 John Grieshop/Getty Images
The Bills are limited and for the next five weeks they play against tough AFC East and NFC East opponents.
The New York Jets, on the other hand, will come close but they will fall short. Mark Sanchez has taken a step back in his development this year, thus far. Their win against Dallas could have very easily been a loss and their only other win was a 32-3 beat down against a terrible Jacksonville team.
The Jets allowed 34 points to the Raiders last week and struggled against the Ravens with turnovers. Sanchez's inconsistencies, coupled with the fact that every team listed above has a better quarterback than the Jets will be the reason why they miss out barely this year. 
The Baltimore Ravens look like a formidable threat this year. They had an impressive victory over the Pittsburgh Steelers in Week 1 and Joe Flacco seems a lot more confident under center this year.
Unlike Sanchez, Flacco has taken steps into developing into a better quarterback and wants to be mentioned in people's top 10 quarterback list. Their defense is superb as always and should be good enough to help them get a bye week, especially with four more games left against the Bengals and Browns.
Boston fans won't have to worry about Tom Brady pulling off a Red Sox-like collapse this season. Despite throwing four interceptions last week, Brady is still the best in the game and exemplified that notion this week against the Raiders on the road.
Many expected the Raiders to make it a close game but Bill Belichick, Brady and the Pats were too powerful. Their defense may be extremely weak, and they still haven't developed a pass rush, but Tom Brady alone will be able to get them a bye week.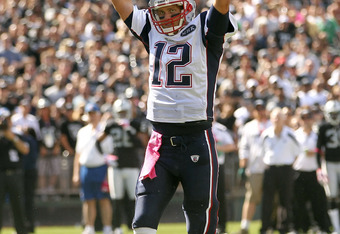 Ezra Shaw/Getty Images
The San Diego Chargers will be able to run away with the AFC West Division. The Oakland Raiders have improved but are limited at quarterback. Teams need elite quarterbacks in this era of passing.
Jason Campbell is nowhere near as talented as Philip Rivers. Rivers also has his weapons back from last year and has been utilizing them effectively.
The Chargers are 3-0 at home and have plenty of easy games left against the woeful Chiefs and Broncos. This, combined with the fact that the Texans are in a more difficult division will give them the third seed.
The Houston Texans have played well, but the upstart Tennessee Titans will give them a run for their money. Matt Hasselbeck may have lost his star receiver Kenny Britt, but he's the reason why the Titans are revitalized. He still has solid tight ends and the talented Nate Washington. Also, Chris Johnson still might wake up sometime this season to help out the team.
That being said, the Texans are more explosive offensively, even if Andre Johnson's injury is serious. Owen Daniels is a major threat at tight end and Arian Foster is arguably the best running back in the game today. They'll both make the big dance, but the Texans will edge the Titans in the division.
The Steelers will round out the wild card teams. Although they've played inconsistently throughout the first four weeks, Ben Roethlisberger has always played better late in the season. They'll have their run toward the end of the season. Troy Polamalu, leading the defense, won't allow the Steelers not to make the playoffs.
NFC
| | | |
| --- | --- | --- |
| Seed | Team | Qualified as: |
| 1* | Green Bay Packers | NFC North Champions |
| 2* | New Orleans Saints | NFC South Champions |
| 3 | New York Giants | NFC East Champions |
| 4 | San Francisco 49ers | NFC West Champions |
| 5 | Detroit Lions | NFC Wild Card |
| 6 | Dallas Cowboys | NFC Wild Card |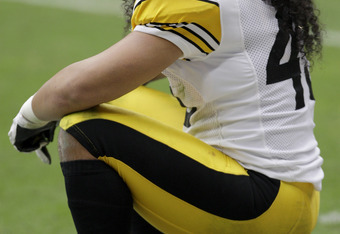 Thomas B. Shea/Getty Images
Notable exclusions: Philadelphia, Atlanta, Washington
Washington is surprisingly leading the NFC East after four weeks. Their defense has improved greatly and Rex Grossman isn't imploding. They have a bunch of character guys on their team and they've improved. However, that division is so balanced that all of these teams are going to beat each other up.
Washington hasn't had an impressive win and they really haven't played a sold team, yet. The week they beat the Giants, New York was banged up and they couldn't muster enough offense to beat the Cowboys.
Philadelphia's slow start may be problematic in the long run. They still have five difficult games against the Cowboys, Patriots, Jets and Giants. Unfortunately for them, the hole they have dug themselves might be already too deep for them to climb out of. 
Also, the Falcons defense has been atrocious this year. They allowed 28 points to the Seattle Seahawks this week. If they let the Seahawks run over them like that, imagine what the Packers will do to them next week.
Matt Ryan may be 20-2 at home, but their home schedule this season is tougher as they face the Saints, Packers and Titans. They also have a road game against the explosive Texans. 
The New York Giants look like they will come out of the balanced NFC East. It's going to be hard to win this division. Every team is equally balanced and they're going to beat each other up a lot.
The Giants have fought hard this season through injuries and have a 3-1 record going into Week 4. This looks like it will be an up year for the roller coaster that is Eli Manning. He's been able to work well with what he has and his experience in big games was depicted this week in the Giants come-from-behind victory against the Cardinals on the road. 
Rich Schultz/Getty Images
Leading the NFC will be Green Bay and New Orleans. Both squared off against each other in Week 1 and Green Bay was victorious. Aaron Rodgers and Drew Brees have both been unbelievably remarkable this season.
Rodgers threw for four touchdowns today and ran for another two. Brees led the Saints to a comeback victory last week against the Texans. These two quarterbacks could easily face each other in the NFC Championship this year. 
The Detroit Lions are unfortunately in the same division as the Green Bay Packers. However, they're good enough to make the playoffs. If someone disagrees, they obviously have not seen the Lions play. This team is for real.
Matthew Stafford has developed into an amazing quarterback and if he stays healthy this team will continue to be dangerous. Calvin Johnson, or "Megatron," is an athletic monster. Other teams can't stop him, but can only hope to contain him. Finally, they've developed a running game with Jahvid Best, which is pretty potent. Their secondary may be a tad weak, but the team as a whole is for real and should make the playoffs.
Rounding out the wild cad teams are the Dallas Cowboys. They've played well enough to be 4-0, but could also be 0-4. They're the average of those records at 2-2. The Cowboys also have a pretty decent shot at the division because of their quarterback.
Tony Romo has been either extremely amazing this year, or unbelievably terrible. Despite being the reason why the Lions got back in the game, it's important to note that Romo is still playing with bad ribs. Plus, the Cowboys schedule gets a lot easier with games against Arizona, Seattle, Miami, Washington and Buffalo following their tilt with the Patriots in two weeks. Romo will be able to iron out his kinks in those games and lead the Cowboys to the playoffs. 
The San Francisco 49ers look like they're going to get out of the atrocious NFC West. They have the best coach in that division by far.
Jim Harbaugh transformed Stanford's football program and now he is working wonders with the Niners and revitalizing Alex Smith. In that garbage division, they should be able to win the division with eight wins, but they could win more than that.