Andre Johnson Injury: Texans' Playoff Hopes Are Doomed Without Star WR
October 2, 2011
Bob Levey/Getty Images
The Houston Texans came into the 2011 NFL season with some very high aspirations, but those high hopes are going to quickly fade if they can't get receiver Andre Johnson back on the field and healthy.
It's not that Johnson is the end-all-be all for the Texans, and it's not like they can't function without him, but losing your star player can be devastating to a franchise.
Just ask the division rival Colts.
Without Johnson they go from a dangerous playoff team to a fringy team with potential.
The whole city of Houston had to be holding their breath as they watched their star wide receiver go down with a non-contact injury.
Players get injured every week in the NFL, but that simple term changes the whole demeanor surrounding the injury:
Non-conctact.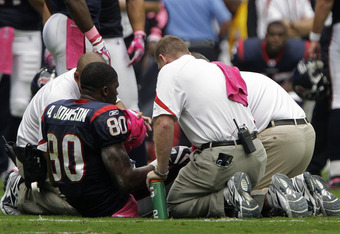 Thomas B. Shea/Getty Images
It's bad enough to see the other team hurt a player, but when a players own body turns against him it is almost unbearable to watch.
Here is the latest news on Johnson's injury, courtesy of ESPN:
Texans coach Gary Kubiak said Johnson would undergo tests Sunday night, so his status remained uncertain for next week's game against Oakland.

"Now, if we have to go without him for a period," Kubiak said, "we're going to have to really ask some guys to step up to the plate."

Texans owner Bob McNair refused to speculate on the severity of Johnson's injury.

"I am not going to be overly concerned until the MRI," McNair told ESPN.

The five-time Pro Bowler caught a 13-yard pass in the second quarter and was holding the back of his right leg near the knee after he fell to the ground. He pulled up at the end of the play, but was not hit.

Johnson remained on the field and was looked at by trainers before gingerly walking off on his own power.

He then walked to the locker room with members of the training staff.

"The way he went down was deflating," Kubiak said, "because it was like he just got shot. So that scares the heck out of you."
Don't let the calm and collected responses fool you, this is a horrible situation for the Texans.
It's a huge loss and a huge downgrade to their overall talent level.
Sure, they have Arian Foster and Matt Schaub, but Johnson is the piece of the puzzle that makes everything work.
His size, speed and pure athletic ability allows the Texans to stretch the field. That gives Foster more room to run and Schaub more options and time.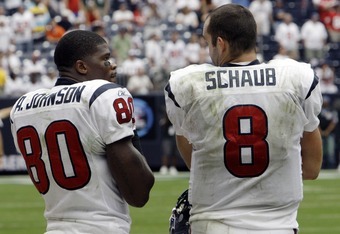 Bob Levey/Getty Images
Not even to mention that aside from the Lions' Calvin Johnson, there may not be a better clutch receiver in the NFL.
This could be a devastating blow for the Texans, so hopefully the injury isn't as bad as at looked.
Thankfully for the Texans, they play in an already injury AFC South, so they may be able to ride this out.
As far as the long-term is concerned though, this team does not have a shot in the playoffs without Johnson, so they better get him healthy.