Guillermo Vilas and the Top 25 South American Players in Tennis History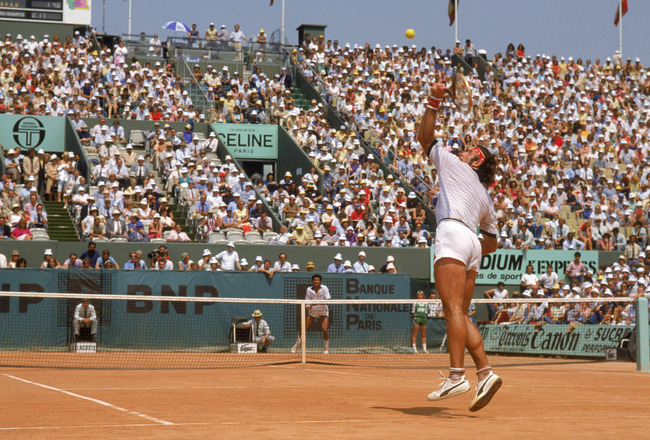 Steve Powell/Getty Images
South American tennis players are historically known for being clay court specialists, due to the dominance of this surface among the tennis courts available on the continent. As it is usually said, South Americans "grow up" on clay.
Learning to play on clay courts contributes a lot to the foundation of young players' games. As the surface propitiates a slower game, players are required to develop solid ground strokes that enable them to sustain longer rallies and to use more strategy to both construct and finish points—which have been the characteristics of South American tennis throughout history.
With Argentina leading the way, some remarkable professionals have written their names in the history books of the sport. The following list represents an opinion up to this date.
Note that there are players that are still active, and therefore could move either up or down as their careers come to an end.
Any analysis that takes into consideration players from different eras can be tricky. It was no different with this one, as there are players who competed only before the Open Era of tennis and there are players who came and have been around after its inception in 1968.
The challenge was to evaluate the players' careers and how they balanced among Grand Slam results, highest position achieved in the rankings, total number of titles won and Davis Cup performances. Intangibles were also part of the analysis, and they were on account of this author's heart and understanding of the game.
With that in mind, let's take a sneak peak at the top 25 South American players of all time!
25. Thomaz Bellucci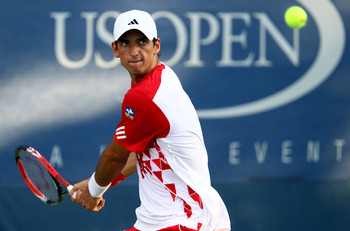 Julian Finney/Getty Images
Thomaz Bellucci is the best active Brazilian player, currently holding the 36th spot on the ATP rankings.
The lefty is perfectly built for the game and has two of the main weapons of the modern tennis: a good service and a big forehand.
He has won two titles so far (Gstaad in 2009 and Santiago in 2010) and his best Grand Slam performance was the fourth round of the French Open in 2010.
In 2011, Bellucci had a great run in the Madrid Masters, ousting Andy Murray and Thomas Berdych—both Top 10 players—en route to the semifinal.
Both John McEnroe and Brad Gilbert have said he has all the resources necessary to be a Top 10 player.
24. Hans Gildemeister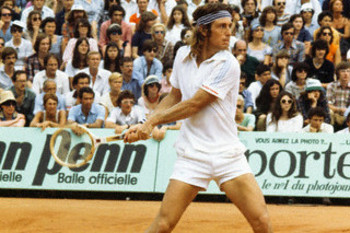 This Chilean player was born in Peru in 1956.
Gildemeister hits the ball with two hands from both the forehand and backhand sides and played college tennis for the University of Southern California.
He had four singles titles in his career, but achieved most of his success in doubles—capturing 23 titles.
His Davis Cup career was remarkable as well, as he holds the record for doubles in Chile's team history (13-6), in addition to a favorable 23-6 performance in singles.
In 1980, he reached his best ranking of 12th in the world.
23. Jaime Fillol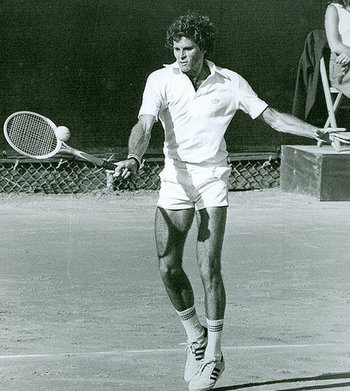 Chilean Jaime Fillol played for much of the '60s and '70s.
He was ranked as high as 14th in the world and won a total of seven singes titles and 15 doubles titles.
Fillol most remarkable achievement was leading Chile to the 1976 Davis Cup final. He is also the oldest player to defend Chile on a Davis Cup squad—at 37 years and 119 days of age.
Jaime is one of the founders of the ATP, and one of its earliest presidents. Fillol is also a member of the University of Miami Hall of Fame, where he graduated in 1969.
22. José Edson Mandarino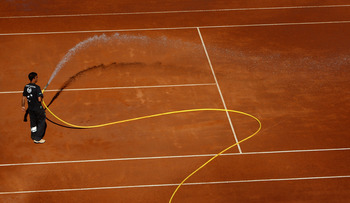 Photo not available for Mandarino
Ryan Pierse/Getty Images
José Edson Mandarino is a Brazilian player who competed in the '60s.
He is known for his great Davis Cup performances, with a 68-41 record. His partnership with Thomaz Koch is the most successful in Brazil's history, playing a key role in taking his country to two semifinal appearances—in 1966 and 1971
Mandarino reached a high of 81 in the rankings and logged wins over Manuel Santana, Ilie Nastase, John Newcombe, Roy Emerson and Arthur Ashe.
21. Carlos Fernandes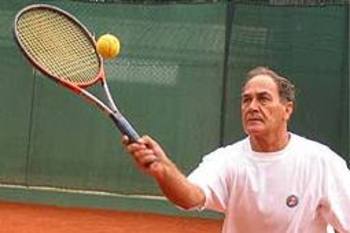 Born in 1940, Carlos "Lelé" Fernandes was the first Brazilian to reach the quarterfinals of the French Open in 1961. He was also the first player from that country to win the Orange Bowl back in 1957.
With the exception of Wimbledon and Roland Garros, Fernandes won every single junior event he ever entered.
He was known for being a complete, all-around player and for being able to hit great passing shots.
20. Armando Vieira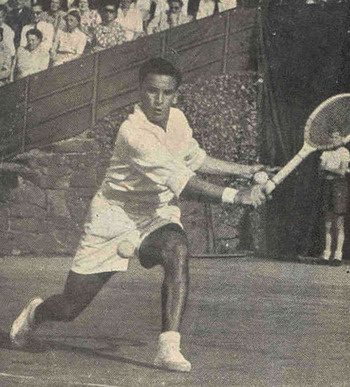 Armando is a Brazilian player born in 1923.
He played his first Grand Slam at the age of 27 (1950 Roland Garros), and was the first Brazilian to reach a Wimbledon quarterfinal, in 1951.
In 1956, after having established himself in the United States, Armando was considered one of the 15 best players in the world.
Vieira was also a precursor to the topspin game in Brazill—back when forehands were flat and backhands were mainly slices.
19. Fernando Meligeni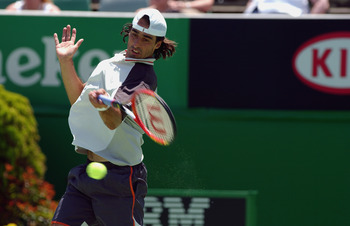 Clive Brunskill/Getty Images
Born in Argentina, Meligeni moved with his family to Brazil when he was 4 years old and became a Brazilian citizen.
He had a total of three career titles and his highest ranking was 25th in the world.
His best result was reaching the semifinal of the French Open in 1999.
Fernando retired in 2003, after beating Marcelo Rios to capture the gold medal at the Pan American Games in Santo Domingo, Dominican Republic.
18. Guillermo Cañas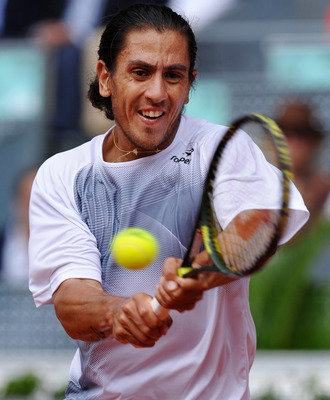 Jasper Juinen/Getty Images
Guillermo Cañas is an Argentine player who won seven titles and reached as high as 10th in the world in the ATP ranking.
He was known for being a tough player both mentally and physically—the type of player who would never give up and ran every single ball down, even when it seemed impossible.
Canãs reached the quarterfinals of Roland Garros three times: in 2002, 2005 and 2007. Also in 2007, he beat a then-dominant Roger Federer in two consecutive Masters Series events (Indian Wells and Miami).
He is now retired and is coaching Ernest Gulbis.
17. Thomaz Koch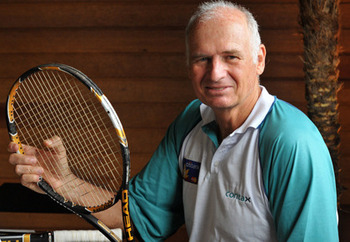 Thomaz Koch is a former Brazilian tennis player, born in 1945.
He was a quarter-finalist at Wimbledon, Roland Garros and the US Open.
Koch holds the best winning record, in both singles (46) and doubles (28), for Brazil in Davis Cup ties, in addition to being the seventh-most accomplished player in Davis Cup history.
He also won two gold medals (singles and doubles) in the 1967 Pan American games.
Thomaz reached a high of 24 in the world rankings in 1974.
He was a very talented player known for having a great first serve and an above-average forehand volley.
16. José Luis Clerc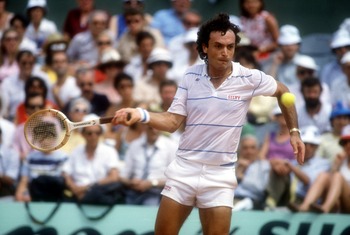 Steve Powell/Getty Images
Argentine José Luis Clerc turned pro in 1977 and retired in 1988. Over the span of his 11 years, he won 25 ATP titles (second-best among Argentine players) and was ranked as high as fourth in the world.
He was a very solid clay-court player, reaching two consecutive semifinals at Roland Garros, in 1981 and 1982.
Along with Guillermo Vilas, Clerc took Argentina to its first Davis Cup final in 1981.
Today he runs his own academy in Argentina and works as an analyst for ESPN Latin America.
15. Pancho Segura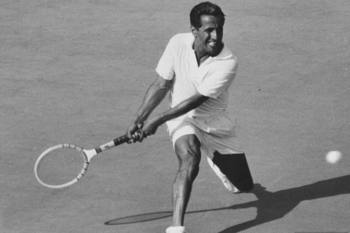 Francisco Olegario Segura was born in 1921, in Guayaquil, Ecuador.
Segura was a right-handed player who had a two-handed forehand and a one-handed backhand. The great Jack Kramer once described his forehand as "the greatest single shot ever produced in tennis."
He turned pro in 1947—long before the Open Era—and won the United States Pro Championship three consecutive times, from 1950 through 1952.
Pancho's best result in a Grand Slam was a semifinal appearance in the US Open.
He was ranked No. 1 in the world by the Professional Lawn Tennis Association, also in 1952.
Pancho retired in 1962 and became the teaching pro at the Beverly Hills Tennis Club. Among his students were Julie Andrews, Shelley Winters, Charlton Heston, Barbra Streisand and Kirk Douglas.
He is highly responsible for Jimmy Connors' success, as Segura started coaching him at the age of 16.
14. Ronald Barnes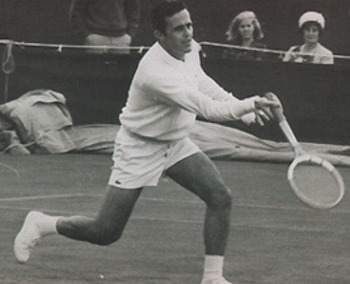 Considered the greatest talent in Brazilian tennis history, Barnes was born in 1941.
In 1959, as a junior, he was the runner-up at Wimbledon and won the Orange Bowl.
His great backhand and return of serve led him to wins over Rod Laver, Fred Stolle and Dennis Ralston, despite Barnes' bohemian lifestyle.
Barnes peaked in 1963, when he reached the semifinal of the US Open and won two gold medals in the Pan American games.
13. Enrique Morea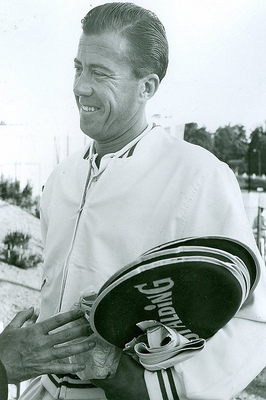 Enrique Morea is an Argentine player, born in 1924 and active in the '50s and '60s.
He reached the semifinals of the French Open on two occasions—1953 and 1954.
Morea served on Argentina's Davis Cup team for 10 years—from 1948 to 1958—both as player and captain.
He also won two gold medals (singles and doubles) in the 1951 Pan American games.
Morea is currently honorary president of the Argentine Tennis Federation (AAT).
12. Guillermo Coria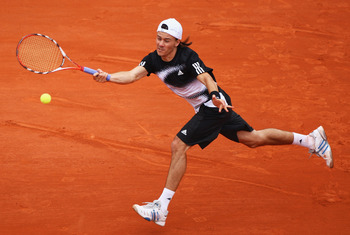 Mike Hewitt/Getty Images
Named after the great fellow countryman Guillermo Vilas, Coria was born in Argentina in 1982.
Lacking powerful shots that he could use as weapons, Coria's success relied on a huge natural talent and a great understanding of the game.
He won a total of nine singles titles in his career, but never was able to recover from the devastating loss to Gastón Gaudio in the 2004 French Open final—in which he was the clear favorite and had won the first two sets before ultimately losing the championship match.
In addition to the Roland Garros final, Coria also reached the quarterfinal of the US Open in 2003 and 2005.
11. Marcelo Rios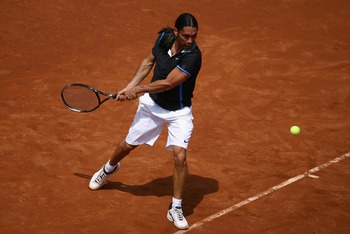 Julian Finney/Getty Images
"El Chino" was born in Santiago, Chile, in 1975 and was an absurdly talented tennis player.
He was the first Latin American player ever to reach the top of the ATP rankings. Although he did reach the final of the Australian Open in 1998 (losing to Petr Korda), he is the only male player to become No. 1 in the world without ever winning a Grand Slam title.
Rios reached the quarterfinals of Roland Garros twice, in 1997 and 1998, and the quarterfinals of the US Open once, in 1997.
His career was marked by many controversies—stating that grass was for "cows and soccer" during the 1997 Wimbledon tournament and being arrested for punching a taxi driver in the nose in Rome.
Rios retired prematurely in 2004 due to a back injury.
10. Fernando Gonzalez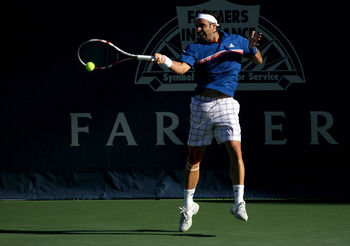 Stephen Dunn/Getty Images
Gonzalez is a Chilean player known for having one of the biggest forehands in tennis.
Remarkably, he has reached at least the quarterfinals of all four Grand Slam events.
His best Grand Slam result is reaching the final of the 2007 Australian Open, where he lost to Roger Federer.
Fernando has claimed 11 titles so far in his career and has been ranked as high as fifth in the world.
At the age of 31, he has been away from the game for quite a while due to hip surgery, but is expected to return for the final run of his career.
9. Luis Ayala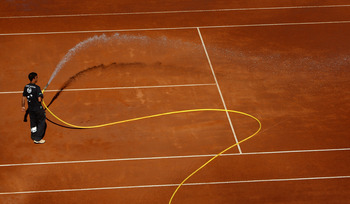 Picture not available for Luis Ayala
Ryan Pierse/Getty Images
Luis Ayala is a Chilean, born in 1932, and competed in the '50s '60s.
He was twice a finalist at the French Open: in 1958, when he lost to Mervyn Rose, and in 1960, losing to Nicola Pietrangeli in a five-set battle.
Ayala remarkably reached the quarterfinals at Wimbledon for three consecutive years: 1959-1961.
In 1959, he also won the Italian Open.
After Ayala retired, he established himself in the United States, and is currently the Tennis Director at the Forest Club in Houston, Texas.
8. David Nalbandian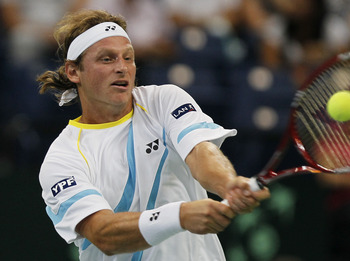 Srdjan Stevanovic/Getty Images
At age 29, Argentine David Nalbandian is still an active professional player, and has been ranked as high as number three in the world.
This solid ball striker has remarkably reached the semifinal or better of every Grand Slam event.
After being runner up at Wimbledon in 2002 and having won the Masters Cup in 2005, he is considered the greatest player to never win a major.
7. Bob Falkenburg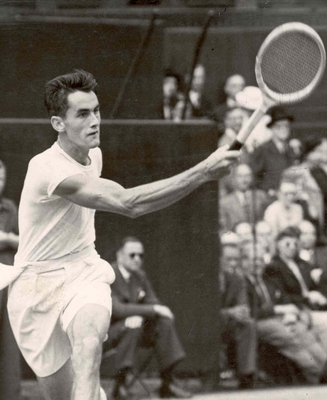 Falkenburg was born in Los Angeles, California in 1926, and became a Brazilian citizen after getting married.
Tall and skinny, he had a strong serve and a great backhand volley, which led him to win the Wimbledon title in 1948.
Bob was inducted into the International Tennis Hall of Fame in 1974, and was the founder of a major Brazilian fast-food chain called "Bob's."
6. Gastón Gaudio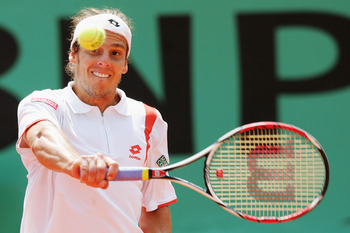 Mike Hewitt/Getty Images
Gaudio is an Argentine tennis player born in 1978.
He was ranked as high as number five in the world and his best result was winning the French Open title in 2004, after an epic battle against his countryman, Guillermo Coria.
Gaudio's one-handed backhand was among the most beautiful shots in the game.
All of his eight singles titles were on clay—the last one won in Kitzbuhel, in 2005.
Gaudio retired in 2011.
5. Andrés Gómez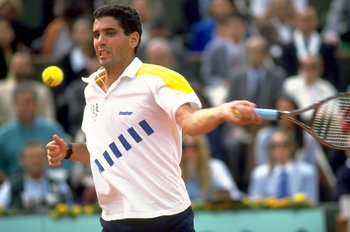 Dan Smith/Getty Images
Andrés Gómez is a talented left-handed player from Ecuador who played professionally in the '80s and '90s.
His most important title is the 1990 French Open, where he beat Andre Agassi to capture his only Grand Slam win.
In 1984, Gómez reached the quarterfinals of both Wimbledon and the US Open.
Overall, he took 21 singles and 33 doubles titles, with two of these doubles titles won at a Grand Slam: the 1986 US Open with Slobodan Zivijinovic, and the 1988 French Open with Emilio Sánchez.
He was ranked as high as fourth in singles and first in doubles.
4. Juan Martin Del Potro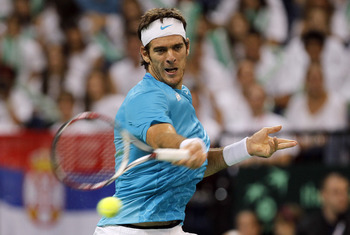 Srdjan Stevanovic/Getty Images
At 23 years of age, del Potro is the best South American player currently active, currently holding the 13th spot in the ATP rankings.
In 2009, he captured his first major title, winning the US Open, and became the first player to beat both Roger Federer and Rafael Nadal in the same Grand Slam event.
In addition to his US Open win, he also reached the semifinal of the French Open in 2009.
He already holds nine career titles and was ranked as high as number four in the world.
Juan Martin is coached by former Argentine player Franco Davin, and is coming back in good form after a nine-month break due to a wrist injury.
3. Alex Olmedo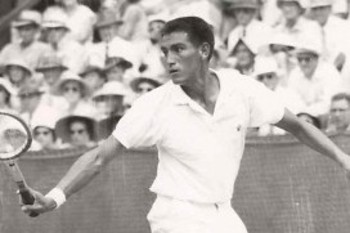 Alejandro Rodriguez Olmedo was born in Peru in 1936.
He played college tennis for the University of Southern California (USC) and won the NCAA singles and doubles titles in 1956 and 1958.
He was the top-ranked amateur player in 1959, a year in which he also won the Australian Open, Wimbledon and was runner-up at the US Open. He even beat Rod Laver in straight sets in the Wimbledon final.
Olmedo also captured a US Open doubles title in 1958, partnering with Ham Richardson.
Olmedo turned pro in 1960 and retired in 1965—before the Open Era began in 1968. He then became the teaching pro at the Beverly Hills Hotel, where he had Katharine Hepburn among his students.
In 1987, he was inducted into the International Tennis Hall of Fame.
2. Gustavo Kuerten
Julian Finney/Getty Images
Gustavo "Guga" Kuerten stunned the world by winning the 1997 French Open as an unseeded player and beating three former champions along the way: Thomas Muster (third round), Yevgeny Kafelnikov (quarterfinals) and Sergi Brugera (final).
He was the first Brazilian player ever to win a Grand Slam title, a feat that he later repeated two other times, in 2000 and 2001—also at Roland Garros.
Kuerten won the Masters Cup in 2000, beating Pete Sampras and Andre Agassi in back-to-back matches on an indoor hard court, and becoming the first South American to ever finish as No. 1 in the history of the ATP rankings.
His one-handed backhand is considered one of the best the game has ever seen.
He retired prematurely, in 2008, after having gone through two unsuccessful hip surgeries.
1. Guillermo Vilas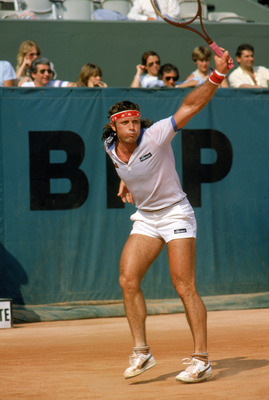 Steve Powell/Getty Images
The great lefty Argentine won more Grand Slam titles than any other South American player: two Australian Opens, one French Open and one US Open.
In addition to winning three of the four majors, he also reached the Wimbledon quarterfinals for two consecutive years, in 1975 and 1976
His best career year was 1977, when he won two of the four Grand Slams (French and the US Open). Additionally, he won 16 ATP tournaments that year and had a playing record of 145-15. His US Open win was played in the final year of the tournament's residence in Forest Hills.
In the same year, Vilas won 53 consecutive matches on clay.
Being among the 15 players with the most wins in singles in Davis Cup history, Vilas lead his country to one final (1981) and two semifinals (1977 and 1980).
He captured a total of 62 titles in his career, although, despite all this, Vilas was never ranked No. 1 in the world—only reaching as high as the number two spot.
Keep Reading