Los Angeles Kings: Why Drew Doughty Is the Real Deal
October 2, 2011
Stephen Dunn/Getty Images
Now that news has finally broken on Drew Doughty's new contract, the question can be asked: is he worth the money?
With an eight-year, $56 million dollar contract, Doughty will be one of the best paid defensemen in the NHL.
He has the third highest cap hit among defensemen behind only Shea Weber and Brian Campbell.
So how can it be justified that Doughty is in the same ballpark, salary-wise, as established veterans such as Nick Lidstrom and Zdeno Chara after only three years in the league?
We can't reasonably say the contract is in fact justified because Doughty just has not yet done enough in his career to earn such a deal.
The key word is yet. How many teams would not overpay knowing what kind of player he will be when he hits his prime? Once he has a few Norris Trophies under his belt, the Kings will be glad they held onto him.
Since Doughty was drafted second overall in 2008, he has more than exceeded his expectations at this point in his career. With his skating skills and all-around ability, Doughty has already earned comparisons to one Scott Niedermayer. Those comparisons are not as premature as some people believe.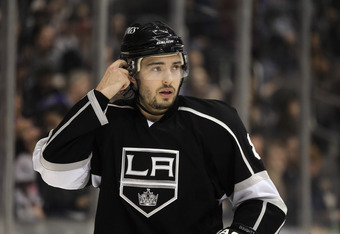 Jeff Gross/Getty Images
At 21, Doughty already has an Olympic gold medal, a 40-point season, a 59-point season and a Norris Trophy nomination. Despite all this, the defenseman has still not reached his full potential.
Those not named Taylor Hall would say he could afford to step up his physical play. That's one of the very few things he does not have going for him right now. Doughty is fast, makes incredible passes and on top of it all, delivers a hard and accurate shot.
The alternative to overspending on Doughty might not have been a pretty one. Los Angeles could have shipped him out of town or even let him sit for the year.
The Kings will not regret having him on the team. It is reasonable to overpay sometimes for a talent like him. Doughty may be making a few million dollars more than he should be, but the difference won't make a difference once the Kings become Stanley Cup contenders year in, year out with him in the lineup.