Miami Heat: If They Don't Distribute the Ball Better, They'll Never Win
October 3, 2011
Mike Ehrmann/Getty Images
The Miami Heat have the talent to do great things in the 2011-12 NBA season. Led by three superstars, the Heat are often considered heavy favorites to make it back to the NBA Finals next season. While they have the pieces necessary to make an impressive run, they have to revert back to the fundamentals and work on distributing the ball.
It's understandable to say the Heat had chemistry issues last year. They were a newly formed super-squad that didn't get much time together in the preseason. Throw in the fact that the two best players off the bench were injured, and you have a mess to start the season.
It wasn't until the NBA playoffs that Miami was fully healthy, but even then the teamwork didn't seem to exist. Players settled for jumpers and often seemed lost once the ball crossed halfcourt.
It's safe to say Miami will be better next season, but an offensive flow has to be established.
Miami's lackluster 20 assists per game is an issue that stood out last season. For the Heat to fix that, it needs to start with a point guard. However, the only problem is last year they suffered from a starting point guard carousel, starting four different players throughout the season. Come playoff time, it was apparent that Mario Chalmers was the clear-cut choice.
Not only does Chalmers have the best talent set of any Miami point guard, but he best fits Erik Spoelstra's attack. At times Chalmers can be one of the most dangerous scoring options on the floor, along with being a solid defender.
At the young age of 25, Chalmers can be groomed to be a quality role player to surround the stars in Miami.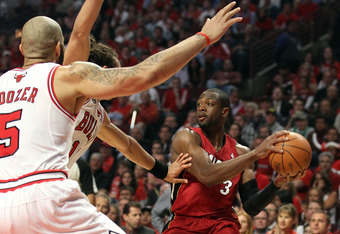 Jonathan Daniel/Getty Images
Another example of poor distribution was Miami's inability to make the role players effective. A lot of this was because the Heat stars had the tendency of playing an isolation style of offense, which stalled the team's movement. Involving the supporting cast would have made Miami a better overall threat and help space out the floor.
Don't get me wrong, most of the shots and offensive production should come through LeBron James, Chris Bosh and Dwyane Wade, but at times they didn't seem too fluent. In fact, it is fair to say they were guilty of standing around way too often.
Spoelstra should look to call simplistic plays like off-ball screens and pick-and-rolls to open up more opportunities for Miami. While Wade and James aren't pure jump shooters, running off picks is a common way to create space and often times mismatches.
Along with avoiding the one-on-one game, better ball distribution would open up more for spot-up shooters like Mike Miller or Eddie House. While dangerous scorers, players like these do not get most of their production by working for their own shot. Instead, they are often the beneficiaries of pass-outs or being the open man after a double-team.
LeBron James could be the most crucial aspect of Miami's ball distribution based of this reasoning. He is the true meaning of a point forward, being able to create offense for others possibly better than for himself. While leading the Heat in assists, he was oftentimes noticed waiting too long into the shot clock to make things happen.
Making better decisions early will not only help him cut down on turnovers, but also help get his team better looks and chances.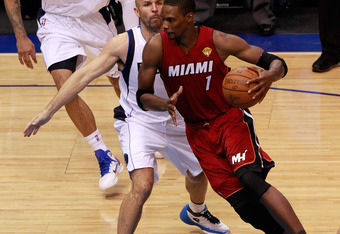 Tom Pennington/Getty Images
Speaking of crucial aspect, power forward Bosh should also receive more touches for Miami. He has the dangerous length that makes him difficult to guard, along with being able to beat most defenders off the dribble. Posting him up high not only allows him room to be effective, but opens up possible backdoor cuts for James and Wade.
While Bosh was a big part of the inside attack for Miami, the Heat should also look into signing a useful center to help carry the load. This would allow for more touches inside and take some of the attention off Wade and James.
Let's be honest here. Who was Miami's best offensive center last season? Big Z? Well, now that he's retired, maybe they will look into acquiring an offensive center with a post game.
At times last season Miami looked as if it couldn't be stopped. Players were hitting big shots and capitalizing off its opponents mistakes and weaknesses.
Then you have the NBA Finals version of the Heat that just looked like a team with bad video game AI. You know, one player has the ball while the rest of the team sits around looking like statues.
This was exposed by Miami's inability to break the Dallas Mavericks zone defense. The Heat were unable to play an isolation offense and truly looked out of their comfort zone. Miami's athleticism was voided, and they were forced to take bad jump shots.
Ball distribution is not just crucial to a team's success, but it's something learned at the elementary stages of the game. Miami has plenty of options and ways to be effective on offense. While the stars can dominate a game offensively, mixing up the game plan will keep defenses guessing and on their heels.
Miami seems like a sure thing to make another playoff run next season. In fact, I recently made an argument that the Heat could win 70 games. However, if Miami doesn't have better, more efficient ball movement, it will continue to be cut down by smarter defenses.
Fixing kinks like this could be the biggest difference in a title victory or disappointment for the star-studded Heat team. With an improving coach and better chemistry, Miami is poised to take home a championship in 2011-12