Sorry Sox: A Look Back at the Boston Red Sox's Collapse
October 2, 2011
Greg Fiume/Getty Images
On Wednesday, September 28, 2011, the Boston Red Sox completed the biggest collapse in baseball history, as a sure-fire playoff appearance turned into an unfathomable demise.  Their season ended at 162 games, finishing the year with a September that saw a record of 7-20, and, more excruciatingly, the disappearance of a 9-game lead in the Wild Card standings. 
As the city watched its beloved team crumble, Bostonians grasped for explanations to understand how this team was unraveling.  Suddenly, a reasonably strong starting five was the worst rotation in baseball.  Similarly, a once sure-handed defense was fumbling fly balls and airmailing deliveries around the diamond.  Timely hitting, as well, was scarce.  Most concerning of all?  The team's body language.  There was a very visible lack of interest, sense of urgency, and camaraderie amongst the unit.  While certain individuals continued to display constant intensity – Dustin Pedroia has never been lacking in that department, and Jacoby Ellsbury's breakout (and MVP award-worthy) season was the most consistent year I have ever seen a player have – the team, as a whole, seemed complacent.  
Friday, General Manager Theo Epstein, along with ownership, met with Manager Terry Francona to discuss the season and begin considerations regarding whether or not Francona would return in 2012.  The parties released separate quotes, all with the same message and sentiment: while Terry Francona has done a remarkably honorable job in his eight seasons in Boston, and he is hardly the one to blame for the team's collapse, it is in the best interest of all those involved that he not be in a Red Sox uniform next season….
Now, while this is certainly big news in the Boston sports scene, I find myself moved more by some other information that was reported about the team this morning.  It is being suggested that the clubhouse culture this season was one of a sense of "entitlement" and "arrogance."  More specifically, The Boston Herald reported this morning that allegedly there were instances of starting pitchers skipping out on throwing sessions and enjoying the team's games on TV over a couple of beers in the clubhouse on their off-days, rather than sitting with their teammates in the dugout and bullpen.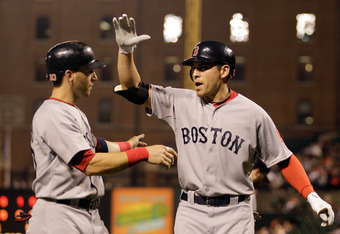 Rob Carr/Getty Images
Initially, my reaction was one of disappointment.  To think, these professional athletes are paid millions upon millions of dollars for their services, and all they are asked to do is approach their positions with sincere professionalism.  Aren't we all asked to do that, and only that, on a daily basis at our jobs?  Every job is different, of course, but I would imagine that their job is more enjoyable than mine.  And the pay, certainly, is not to scale.  So, again, I say that I was disappointed to think that the money, the support from their managers and team ownership, and the undying love of Red Sox Nation was not enough to motivate these athletes to give their absolute all, day in and day out, with the goal of winning a championship.  
Upon second thought, I actually found myself more irritated and frustrated by the news.  How dare they do such a disservice to the managers, the ownership, and perhaps most importantly, the Nation?  And, to each other? 
I suddenly felt bad for some of the players who did give their all.  I felt as though Pedroia and Ellsbury were betrayed.  I felt for a player like Carl Crawford, who struggled for the majority of the season in a new home on a new team, with a big contract and the incumbent high expectations.  How is Carl Crawford, a well documented work-horse of an athlete, to feel comfortable in this situation?  He is new to an organization and a nation of fans and media which demand and expect winning.  And yet, he's surrounded by a culture of arrogance, with teammates who are complacent, unsupportive of each other, and irresponsible.  
Crawford is no stranger to winning.  As a former member of the Tampa Bay Rays, he has spent several years battling with the Red Sox and Yankees for playoff berths, American League East titles, and World Series rings.  The thing about playing in Tampa, along with nearly all cities, is that the players care more about winning than the local media and fans.  At least, that's my understanding.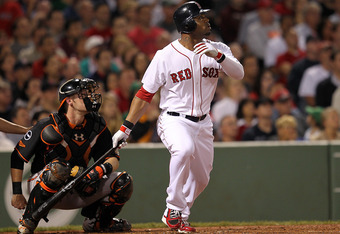 Jim Rogash/Getty Images
Boston is unique.  It's one of the few cities where the fans and media actually care as much as the team itself.  Fans ride the highs and lows, fill the ballpark either way, and the media will pose thoughtful questions, demand responses from struggling players and share the excitement of the team's success.  Simply stated, the level of enthusiasm from the fans and media is more even with that of the athletes and organizations than it is in most markets. That, no doubt, was the Boston that Carl Crawford was expecting.  
As it turns out, he got something else entirely.  He got all the scrutiny that comes from the Boston media and fans without the support and passion that is supposed to exist within a team.  He found himself struggling and having to explain those struggles to reporters and supporters, while he worked himself into the ground and watched his teammates kick their feet up and treat the clubhouse like a barroom.  All of a sudden it seemed understandable for Carl Crawford if he felt as though he couldn't really make himself at home in Boston. 
I'm certainly not relieving Crawford of any responsibility for his poor performance on the field this season, and this article is definitely not specifically about him and his struggles as a new member of the team.  The point I am making here is that there's always more to the story, and as details about the Red Sox begin to surface, it seems as though the players did not work together to the extent which is necessary to see success in professional sports these days.  For that reason, certain players owe each other, and perhaps the fans, an apology.  
With all the support that Red Sox Nation provides to the players, even with the intense scrutiny that comes with such a passionate and educated fan base, and all the money they're paid, irresponsible actions such as these simply cannot be accepted. 
Lack of dedication to the only thing that matters in Boston – titles – cannot be tolerated.  Boston fans can accept the pitfalls of their team's struggles.  Even a 7-20 September record could be accepted if the team on the field displayed heart and passion simply coming up short.  But, in the case of this particular team, it was the way they lost games, with mindless errors, gutless pitching from the starting rotation, and no visible signs of leadership.
It is becoming clear that all of this stems from a lack of effort and character behind the scenes, notably unacceptable superlatives and unlikely characteristics entirely too tough to swallow. 
This team started the season with a record of 2-10.  They finished with a record of 7-20 in the final month.  In between those two stints, they held the best record in baseball, but from the sounds of it, they were losers every step of the way.