NFL Picks Week 4: NFC North Winners and Losers
October 2, 2011
Jonathan Daniel/Getty Images
Week 4 doesn't have any division games on the schedule.The surprising Detroit Lions and the favorite Green Bay Packers are both 3-0 and sit atop the division.
This is a talented division when you consider the Bears have played the toughest schedule in the NFL up to this point and the last place Vikings have had double digit leads on every team they've played, before blowing each of those leads.
In Week 4, here are the winners and losers from the NFC North?
Winners
Bears
Chicago Bears will host "Killer" Cam Newton and the Carolina Panthers. The Panthers picked up their first victory of the season last week in a wet and muddy affair with the Jacksonville Jaguars.
The Panthers rushing attack has been terrible so far, that is part of the reason Newton has had to throw so much and has racked up the gaudy stat lines.
This is formula custom made for the Bears defense. A young QB, though he isn't a normal young QB with a one-dimensional offense sounds like the Lovie's defense should be able to force miscues and take advantage.
The Bears win this matchup.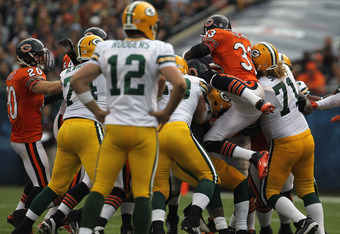 Jonathan Daniel/Getty Images
Packers
Green Bay hosts the Denver Broncos. This is perhaps the easiest of the games to pick. The Packers offense is clicking on all cylinders, they are tough at home and the Broncos offense has no identity. 
That will not serve them well in a hostile environment. The Packers will roll in this one.
Vikings
The Vikings and the Chiefs are both 0-3 but the Vikings are a better team. The second half collapses are due to teams focusing in on the run after Adrian Peterson has had an effective first half.
The Chiefs don't have an offense potent enough to take advantage of the Vikings, especially not with Matt Cassel at QB.
Also, the Chiefs secondary is severely impacted by the absence of Eric Berry. This may be the first good passing performance of the year for Donovan McNabb. The Vikings will win their first game, Andrew Luck meet the Kansas City Chiefs.
Detroit Lions
This is the ballsiest pick of the week for me. The undefeated Lions going into Big D to take on the Dallas Cowboys. The Lions should have taken care of all the doubters with their un-Lion like come from behind win last week over the Vikings.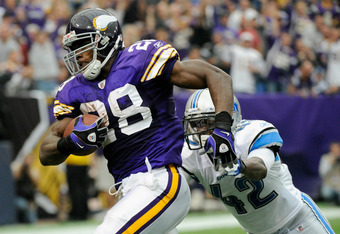 Hannah Foslien/Getty Images
Still, this will be a tough game. I give the Lions the edge because of the Cowboys banged up receiving corp and problems running the ball. The Lions rush defense has been one of their few weaknesses this year.
Lions win a statement game equal to the Buffalo Bills upset of the New England Patriots. The Cowboys aren't exactly on New England's level but this is road game and that makes it equal.
So there you have it, no losers from the NFC North today.