NFL Picks Week 4: Which Teams Will Enjoy Blowout Victories?
October 2, 2011
Jonathan Daniel/Getty Images
Ah, blowouts. The only people who like blowouts are fans of the teams giving the blowout. Otherwise, we all want close games that come down to the last minute in classic games. Blowouts just aren't fun to watch. However, blowouts do happen, and can sometimes be exciting if one team is just so dominant. For instance, the Patriots destroyed the Titans 59-0 in what is a classic game for being so dominant.
So who are those teams that could enjoy the blowouts?
The Packers get the pleasure of playing the Denver Broncos. Now, the Broncos are improved over last year's squad, but no where near enough to go toe-to-toe with the Super Bowl Champs. This game is likely over by halftime in what some may see as a continuation of yesterday's College Football games.
The Bears are in a deep hole. They have already lost 2 games, and are down essentially 3-4 games against the Packers for both losing to them and the Saints (the Saints are a common opponent with the Packers). The Bears must win this game to be alive in the playoff race. They are at home against the Carolina Panthers, who have been playing at a much higher than expected level. They have to come back down to earth eventually, and the Bears are desperate.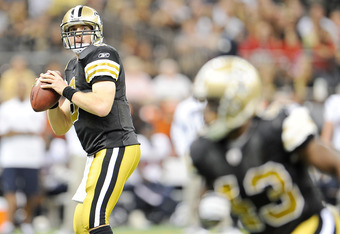 Stacy Revere/Getty Images
There's a record that says the New Orleans Saints have never won in Jacksonville. That's likely to be over at the end of the day. The last time New Orleans went to Jacksonville, head coach Jim Haslett and QB Aaron Brooks were looking for a win to stay alive in the playoff race. This time, Super Bowl winning coach Sean Payton and Super Bowl MVP QB Drew Brees look to stay at the front of the NFC South division. The Saints, particularly Drew Brees, are playing at a very high level right now. Their close games have been the result of playing really good teams that could all compete in the playoffs.
Now, they play the Jacksonville Jaguars and the Jaguars have not been playing good football. Expect good things for Saints fans down in Jacksonville.