Philadelphia Eagles Throw Away Game to 49ers; Are They on Path To Draft Luck?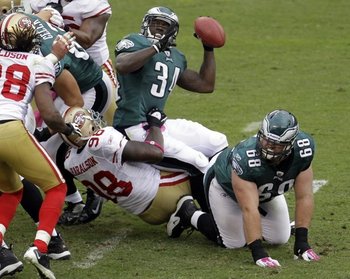 Andy Reid and Juan Castillo should both be fired on the spot following an embarrassing 24-23 loss at the hands of the San Francisco 49ers Sunday afternoon at Lincoln Financial Field.
Reid still can't figure out this short-yardage thing and Castillo doesn't know how to utilize any of his players, including three Pro Bowl cornerbacks.
The Eagles are now more likely to land Andrew Luck in next year's draft than winning the Super Bowl this year.
Let that sink in for a little bit.
Before the year started, Vince Young proclaimed the Eagles were a "Dream Team." Young is not the smartest guy on the block and he doesn't know any better than to keep his mouth shut, but it was hard to argue against him.
Philadelphia added Pro Bowl cornerbacks Nnamdi Asomugh and Dominique Rodges-Cromartie. They signed defensive tackle Cullen Jenkins and defensive end Jason Babin. Ronnie Brown was a great addition along the goal line and Young was good insurance for Young.
Babin and Jenkins are putting up good numbers but can't do a thing against the run.
Asomugha and Rodgers-Cromartie can't make plays due to Castillo having them play zone.
Brown has been a nightmare, especially when he thought he could throw the ball on 3rd and goal only to have it ruled a fumble.
And Young can't get onto the field because of an injury and his inability to learn the offense.
We didn't even get to the horrid offensive line and linebackers.
Despite all of the weaknesses and players not performing, it seemed like the Eagles could still win 10 games because the talent in the NFL is simply not that good. As it stands now, it's hard to imagine the Eagles play .500 over the final 12 games of the season.
The only upside to the Eagles tanking it? Reid and Castillo might get the boot and Luck becomes an Eagle.
Note: Following each prediction is a running record.
@ Buffalo Bills, Sunday, October 9 (1:00 FOX)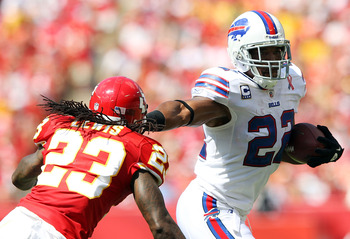 Jamie Squire/Getty Images
Nightmare spot.
The Bills lost their first game of the year against the Cincinnati Bengals 23-20. Everyone will wonder if the Bills are nothing more than a fraudulent team dying to implode like the Bills have done for the past decade-plus.
To make matters worse the Eagles have to go up to Buffalo.
It's hard to imagine the Eagles are going to go on the road against a well-balanced offense with everything in the world to prove and somehow walk away with a win.
If it weren't for Alex Smith, the 49ers could have kept the game close in the first half and eventually pulled away. But as it stands, the Eagles faced a bad team and were able to get a lead and then hang around to have a chance in the end despite playing poorly.
The Bills are not going to make mistakes offensively with Ryan Fitzpatrick, Steve Johnson and Fred Jackson.
Here's to rooting for the Bills to hang 50 on the Eagles to get Castillo fired.
Buffalo 53, Philadelphia 24 (1-4)
@ Washington Redskins, Sunday, October 16 (1:00 FOX)
Harry How/Getty Images
Santana Moss only has 45 catches for 544 yards and two touchdowns In 11 career games against the Eagles.
He was never the second-coming of Jerry Rice, but he seems like a better receiver than his career numbers suggest.
When the Eagles go to the nation's capital, he should have a field day finding soft spots in the Eagles' zone defense. Hopefully Castillo will make an adjustment by then. If he doesn't, Moss will have a career day despite Rex Grossman being under center.
The Redskins will have revenge on their minds following last year's 59-28 loss at home against the Eagles. They get it in another nail-biter that slips through the Eagles' hands.
Washington 27, Philadelphia 20 (1-5)
Vs. Dallas Cowboys, Sunday, October 30 (8:20 NBC)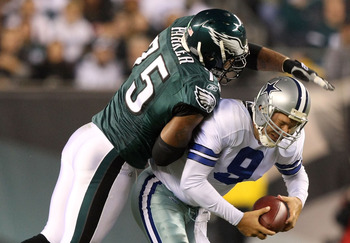 Al Bello/Getty Images
Tony Romo gets killed for coming up small in big games.
Guess who his only playoff win is against? Yep, your Philadelphia Eagles.
This game could be a season-saver for the Cowboys and it could be a job-saver for Andy Reid.
Reid has never lost after a bye week, and it should continue here as the Cowboys could still be battling injuries with Romo, Dez Bryan and Felix Jones.
The counter argument is the Eagles lost to the Giants despite New York having a handful of players out due to injury. At this point no rational-thinking Eagles fan will argue against someone who thinks Philadelphia loses this game.
Right now though, one has to think the Eagles will have some pride and pull out a win.
Philadelphia 28, Dallas 24 (2-5)
Vs. Chicago Bears, Monday, November 7 (8:30 ESPN)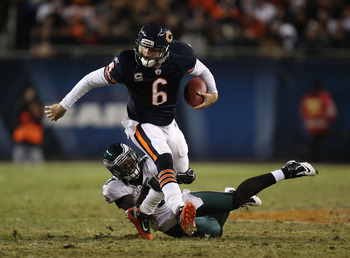 Jonathan Daniel/Getty Images
The Bears have won three out of the last four against the Eagles.
What does that stat mean? Who knows? But you're sure to hear about it at some point leading up to the game.
Following a huge win against the Cowboys, the fans in Philly will believe the Eagles can win this game and the next to get back into the thick of things.
Stop lying to yourself.
The Bears are far too physical on offense and defense for the Eagles. This game could mark a serious injury to Michael Vick and the beginning of the end for Andy Reid.
It will be a tough pill to swallow for Eagles fans because there was hope to not only go to a Super Bowl, but to win it.
Chicago 30, Philadelphia 17 (2-6)
Vs. Arizona Cardinals, Sunday, November 13 (1:00 FOX)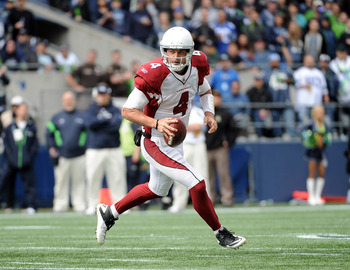 Harry How/Getty Images
Hey, if the Eagles win from here on out they will have a shot to make the playoffs.
Here's step one.
Kevin Kolb looks pretty average in Arizona and the defense isn't too much better.
The Eagles will have a tough time stopping Larry Fitzgerald from catching jump balls, but Kolb will find a way to screw it up. And even if the duo clicks, no one should trust the Cardinals defense to make a stop, especially after allowing the Giants to score 21 points in the fourth quarter of a 31-27 loss.
It's true the Eagles' defense is equally as bad.
Okay, let's flip a coin on this one.
Philadelphia 34, Arizona 31 (3-6)
@ New York Giants, Sunday, November 20 (8:20 NBC)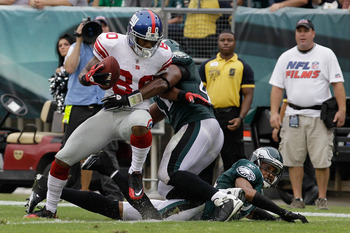 Rob Carr/Getty Images
Teams rattle off wins in bunches in this series.
The Giants ended the Eagles' six-game winning streak this year with a 29-16 win. Back in 2001, the Eagles ended the Giants' nine-game streak when Donovan McNabb hit James Thrash in the back of the end zone on Monday Night Football.
Substitute McNabb for Michael Vick and Thrash for DeSean Jackson and the story actually goes back into the favor of the Giants because the Eagles can't play defense.
A loss here could send the Eagles into an absolute tailspin.Would that be the worst thing to happen to the Eagles?
Maybe it will help improve their draft position and maybe it will get Reid out the door. Eagles fans can only hope at that point.
New York 30, Philadelphia 20 (3-7)
Vs. New England Patriots, Sunday, November 27 (4:15 CBS)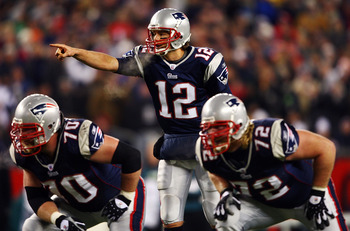 Elsa/Getty Images
Think of the guy in your college dorm who could put up 50 points in Madden without thinking about what he was doing.
Ignore the fact he was a dork, couldn't get a hot girl and was wildly overweight for a soon-to-be 20-something.
Focus on how he sliced through any defense, passed on nearly every down and never thought about punting or kicking field goals.
That's what you're going to get when the Patriots come to town.
At this point the Eagles are going to play for moral victories. Thank goodness the Patriots' defense stinks.
New England 42, Philadelphia 31 (3-8)
@ Seattle Seahawks, Thursday, November 27 (8:20 NFL Network)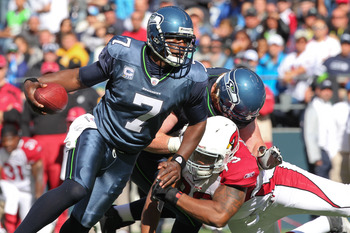 Otto Greule Jr/Getty Images
This is when the team hits rock bottom and Andy Reid legitimately feels the heat.
It's a short week and a trip across the country.
Maybe they could tie.
Seattle 17, Philadelphia 16 (3-9)
@ Miami Dolphins, Sunday, December 11 (1:00 FOX)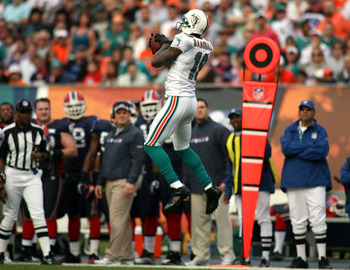 Marc Serota/Getty Images
Finally. The Eagles get to face a terrible team with a terrible offense.
Brandon Marshall should be considered one of the best receivers in the NFL. The Dolphins should also be able to find a quarterback who isn't a hot mess.
This should be a good excuse for Eagles fans to head down to Miami and enjoy nice weather in December. It's a shame they won't witness good football teams.
Miami takes the inside track to land Andrew Luck while the Eagles position themselves for a offensive lineman who will probably sit next to Danny Watkins on the bench.
Philadelphia 20, Miami 16 (4-9)
Vs. New York Jets, Sunday, December 18 (4:15 CBS)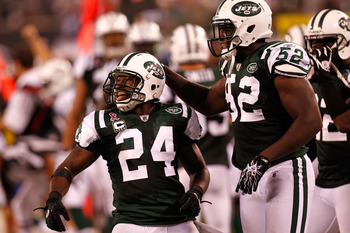 Jeff Zelevansky/Getty Images
This game could have been tagged as a Super Bowl preview. Instead it will be seen as a preview for next year's annual preseason matchup.
The Eagles won't have the reserves in there because Andy Reid will be coaching for his job, but he might as well at this point. He can act like the season was lost because the players didn't perform well instead of his inability to coach.
Reid might not be the only coach who will be feeling the heat as Rex Ryan's squad has been a disappointment thus far. It will be interesting to see if Ryan's o-line can come around and allow the Jets to figure out a way to run the ball.
If the Jets are still sputtering on offense the Eagles have a chance.
If not, the Jets offense should be able to put up enough points for their formidable defense.
New York 27, Philadelphia 10 (4-10)
@ Dallas Cowboys, Saturday, December 24 (4:15 FOX)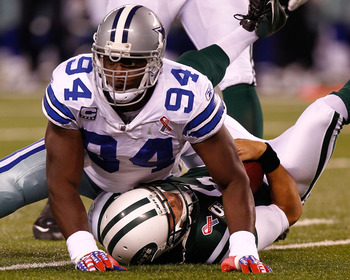 Jeff Zelevansky/Getty Images
At this point if you are not rooting for the Eagles to lose as many games as possible, it's time to hop on board.
Yes, even against the hated Cowboys you need to will the Eagles into losing the last two games and getting the best draft pick possible while also hammering the final nail into Andy Reid's over-sized coffin.
The Cowboys may be playing for their playoff lives, which is more than enough motivation to give the Eagles' their 12th loss of the year.
Is there really anything you want to know about this game other than the Eagles stink?
Dallas 23, Philadelphia 19 (4-11)
Vs. Washington Redskins, Sunday, January 1 (1:00 FOX)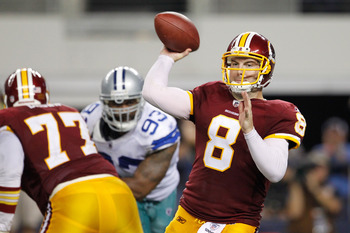 Tom Pennington/Getty Images
All the Eagles need to do is lose.
If the old memory bank is correct, the last time the Eagles faced the Redskins on New Year's Day the Eagles were in the midst of an awful season and they got rolled by the 'Skins.
Yep. A quick trip to the World Wide Web reveals the Eagles lost to Washington 31-20 on New Year's Day in 2005.
Please, please, please, please let history repeat itself.
With a stockpile of draft picks maybe the Birds can trade up for Luck if a team like St. Louis gets the top pick. The Rams won't bail on Sam Bradford and they will sell to the highest bidder.
Washington 31, Philadelphia 20 (4-12)
Keep Reading

Philadelphia Eagles: Like this team?