WWE Hell in a Cell: Will Randy Orton Be Inducted into Mark Henry's Hall of Pain?
October 2, 2011
In a few hours at WWE Hell in a Cell, Mark Henry will defend his World Heavyweight Championship inside Hell in a Cell against Randy Orton.
Over the last five months, Mark Henry has been on the push of his career, and never once has he had an average outing. Every week, he has delivered in his role as the monster heel on SmackDown.
In turn, Mark was rewarded with his first world championship in his 15-year WWE career two weeks ago at Night of Champions. Mark Henry's overnight resurgence is nothing short of spectacular.
Justifiably, we Internet fans always get nervous when a fresh, exciting, new champion faces either John Cena or Randy Orton. In their positions as the top stars in the company, they are always built to appear as such. 
While I'm not against building up Orton or Cena, on occasion their victories seem needless. Look back at Orton's win over Christian six days after he won his first World Heavyweight Championship. Or Cena's recent victory of Alberto Del RIo one PPV after his WWE Championship win.
With that said you can understand my hesitation to believe that Mark Henry will beat Randy Orton clean for a second time.
However, unlike other instances, Orton is facing a wrestler who has been portrayed as the most dangerous in the WWE right now. Mark Henry has repeatedly dominated Randy Orton. 
Thus, the Hell in a Cell match came at a perfect time, as the gimmick suits the dominant and destructive warpath Mark Henry has been on.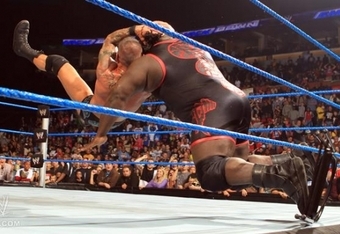 Recently, Mark Henry has made reference to his "Hall of Pain," featuring names such as Big Show, Kane, The Great Khali and Jerry Lawler. He says that tonight at Hell in a Cell, he will personally induct Randy Orton.
It has been a long time since we witnessed a power heel the calibre of Henry, and logically, the WWE could permanently fix Mark in a main event spot with a long championship reign.
It makes sense for his gimmick, and he deserves it.
The only question is if the WWE can resist sticking Orton with the title so soon after losing it. Throughout the feud, his problem has been his inability to RKO Mark Henry. Orton concluded SmackDown this week with an RKO to Henry, proving that he can pull it off.
This leaves Orton in the favourable position heading into the match tonight, leading many to believe that he will win.
Of course, it could all be intelligent booking by the WWE, having Orton on top only for Henry to dominate him again at Hell in a Cell.
In a perfect world, that would be the outcome. It isn't being a mark when I say that an Orton victory in Hell in a Cell tonight makes no sense. 
Mark Henry has proven over the last few months that he can work quality matches with good opposition, and in my opinion could fill his reign with 10-minute dominant matches, while the WWE Championship matches can run for longer.
Basically, it should all be an effort to establish Mark Henry as a mainstay at the top of the ladder. He has already gotten over with the crowds.
Unfortunately, it comes back to Orton, as he is the face of SmackDown. I don't expect Orton to ever be out of the WHC picture on SmackDown, he's just that important to the brand. 
Unless the feud continues through more singles matches or multi-man matches at Vengeance and Survivor Series, than I would expect an Orton victory tonight. 
Keep in mind this next point is unnecessary analysis, but the Vengeance poster has a picture of Mark Henry. An omen for what it to come? Probably not.
Regardless of Randy Orton's position on SmackDown, I have faith that the WWE isn't stupid enough to throw away a sure thing in Mark Henry. They need more main-event talent, and they have the opportunity to create a star in Mark Henry.
To their credit, they've booked his heel run perfectly to date, so I remain cautiously optimistic that they continue in that same vein, and the most refreshing act in the WWE right now, Mark Henry, continues his reign.
Prediction: Mark Henry inducts Randy Orton into the Hall of Pain.
Now a WWE Featured Columnist! Become a fan and check out my other articles.