Alabama vs Florida: Crimson Tide Steamroll Gators, Again
October 2, 2011
Sam Greenwood/Getty Images
I don't know if the Crimson Tide defense has a theme song, but  If I may take a little creative license from a song by the late great John Lee Hooker, "BOOM BOOM BOOM BOOM, we're gonna take you right down" would be a fitting one.
Just ask Florida. Just ask Arkansas.
Just ask anybody anywhere that's seen Alabama play a football game this year.
The message is clear: When you come to play the Crimson Tide, you'd better bring your A-game, bring two or three backups for every position, and plenty of bandages.
To this point in the season, the 'Bama D has been a like Sherman tank in a demolition derby. On the football field, Courtney Upshaw and Dre Kirkpatrick et al are steamrolling over anyone and everyone in their way. It's an awesome sight if you're a 'Bama fan. It's a horror show if you aren't.
Did I mention the offense? I really don't have to.
Trent Richardson, Eddie Lacy and the Alabama offensive line speak for themselves. They may well be the best in college football at what they do and the scary part is, they are getting better with each game, stronger with each quarter, more dominating with each performance.
If there were any questions concerning their resolve and resilience, they've been emphatically answered in the past two weeks. The only defense they've faced that can hold them in check is the one they face in practice. I can only hope that they don't hurt each other. The teams left on their schedule better hope that they do.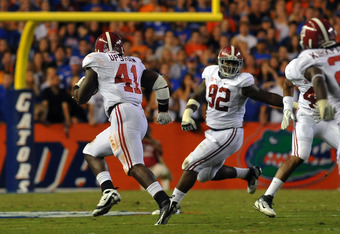 Al Messerschmidt/Getty Images
Florida came into this game near the top of the SEC in most all offensive and defensive statistics.  They left the game realizing that those statistics and 8 bits will get them a Whopper Jr. from Burger King.
Florida's heretofore offensive juggernaut rushed the ball 29 times for an average of half a yard per. Their defensive prowess was a mere illusion and smoke and mirrors don't work so well against the laws of physics.
Sir Isaac Newton's second law of motion states that the acceleration of motion is ever proportional to the motive force impressed. To this point in the season, the force impressed has been very impressive.
And you can ask any player on Florida's defense about Trent Richardson's acceleration of motion. If there's a more complete running back in the country, he likely plays for the Oakland Raiders or the New Orleans Saints.
There are still a few questions to be answered for Alabama, like can Cade Foster kick a ball further than the 10-yard line? Can A.J. McCarron complete a pass that travels more than 20 yards in the air? 
But the answers may not matter. It doesn't look like they're going to need to do either, at least until the first week of November. That's when LSU and 'Bama face off at Bryant Denny.
And the winner takes all.