Arsene Wenger: Trying to Build a New Arsenal After Old Trafford Nightmare
October 3, 2011
Clive Mason/Getty Images
Last Sunday, for the first time in his 15-year tenure at Arsenal, Arsene Wenger took his side into a North London derby as underdogs.
In recent seasons, Wenger has been accused of being stubborn in regard to Arsenal's style of play and their lack of a Plan B. Fans have also been frustrated by a lingering defensive fragility and star players not being replaced after being sold for significant transfer fees.

For Arsenal fans, the 8-2 hammering at Old Trafford to old title rivals Manchester United was the epitome of what is wrong. The team had lost captain Cesc Fabregas to Barcelona, Samir Nasri was playing his last game for the club prior to his transfer to Manchester City and no replacements had been bought.
A thin squad was exposed as a number of injuries meant that several inexperienced players were drafted in, with the defence particularly weakened. However, it was the naivete of Arsenal's play that left them hopelessly exposed to the pace and power of Alex Ferguson's men and led to the amazing scoreline.
 
Despite the 2-1 loss to Tottenham Hotspur, Arsene Wenger showed that he is beginning to address some of these issues.

Formation, Style and that Plan B

Wenger started the match with a 4-4-3 formation, with Theo Walcott and Gervinho supporting Robin Van Persie. This easily switched to a 4-5-1 when Arsenal lost possession. This gave Arsenal a far more compact feel, and they were certainly not as open as they had been against United.
 
The extra man in midfield also gave Arsenal the edge in the battle for midfield superiority. Despite the score line, for long periods Arsenal dominated possession, although they lacked the ability to really open up the Tottenham defence, which was protected well once again by the impressive Scott Parker.
 
As the game entered its closing stages, and with Arsenal pushing for an equaliser their 6'6" centre back Per Mertesacker was pushed up top. Albeit a slightly desperate move, it showed that Wenger saw the need to change to a more direct approach. However, this was lost on the Arsenal backline who seemed to reluctant to launch the ball long.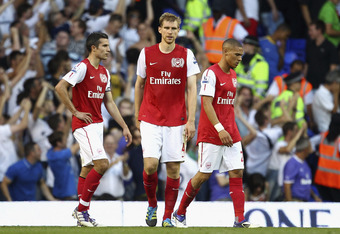 Julian Finney/Getty Images
Defensive Fragilities?

With no fewer than four centre backs out injured, Wenger was again forced to play midfielder Alex Song alongside Per Mertesacker. Song's performance was admirable, but most tellingly it was he who got to the by-line to set up Aaron Ramsey's equaliser, showing that he is best suited to a more advanced position.
 
For all his 76 caps for Germany, Mertesacker looked uncomfortable throughout. As to be expected, he coped well with the majority of Tottenham's aerial threat, however, his lack of pace was exposed on occasion and his positional play was average.
 
Overall, the Arsenal back line again lacked cohesion. Individually, Kieran Gibbs, Song, Mertesacker and Bacary Sagna are good defenders, but a lack of communication amongst them keeps them just that—individuals. There is a lack of leadership, and often the back line still does not get the sufficient shielding from the midfield.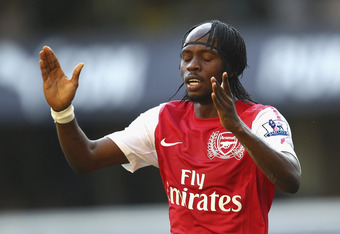 Julian Finney/Getty Images
The new recruits...
 
Arsene Wenger, more than likely forced by the poor start to the season, uncharacteristically made signings near the end of the transfer window.
 
Apart from an aerial presence, Mertesacker does not yet look likely to be the much-needed leader at back. He will need further time to settle. But perhaps the signings of either Gary Cahill or Christopher Samba along with Mertesacker would have made his transition to the Premier League easier, especially if Thomas Vermaelen's injuries are to continue.
 
Both Mikel Arteta and Yossi Benayoun are very good players, and would have been good additions to Arsenal's squad of last year. However, they fall well short of covering the gaps left by Fabregas and Nasri. Arteta was tidy but no more at White Hart Lane, and Arsenal need more than that if they are to finish in one of the Champions League positions.
 
Gervinho showed plenty of enthusiasm and was not overawed by his first North London derby. He did, however, miss Arsenal's one gilt-edged opportunity and was never a real threat. His style and physique are similar to the current crop of strikers at the Emirates, and for that reason his acquisition maybe questioned when the need for a defensive midfielder is greater.
 
In Arsene we trust?
 
So, overall signs of improvement from Arsenal, but this season could be a tough one for Arsene Wenger's men. The January transfer window rarely yields opportunities for the big clubs to improve their squad.
However, despite being beaten too easily for Kyle Walker's winner, goalkeeper Wojciech Szczesny continues to impress, and Francis Coquelin was excellent in only his second league start. The development of these players, along with the return of Vermaelen and Jack Wilshire from injury, should ensure Arsenal climb the table soon.
 
The situation Wenger finds himself in has not materialised overnight and will take time to resolve, but for me he remains the man to do just that, with Sunday perhaps being the first step.