WWE Hell in a Cell 2011 Results: Live Updates and Recap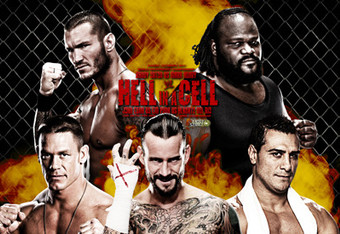 Well, just a few weeks ago, wrestling fans all over the world tuned into watch WWE Night of Champions. Now we jump right into another event in WWE Hell in a Cell.
Our main events are Randy Orton vs. Mark Henry for the World Heavyweight Championship and the first ever Triple Threat Hell in a Cell match, with John Cena defending his title against CM Punk and Alberto Del Rio. John Cena claimed that, after Sunday, we will finally have a legitimate champion again.
Join us as we go through the play-by-play of the event, look back at some great Hell in a Cell matches and analyze the results of each match. WWE Hell in a Cell has a chance to be great, and many of our questions will finally be answered.
Well I wanna thank everyone who followed my live play-by-play of the event. Tonight was very surprising and entertaining. Be sure to follow me again for our next event, WWE Vengeance.
My record was pretty bad tonight. But I was right about one thing, Mick Foley was a no show.
I found it a little odd that WWE pretty much ignored SCSA's criticism of Del Rio and gave him the WWE title anyway.
Again you can follow me on Twitter at @BachWWE.
Back to Hell in a Cell. I know there will be come kind of new stable put together by Johnny Ace or someone in association with Miz and Truth. I still want to keep in mind the whole David Otunga faction he's trying to put together.
Here's a quick run down of the Hell in a Cell results:
Air Boom defeated Dolph Ziggler and Jack Swagger to retain the WWE Tag Team Championships
Sheamus defeated Christian
Beth Phoenix defeated Kelly Kelly to become the new Divas Champion
Cody Rhodes defeated John Morrison to retain the WWE Intercontinental Championship
Sin Cara(Mistico) defeated Sin Cara(Hunico)
Mark Henry defeated Randy Orton to retain the World Heavyweight Championship
Alberto Del Rio defeated CM Punk and John Cena to become the new WWE Champion
Huge ending to Hell in a Cell. Any thoughts on where this storyline will go?
I still think Laurianitis will be the culprit behind it all.
So if you got lost in all that. Del Rio won the WWE Championship. Miz and Truth ran down and attacked Del Rio, Punk and Cena. They were locked in the cell so no one could get in. And eventually Miz and Truth are arrested
Triple H runs down and attacks Miz and Truth and pushes Johnny Ace. Triple H being pulled away. Miz and Truth are shown being taken away to close the show.
Truth attacks the cameraman. Miz and Truth surrendering in the ring and they are being arrested.
Miz and Truth run in and attack Punk and Cena and Del Rio. The cell gets locked. The WWE roster is trying to break the cage. Truth and Miz still pounding on the three men in the ring and the referees.
Punk hits a springboard clothesline. Cena trying to break the fence buttttttt he can't. Oh well. Del Rio hits Punk with a steel pipe. Punk goes for the GTS but Del Rio hits him with the steel pipe. Del Rio hits him again and picks up the win. New champion Alberto Del Rio
Punk reverses another german suplex and rolls him up for a close two count. Punk climbs up but Del Rio nails Punk in the head with a huge kick. Cena is still locked out of the cell. Cross Armbreaker reversed and Punk hitting a flurry of kicks. Punk hits a big bulldog on Del Rio
Del Rio hits a german suplex for a two count on Punk.
Punk and Del Rio back in the ring. Scoop slam on Del Rio. Punk climbing to the top rope. He sets up for the big elbow and nails it! One, two .... and he kicks out. Cena runs in out of nowhere and hits his basic shoulder blocks and spinout powerbomb. Cena goes for the five knuckle shuffle but Punk kicks him in the head. Punk goes up to the top for the elbow on Cena. Del Rio pushes him off the top and throws through the table. Cena hits the STF on Del Rio in the middle of the ring. Ricardo Rodriguez opens the cage and Cena gets locked out of the cell. Now Del Rio and Punk are the two men inside hell
Del Rio dominating and throws Cena into the steps, then throws him into the fence. He picks up the chair and hits Cena with it.
Cross armbreaker reversed and Del Rio gets thrown over into the stairs. Cena comes in and hits the AA on Punk and covers. Del Rio breaks up the pin . Del Rio tries to apply the armbreaker. Punk slings himself over the top rope onto Del Rio to break up with hold. GTS on Cena and Del Rio pulls Punk out of the ring during the pin fall. Del Rio throws Punk into the steel steps and then throws a chair at him. Del Rio back into the ring. Cena rolls him up but only gets a two count.
AA set up on Del Rio and Del Rio reverses and hits a backcracker on Cena. Punk kicks Del Rio in the head and then Cena knocks down Punk. Back and forth match right now. Cena and Punk in the ring battling it out, exchanging blows. GTS set up by Punk. Del Rio hits Punk with the chair and he hits Cena with the chair as well. Del Rio sets up a chair sandwich with the chair in between Cena and Punk and hits a big back splash on both of them. he only gets a two count.
Del Rio regains control of the match. Headlock on Punk in the middle of the ring. Cena comes out of nowhere and hits his signature leg drop on both Punk and Del Rio. He tries to pin both of them and only gets a two count.
Del Rio attacking Cena who is hung up on the turnbuckle. Cena pulls himself up and Del Rio goes shoulder first into the turnbuckle. Cena still on top but Punk uses the ropes to take out Cena. Punk hits a Russian Leg sweep on Del Rio and gets a two count.
Del Rio hits Cena right in the side with a steel chair. Del Rio hits a back breaker through the chair, yes through the chair. Two count.
Cena hits Del Rio with a series of body shots and now a few shoulder blocks and a spin out powerbomb on Del Rio. Five knuckle Shuffle on Del Rio. He goes for the AA but Del Rio reverses and goes for the cross armbreaker. Punk kicks Del Rio in the head. CM Punk's back is bleeding. He goes under the ring and grabs a table. He sets it up outside the ring. He hits a running knee on Cena and then Cena throws Punk into the cage.
Punk working on Del Rio in the ring. Two count for Punk after a neck breaker. Let's go Cena and Let's go Punk chants roaring through the arena. Punk goes under the ring for a steel chair. Cena battling it out Punk on the outside. Punk leaps on top of the steel steps and mocks Cena and Del Rio pushes Punk into the cage.
Back in the ring, Del Rio hits a huge back breaker on Cena for a two count. Del Rio goes under the ring for another chair.
Cena sets up for the AA on Punk. Punk reverses and sets up for the GTS but Cena reverses and Cena gets thrown to the outside.
Moments later Punk dives onto Del Rio and Cena.
Cage is being locked. And Punk goes right after Del Rio who runs off. Punk following Del Rio around the ring, He rolls in and Cena chases him off. Little run around to start this match off. Cena and Punk going right after Del Rio. Shots by Punk in the corner on Del Rio. Cena and Punk fighting over the right to beat up Del Rio. Punk rolls up Cena for a two count.
This article is
What is the duplicate article?
Why is this article offensive?
Where is this article plagiarized from?
Why is this article poorly edited?