Phillies Dig out of Early Hole Behind Roy Halladay, Ryan Howard
October 2, 2011
Rob Carr/Getty Images
CRACK!
After a Rafael Furcal single and an Albert Pujols walk sandwiched around an Allen Craig strikeout, Lance Berkman launched a first-pitch fastball off the facing of the second deck to stun the Phillies and their 46,480 fans in attendance.
Just like that it was 3-0 in the first inning. And it was quiet at Citizens Bank Park.
It would stay relatively quiet for the next few innings.
Halladay would settle down, however. In fact, he'd do more than settle down as he did not allow a baserunner after the second inning. 
Kyle Lohse, starting for the Cardinals, settled in early, cruising through the first five innings with only one unearned run allowed.
The sixth would be different, however. With Jimmy Rollins and Hunter Pence on base, Ryan Howard stepped to the plate. Howard worked the count full, fouling off several pitches along the way.
Lohse's eighth pitch to Howard was the mistake he was looking for. It was a big mistake—a hanging changeup that Howard dutifully deposited into the second deck.
The Bank was alive again.
Two batters later Raul Ibanez smashed another hanging change and the route was on.
Howard would add another RBI on a sacrifice fly later in the game and Ibanez would poke a 2-RBI single through the right side to pad the lead.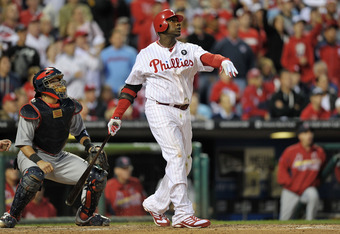 Drew Hallowell/Getty Images
Chase Utley cranked two balls off the right-field wall to pocket a pair of doubles as hitters 1-6 in the lineup combined to go 13-25 with 11 runs and 11 RBI's.
In other words, the meat of the Phillies restructured lineup did everything. 
It all started with Howard, who allowed his team to breathe a sigh of relief after uncorking his game-changing three-run shot.
And Halladay had no plans to give up the lead on this night, dominating the Cardinals through the eighth inning.
After a concerning stint from Michael Stutes in the ninth, Ryan Madson entered and patched things up for an 11-6 final.
With Cliff Lee scheduled to take the mound against Cris Carpenter Sunday night, the Phillies will look to take a commanding 2-0 series lead before heading to St. Louis.
The heavily favored Phillies took a few innings to get in gear in their 2011 playoff opener, but unlike 2010, it appears as though the team has the offensive firepower to put multiple runs on the board at any moment.
Of course, if the Phillies get solid outings like Halladay's every night, they're not going to need many runs on their way to another championship.