NHL: 30 Incredible Goals To Get You Pumped for 2011-12 Season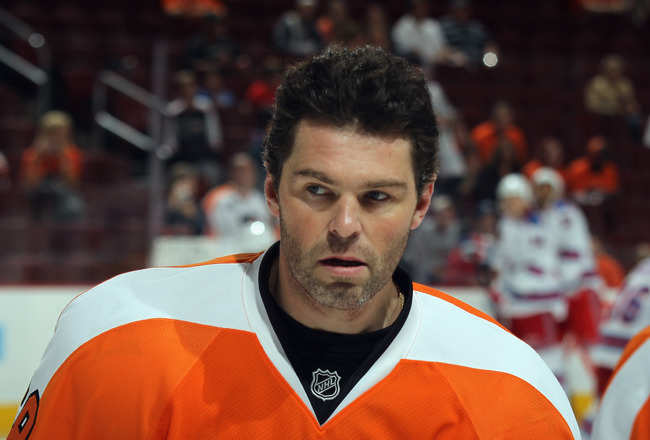 Bruce Bennett/Getty Images
The longest three-and-a-half months of the year are about to come to an end. The first drop of the puck will take place on Thursday, and eight-plus months of grueling action will ensue.
NHL fans don't need much else to get the blood flowing, but in case you need a something a little extra, here are 30 awesome goals to get you amped for the upcoming NHL season. It should be a fun ride.
Alexei Zhamnov
Alexei Zhamnov put together an excellent career, but this goal may have been the highlight of it. Many credit Peter Forsberg for inventing this move, but Zhamnov was the true innovator.
Henrik Zetterberg
Detroit Red Wings fans are getting ready for a full dose of Henrik Zetterberg in less than a week. I imagine that is an excellent feeling.
Darrin Shannon
The Buffalo Sabres fans went wild for this outstanding goal by Darrin Shannon. There will be plenty for Sabres fans to get excited about when the season opens up on Thursday.
Marian Hossa
Marian Hossa has bounced around the league, but wherever he stops, Hossa is always netting some impressive goals.
Mike Ribeiro
The Dallas Stars will be relying more heavily on Mike Ribeiro this season after the departure of Brad Richards. If he can muster some of the offensive magic depicted above, they will be in good shape.
Pavel Bure
Pavel Bure is one of the purest goal scorers in NHL history. The goal above is a prime example of that.
Maxim Afinogenov
Maxim Afinogenov is no longer in the NHL, but that doesn't mean that we cannot relish in his goal scoring genius.
Rick Nash
Rick Nash's offensive production is going to increase this season with the addition of Jeff Carter. It may cause people to forget just how great he has already been throughout his career.
Rick Nash Again
In case the last goal wasn't enough, this may get the message across about who Columbus' true franchise player is.
Alexander Ovechkin
Alexander Ovechkin is bound to bounce back from his mildly disappointing season. Just take a look at his talent.
Shootout Greatness
Shootouts may not be every fan's favorite addition to the game of hockey, but when goals like this one are scored, there isn't a fan that doesn't enjoy a game ending in a shootout.
Denis Savard
Every time you see a player pull off an amazing trick move, think of Denis Savard. He was the godfather of trickery.
More Mike Ribeiro
Mike Ribeiro may not possess the ability to carry the Dallas Stars offense, but he sure does have an uncanny ability to make the highlight reel.
Rob Schremp
Rob Schremp has never been much of an NHL player, but this goal has made him a YouTube phenomenon.
Nino
Is this going to be the year that Nino Niederreiter breaks out?
Kaberle Scores a Game Winner
Tomas Kaberle has changed teams for the upcoming season. His new team, the Carolina Hurricanes, are hoping the offensive defenseman has some of this magic left in him.
Super Mario
Mario Lemieux may not play in the NHL anymore, but he is still a huge part of the Pittsburgh Penguins and the league in general.
Eric Lindros Comes Through
The Philadelphia Flyers have a few "next ones" on their roster in Brayden Schenn and Sean Couturier. They are hoping that they turn out a bit better in the long term than Eric Lindros. However, Lindros did provide the Flyers with some magical moments.
J.R. Buries the Leafs
Speaking of magical moments in Flyers' history...
Pavel Datsyuk
Pavel Datsyuk was injured for much of last season. The Red Wings will be glad to have him back.
Marc Savard
Marc Savard is not going to play this season. It's only fair that we reflect on one of his great moments as a Boston Bruin.
Jaromir Jagr
Guess who's back? That's right, folks. Jaromir Jagr is back in the NHL, but this time he will be wearing the Orange and Black.
Bobby Clarke
Paul Holmgren retooled the Philadelphia Flyers this offseason, hoping to bring in the first Stanley Cup since the Broad Street Bullies took the Cup home for Philadelphia in the 1970s.
Steve Yzerman
Steve Yzerman is a huge part of the NHL as GM of the Tampa Bay Lightning. However, his work as a GM will never overshadow what he did as a player.
Claude Lemieux
Claude Lemieux is an excellent inspiration for what all NHLers hope to achieve: postseason heroics.
Brett Hull
The Buffalo Sabres hope to make this goal a distant memory with their revamped 2011-2012 roster.
Pavel Bure
The Vancouver Canucks are once again chasing glory this season.
Theo Fleury
The Edmonton Oilers and Calgary Flames are both rebuilding, hoping to spark the once great rivalry.
Bobby Orr
The Bruins may have won the 2011 Stanley Cup, but that doesn't change the fact that this is the single greatest moment the franchise has ever encountered.
Bobby Ryan
Could Bobby Ryan emerge as an elite NHL player? Goals like this would certainly suggest that.
Keep Reading