College Football: Boise State Broncos Get Revenge with Win Over Nevada
October 1, 2011
Otto Kitsinger III/Getty Images
The Boise State Broncos got even. They beat the Nevada Wolf Pack in Boise today by a lopsided 30-10 victory. The score could have been much worse. Boise's normally accurate QB Kellen Moore threw two interceptions deep in Nevada territory that otherwise would have been touchdowns.
Still, today's 20-point margin exceeded the cumulative margin the Broncos have had over Nevada in the last four years. The odds makers had BSU over Nevada by 28 points. BSU was held to its lowest point total this year and the lowest point total they have had against Nevada in many years. Similarly, Nevada was held to its lowest point total against the Broncos in recent memory. From 2007 -2010, the Wolf Pack racked up 168 points against BSU, averaging over 40 points per game. Not so in this game.
It was a poor showing by Coach Ault's Wolf Pack who continued to struggle and are now 1-3. BSU dominated all the stats. Nevada spent most of the game in their own territory converting on third downs only twice. Nevada's offense was worse than absent. They turned the ball over to the Broncos twice deep in their own territory and the Broncos were able to capitalize on it once for a short field easy score. For the first time in memory, Nevada had better defense than offense.
The normally prolific Nevada pistol was held in check as senior Qb Tyler Lantrip continued to struggle going five for 15 and 50 yards with an interception. It is becoming painfully clear, Lantrip doesn't have it. He has worn a glove on his throwing hand all season despite playing in warm weather and one might question if that is contributing to his inaccuracy.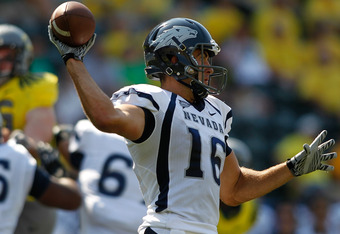 Jonathan Ferrey/Getty Images
Backup QB Cody Fajardo was unable to play having been injured last week at Texas Tech. 3rd string QB Mason Magleby got in the game in the 4th quarter and was a bit more effective going 4 for 4 with 73 yards and 1 TD.
Nevada managed only 176 total yards and was held to only 53 yards rushing and 123 yards passing. BSU had 333 yards of total offense, 160 yards in the air and 173 on the ground. Nevada RB Mike Ball was held in check and only managed 35 yards on 15 carries. Bronco Doug Martin had 130 yards on 22 carries.
Both teams were sloppy and each had two turnovers. Nevada had 10 penalties for 97 yards while BSU had 10 penalties for 104 yards including three uncalled for personal fouls late in the game.
Kellen Moore did not have his best day going 19 for 33, 142 yards with 2 TD's and two interceptions. Bronco Mitch Burroughs led the bronco receiving corps with five catches for 34 yards while Rishard Matthews led Nevada with four receptions for 84 yards.
One of the few bright spots for Nevada was the continued spectacular defensive play of LB James Michael Johnson who seemed to be in on nearly every tackle. LB Brandon Marshall was also impressive. Both did manage to pressure Moore and forced some poor throws from the Heisman candidate. Brett Roy continues to be an absolute beast on the D line.
Nevada has now completed a brutal opening road trip that took them to Eugene, Lubbock and Boise for non-conference games. They return to Reno for their first home game next week against UNLV and resume conference play the week after. As discouraged as the Pack must be, there are some bright spots. Nevada has now faced two of the top five teams in the country, Oregon and Boise State as well as Texas Tech. They should have beaten the Red Raiders.
As brutal as this road trip has been, it has been excellent preparation for the WAC. There are no teams remaining on Nevada's schedule that can bring anything close to what Nevada has already seen.  As bad as things look now, Nevada could still win the WAC. They are 1-0 in conference play.
One more thing has become clear, Tyler Lantrip has been ineffective and unable to make the transition from the practice field to playing field. Both Fajardo and Magleby have been more successful in short lived appearances. It's time to start giving them more playing time.
Lastly, I wonder why Lantrip is wearing a glove on his throwing hand. If you have ever used those gloves, they are intended for receivers. They have a "sticky" quality to the material on the palm surface and are part of the reason we see so many beautiful one-handed catches nowadays. I think the glove could be part of the reason Lantrip has had so many botched hand offs. Watching those miscues in slow motion it looks like the ball is stuck in his hands. Take the glove off Tyler. You have nothing to lose but your starting job and you might have a better feel for the ball and better accuracy.