Texas A&M vs. Arkansas: 5 Things We Learned About the Aggies
Ronald Martinez/Getty Images
After Texas A&M's second-straight collapse after holding pretty sizable halftime leads, there are perhaps a few things we now know about the Aggies.
There are certainly things that have gone right, otherwise A&M probably wouldn't have been able to build such massive first-half leads on some pretty good football teams. But those leads seems to evaporate pretty quickly once the second half gets underway.
So what's next? Where do the Aggies go from here? What have we figured out about this year's A&M team?
Texas A&M Is Still a Good Football Team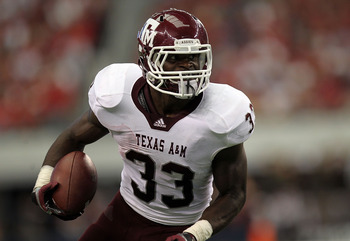 Ronald Martinez/Getty Images
Statistically, today's loss to Arkansas wasn't as shocking as you might first think.
Arkansas' only loss thus far has been to Alabama—a top five team. Texas A&M's only loss coming into this game was to Oklahoma State—a top five team.
Texas A&M put up 628 offensive yards on Arkansas—over 200 yards more than Alabama did last week.
Texas A&M had 30 first downs in the game, compared to Arkansas which had 28.
Texas A&M ran the ball for a whopping 381 yards today.
Texas A&M committed just half as many penalties as Arkansas.
All in all, it was a pretty evenly matched game, and the lose final score probably wouldn't surprise anyone if they missed the game or didn't know the storyline of the afternoon.
Texas A&M Is Ready for the SEC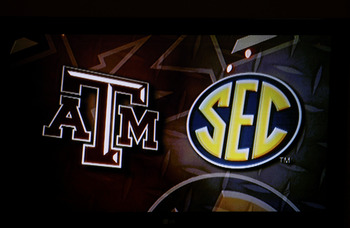 Aaron M. Sprecher/Getty Images
Along the same lines just discussed, Texas A&M showed that they can hang with some of the best teams in the SEC.
A close loss to a team like Arkansas certainly looks better than a blowout, and it might even look better than a win over bottom-feeder SEC teams like Vanderbilt, Kentucky, or Ole Miss.
Close losses like these are the name of the game in the SEC. What's important now is how A&M reacts to the loss, and how quickly the team can regroup.
Texas A&M Isn't All About Passing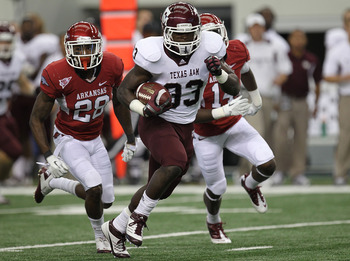 Ronald Martinez/Getty Images
Ryan Tannehill's name was mentioned early this season as a possible Heisman contender. Statistically, there's nothing that is really dropping his name from consideration, but the successive losses certainly will.
Today, Tannehill was a respectable 25-of-35 for 247 yards. He also added 56 yards on the ground.
What is, perhaps, of concern when it comes to Tannehill is the fact that he was responsible for exactly zero points today. No passing touchdowns, no rushing touchdowns.
If a team like Texas A&M is to be successful, you need your best player to score points.
Luckily, A&M had Christine Michael running the ball today.
This 5'11" 213-pound back carried the ball 32 times today, and still managed 7.2 yards per carry for 230 yards and three touchdowns.
Michael's day would ordinarily be cause of celebration in Aggie-land. A welcomed surprise of a stellar running game could have turned a top Big 12 Aggies team into a top FBS Aggies team.
Of course the problem with that scenario was a lack of execution in the second half, including a critical fumble late in the third quarter.
Texas A&M Has Some Endurance Issues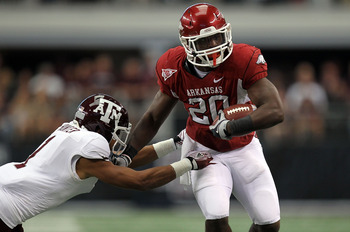 Ronald Martinez/Getty Images
Any coach will tell you that quickly jumping out to a large lead is always a good thing.
Texas A&M has been able to do exactly that these past two weeks against two very good football teams. The problem for the Aggies is that for some reason those leads disappear in the second half, and the Aggies just collapse.
We know it can't be a lack of experience. It also can't be a lack of talent.
The only thing that comes to mind that actually makes sense is a lack of motivation.
The culprit for that lies with both the coaches and the captains on the field.
The Aggies have some of the most talented players in the nation, and when the season began, the Texas A&M name was being thrown around with the likes of Oklahoma and Oklahoma State when ti came to Big 12 championship talk.
All of that seems like a distant memory after two epic second half collapses.
The lesson should be well-learned by the Aggies defense by now: no lead is safe.
Just because the Aggie offense has been able to build up sizable leads in the first half doesn't mean the defense can completely fall asleep at the switch.
Similarly, it seems like the A&M offense has been thrown into neutral after building a massive lead.
Again, it's not a lack of talent that should cause concern in the minds of the A&M faithful. At the end of the day, the leaders of the program—coaches and players alike—need to look in the mirror, and figure out why they haven't been able to properly motivate their players and teammates in the second half of football games.
Texas A&M: Not Quite as Advertised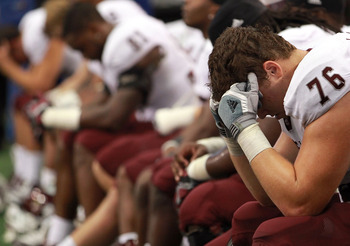 Ronald Martinez/Getty Images
It seems as if the preseason top ten ranking for the Aggies was a little premature.
There's no question that both Oklahoma State and Arkansas are top-tier programs in their respective conferences, and it's equally unquestionable that Texas A&M is a team that's stocked with talent.
What is lacking from Texas A&M is the intangible qualities of hunger, drive, and heart.
The upside is that everything that has gone wrong for the Aggies is completely fixable. The season is not a total loss. Big bowl games—potentially even a BCS bowl—are still a possibility.
But right now, the biggest enemy for Texas A&M is Texas A&M.
How will the players respond to another crushing blow?
Perhaps more importantly, how will the coaching staff respond? Can Mike Sherman bring this team back from the edge of the abyss?
Keep Reading

Texas A&M Football: Like this team?