Dan Carter Injury Rules All Black Star Out of Rugby World Cup 2011
October 1, 2011
Phil Walter/Getty Images
During the week there was a pleasant calm that rested over New Zealand. Our national rugby team, the All Blacks, had just given an exemplary performance against France. This was a victory over our nemesis nation. The French have twice rattled New Zealand in previous World Cups, prematurely knocking us out of the 1999 and 2007 World Cups. Thus blocking our passage through to the finals in both tournaments.
But with last Friday's game against France, it wasn't just about the result. What was more important was the manner of our victory. It was compelling enough for it to be judged the best performance given by any team in the tournament thus far. 
The All Blacks gave a team effort that prohibited the French from exuding the flair and charm that normally oozes from their game. The efficiency shown by the All Black forwards restricted their French counterparts from banding any sort of muscle or brawn together to combat the New Zealand game.
Instrumental to our performance was Dan Carter—the man who sits in the pocket at the first five position; a role that steers the offence of a rugby team.
In rugby there are no forward passes. From hand, the ball must travel backwards from player to player. As a first five, you are the second receiver of the ball from set-piece situations. You link the forwards with the scoring potential of your back line.
It could almost be said that Carter is to the All Blacks what Joe Montana was to the San Francisco 49ers or Tom Brady is to the New England Patriots—a key man whose composure ensures he reads the game and picks the plays that will destroy the opposition.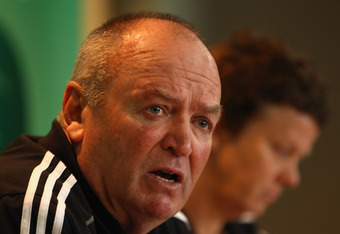 Phil Walter/Getty Images
In New Zealand, Dan Carter has a mortgage on the first-five position. The position has been his for the past 7-8 years. No one has come close to pushing him out of this role. The reality is that in world rugby no one has come close to equalling Dan Carter's class as a first-five or challenging the dominance he brings to a match.
As a nation, we have been celebrating this World Cup. Not just because our team is doing well on the field, but as hosts of the event, we have been proud of the way the tournament has been unveiled to the world.
At the start of the event, a number of critics bemoaned the event being staged in New Zealand. It was felt our nation, with a supporting population of only 4.5 million people, was too small to give commercial credence to the Rugby World Cup.
This tournament has since been hailed as something special. We have proved the critics wrong.
Even in Auckland, our largest city's fragile public transport system had survived getting fans to the ground for two sellout matches in consecutive days. Things were finally going our way. We were feeling positive that the jinx that had prevented us from winning the rugby World Cup since our only tournament victory in 1987 was finally being lifted. 
This weekend the All Blacks play Canada. A game they are expected to win comfortably. Unfortunately for regular captain Richie McCaw (New Zealand's own Braveheart), a minor injury has ruled him out of this match. His place as on-field leader to be taken by Dan Carter, the man who sits in the pocket.
So it was Carter's responsibility to take the team through a captain's run—a light training session staged the day before a match; a tradition of the game.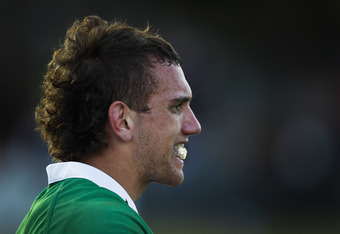 Martin Hunter/Getty Images
It was in this session that Carter would collapse. 
While practising his field goal kicking, he would literally crash to the ground with a torn groin. Given the ferocity of the game of rugby, it's weird for such a great player to be ruled out of the tournament in such an innocuous fashion.
It did not take long for news to emerge that Carter would be out of the Canada game. New Zealand's collective calm was not disturbed. For Carter had been ruled out for the game against Japan (also a lesser-rated opposition) earlier in the tournament. It made sense for Carter to be rested, as the All Blacks will soon be facing games that are of more importance in the knockout phase of the World Cup.
However, as the evening progressed, news emerged that not all was well in the All Black camp.
News that Carter was in doubt for future games soon became strong suggestions that Carter would be out of the World Cup. 
Foreign news sources were strong in their conviction: come the morning, it would be confirmed that Carter's tournament would be over. Media went further to say that Aaron Cruden (a young up-and-coming first-five) had already been called into the squad.
All was confirmed at 10am New Zealand time.
The reality for the All Blacks is that they have a number of options to cover the first-five role. Colin Slade has been part of the squad for most of this season. Piri Weepu, who is a halfback, is also comfortable as a first five. Weepu is often selected for his versatility to cover both positions.   
Dan Carter is special. Such a leading light to the team, it has never been possible for New Zealand to find a worthy substitute. Various players have been tried. Most have been deemed failures. Not necessarily due to their shortcomings, but because it's impossible to match Carter's presence.
New Zealand are not alone in incurring injuries, however. 
The South Africans yesterday confirmed that their star back Francois Steyn was out of the tournament. The Australians' casualty list has forced them to play a forward as a winger (a position normally reserved for the fastest members in the team).   
The problem for New Zealand is that they have failed to build Colin Slade's confidence as an All Black first five. Slade had a poor game against the Springboks (in South Africa) and has been out-of-favour with the New Zealand public ever since.
The World Cup offers opportunities to teams like New Zealand to build depth and grow confidence by giving game time to squad players against lesser teams. Unfortunately for Colin Slade, the focus this tournament has been on rebuilding Sonny-Bill Williams. Similar to Slade, Williams also gave a poor performance against the Springboks. In the Canada match, the two will be reunited as the All Blacks first-five and second-five.
Aaron Cruden was Carter's heir-apparent in last year's All Black squad. The diminutive player had a poor domestic season that saw him lose his place in the All Blacks.
While Slade and Williams were performing poorly in South Africa, Cruden was finding form playing first-five for his local Manawatu team. There's a huge gap in quality between who Cruden was playing and who the All Blacks were playing, but such was the strength of Aaron's games that many were insisting he should be recalled into the All Blacks.
The All Blacks will need to tweak their game-plan as they no longer have Carter in the pocket. Both Slade and Cruden are competent first fives. They're good enough to steer New Zealand to Rugby World Cup success. The reality is that the All Blacks have enough good players on the field that, regardless of who's selected at first five, they should be able to execute a strategy that will still allow them to succeed. 
The difference is composure and attitude. Dan Carter's success comes in his ability to run and rule a game. In 96-percent of the games he's played for the All Blacks, he's controlled the tempo, direction and style of the match. Opponents find it difficult to get to him physically or mentally. 
With Dan Carter playing, New Zealand fans have confidence that their team will do well. He brings calm to most game situations. But this is typical to any relationship between a sports star and his fans. Support brings success.
Carter won't be there for the rest of the tournament. This is not a time for laboured criticism. New Zealand now needs to have confidence in Carter's replacement. It's a confidence that will allow the calm we have been enjoying in New Zealand to continue.