Michigan Football: Denard Robinson, Offense Build Toward Tougher Matchups Ahead
October 1, 2011
Leon Halip/Getty Images
You know those rare days when absolutely everything seems to go your way?
Those traffic lights that always stop you in your tracks on the way to work? You skate through them with time to spare.
That test you forgot to study for? It was canceled because the teacher was out sick.
The goofy outfit you're wearing? The cute girl who works at Starbucks said you look good.
Saturday was one of those days for the Michigan offense.
The Wolverines' 58-0 lambasting of the Minnesota Golden Gophers featured an absolutely dominant offensive performance from coordinator Al Borges, quarterback Denard Robinson and company. And if they continue to perform at this level, there may not be a team in the Big Ten that can stop them.
"Just how good were they?" you ask. Let's look at the stats.
At halftime, Michigan was up 38-0. They had outgained Minnesota 384 to 69. The totals on the day stood at 580 total yards for the Wolverines to 177 for the Gophers.
And it wasn't another Denard-dominated offensive attack like we'd seen at times in recent weeks. It was a balanced plan: 363 yards on the ground and 217 through the air.
Shoelace had a relatively quiet day running the ball, accumulating just 51 yards on six carries, though he added a score.
But Robinson had a breakout day tossing the pigskin, completing his first 11 passes and finishing 15-of-19 for 169 yards and two touchdowns. He looked comfortable and confident for the first time in weeks, throwing quick outs and slants, and completed several longer hook routes with ease.
"It's mechanics," said Michigan head coach Brady Hoke at the postgame news conference, "and then again the timing and routes. I thought the receivers responded well, and they are blocking in and route-running well. That helps, and then Denard, he worked hard all week as he always does, and he got his feet planted in the right place and did a nice job throwing the football."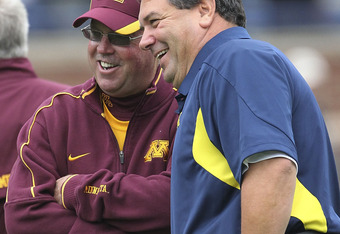 Leon Halip/Getty Images
But the impressive offensive performance was far from just Denard being Denard:
- Fitz Toussaint had a breakout day on the ground, leading the team with 108 yards and a touchdown on 11 carries.
- Vincent Smith ran for, caught and threw for a touchdown… all in the first half.
- Michael Shaw ran for 60 yards on eight carries.
- Junior Hemingway caught five passes for 56 yards, while Jeremy Gallon added four for 46 of his own.
- Stephen Hopkins caught a big 28-yard pass from Robinson early on.
- Even fifth-string tailback Thomas Rawls, a freshman from Flint, Mich., toted the ball 10 times for 73 yards, largely in mop-up time.
All told, six players rushed for 25 yards or more, eight players caught passes and five scored touchdowns.
That's a pretty impressive spread.
And speaking of spreads, the Wolverines included them in their offensive scheming. Borges inserted early several offensive packages that included backup QB Devin Gardner. If there ever was a day to get the talented sophomore into the action, this was it, and the highly touted prospect from Detroit didn't disappoint.
No, the early option flip from Gardner to Robinson to a tailback didn't net incredible yardage. Nor did the quick pass from Gardner to Robinson, who passed back to Gardner, who then had a pass option further downfield. But it opened things up for the rest of the offense.
Spreading the defense and forcing them to attend to two dangerous offensive players, both capable of running and passing the ball, opened up the middle of the field for Michigan's more traditional run-centric offense.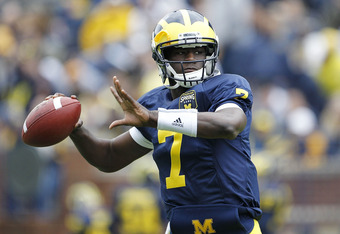 Leon Halip/Getty Images
"We have been doing that in practice and we have been working on it," Robinson told reporters after the game. "Coach said he was going to throw it at us and for us to be ready, and he called it. So we were ready.
"We love doing new stuff. I just want to go out there and have fun with my teammates."
And the offensive line performed majestically, as well. Michael Schofield—replacing the injured Ricky Barnes at left guard—and the rest of the line opened up huge holes for Toussaint, Smith, Rawls and the rest as they rumbled for 363 yards on 48 attempts, an impressive 7.6 yards a carry.
Most of all, though, the performances by Gardner, the backs and the line took some of the pressure off of Robinson. And that was a key going into the game, said Hoke.
"We definitely want to see if we can protect Denard as much as we can. I thought the line did a very nice job; I thought Al [Borges] called a very good game in what we were trying to get done."
Sure, it was against a very suspect opponent. But the Michigan offensive showed what it's capable of Saturday at the Big House. And that efficiency, that potency, that confidence they've lacked late in recent seasons is something they're hoping translates into success deeper into Big Ten play.
After the game, Gardner said,
"We all believe and we have all bought into the new system and the things that Coach Hoke is trying to implement, I feel like there is a big belief on the team and maybe it's something that we haven't had in past years."
Let's hope he's right on that front. Because late-season tests against Illinois, Nebraska and Ohio State won't be canceled, no matter how much Robinson and company may have studied for them.