Philadelphia Phillies vs St. Louis Cardinals: Live Reaction from NLDS Game 1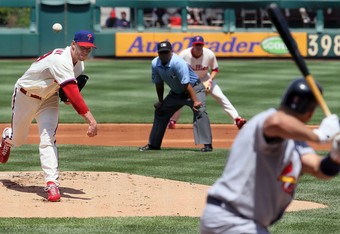 Roy Halladay is looking to silence Albert Pujols and the Cardinals in Game 1.
Jim McIsaac/Getty Images
As the calendar flips to the start of October, so does the switch on what is sure to be an electric month in Major League Baseball. The postseason always delivers enough magic to keep fans coming back in droves to witness the next great moment in baseball lore.
Tonight's NLDS Game 1 matchup between the St. Louis Cardinals and the Philadelphia Phillies promises to be no different and should be packed with energy from the very first pitch.
From the moment that Roy Halladay takes the rubber until the cleaning crew begins prepping Citizens Bank Park for Game 2, Bleacher Report will have you covered with an array of commentary, reactions and updates. With fine pitching on the hill and two explosive offenses battling this evening in Philadelphia, you can expect a constant stream of action in the opener.
This crucial Game 1 will feature the reigning Cy Young winner Halladay squaring off against ex-Phillie Kyle Lohse, with the winner moving one game closer in this best-of-five sprint to the NLCS. Trying to replicate his no-hitter in Game 1 last season against Cincinnati, Doc will have to silence Albert Pujols, a rejuvenated Lance Berkman and Matt Holliday deep into the evening.
Keep it here and stay tuned in for discussion, questions and an interactive experience as two of the National League's best kick off a thrilling series!
Thank you for joining us during Game 1. Tomorrow promises to be a pressure-filled affair that centers around a fantastic pitching matchup. Until then, enjoy the postseason!
Looking ahead to tomorrow, Cliff Lee takes the ball for the Phillies and opposes Chris Carpenter for Game 2 in Philadelphia. Runs will be a premium and we could see a long string of zeros well into the night.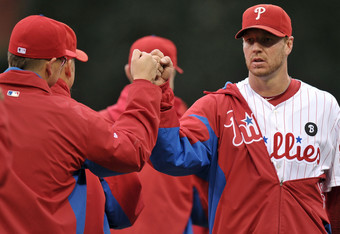 I think you could make a case for Ryan Howard or Roy Halladay for player of the game. Manuel said before the game that if the starter could keep the Cardinals at bay, the bats would eventually wake up and take Game 1. Doc held after his struggles in the first and it was Howard that brought them back.
Phillies 11, Cardinals 6 - FINAL
Madson shuts the door on St. Louis and sends the Phillies to a 1-0 series lead.
We have a Matt Holiday sighting, as he grabs a bat and pinch-hits with two outs in the ninth.
Phillies 11, Cardinals 6 - Skip Schumaker greets the Phillies closer with a two-run double to cut the deficit to five. Even if the next two go down in order, the Cardinals are sending a message to the Phillies bullpen.
At what point do things start to get interesting? Credit the Cardinals for still battling this late, but they may have crushed the rally by forcing Manuel's hand and bringing in Madson.
Not a welcome sight to see Stutes struggling for the Phillies faithful. If you're Charlie, you don't want to go to Madson on a night where the game is in hand.
Interesting move by Charlie Manuel to remove Halladay from the game, but completely understandable. Temperature is dropping quick as the night goes on and you wouldn't want to put your ace in any sort of peril. As a bonus, Stutes can get some work in as he tries to acclimate himself to the environment.
Philadelphia 11, St. Louis 3 - And he does just that. Pence avenges his bases-loaded swinging bunt an inning before by slugging a two-run single to center. He's been right with his timing throughout the ballgame.
Phillies continue to pour it on as they threaten again with two on and two out here in the 8th. You can bet Pence wants to get in on the action with an RBI here.
Halladay coming back out for the complete game in the ninth. After Berkman's at-bat, I don't think anyone could have seen that coming.
Where does this Phillies comeback rank on your list over the past five years during the streak of NL East championships?
Discount the first inning and a third, let Halladay pitch into the 11th, and we'd most likely see the equivalent to a no-hitter by Doc.
Question: If you're the Phillies at this point in the game, do you really need Doc to go back out for another two innings?
Phillies 9, Cardinals 3 - Party-like atmosphere at Citizens Bank Park as Ibanez singles home Hunter Pence. Inning comes to an end after the Phillies add on three more runs. Halladay goes back to work after only 88 pitches.
Philles 8, Cardinals 3 - Howard hits another deep drive, but is forced to settle for a sacrifice fly. Shane Victorino sends Utley home again for the second time with a bullet to right field. Mountain ahead of the Cardinals offense.
It's swings like that make you wonder if Halladay just wanted to come sit down in the dugout. One out.
Phillies with a real chance to break this game open and making a big statement in game one. Pence will get an opportunity to do some damage after setting the table in his last at-bat.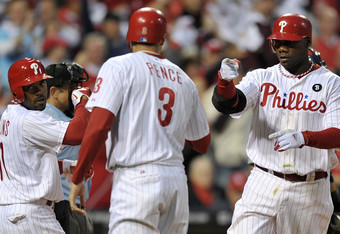 Though it's easy to point to Howard's bomb as the most important at-bat in the big inning, you can't forget Pence's single to keep the inning going. If Pence makes an out, Philadelphia is looking at one-on, two-out instead of a crooked number.
Another 1-2-3 inning for Halladay, making 18 retired in a row. Only thing different about that frame was that Doc seemed to be pitching without the 50 pounds of guilt from the first inning.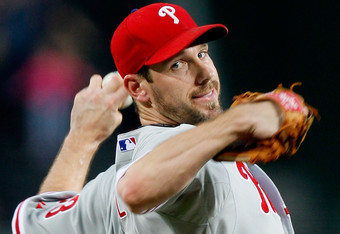 What a turn of events in Philadelphia. The sixth inning of this game could go on to define the series if the Phillies hold on. What was said about Carpenter in Game 2 earlier holds true for the Cardinals and Cliff Lee. The Phillies' number two starter is not someone I'd want to face when trying to avoid an 0-2 hole.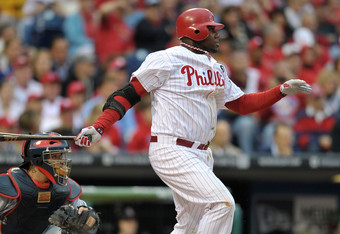 What a run by the heart of the Phillies order. Started by a Rollins base hit, the Phillies have rallied for five runs here in the sixth inning. You can bet no man is happier than Halladay, who has been relieved of his mistake in the first.
Phillies 6, Cardinals 3 - After an awful at-bat last time up for Ibanez, Raul sends another hanging change-up into the stands to extend the Phillies lead. Lohse leaving the ball game after cruising through 5.1 innings.
This article is
What is the duplicate article?
Why is this article offensive?
Where is this article plagiarized from?
Why is this article poorly edited?

Philadelphia Phillies: Like this team?