New England Patriots vs. Oakland Raiders: Live Score, Highlights and Analysis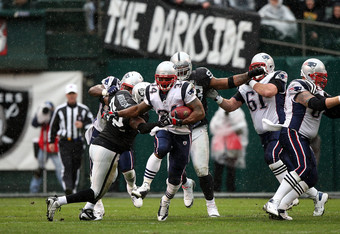 Jed Jacobsohn/Getty Images
Final: New England 31, Oakland 19.

Even before the New England Patriots and Oakland Raiders stepped on the field, this felt like a whole new ballgame.
The Patriots and Raiders met on the most even playing field between the two teams in years. Not since the squads met in the Snow Bowl in January 2002 have their outlooks toward the game been so similar.
In the 2002 season, Oakland was the superior team, and proved it. In 2005 and 2008, the Patriots were better, and proved it.
But this was different. Today, both teams fully expected to leave the field with a victory.
The Patriots were that team, taking control in the second half an emerging with a 31-19 victory. Tom Brady threw for 226 yards and two touchdowns, while Stevan Ridley (97 yards, touchdown) and BenJarvus Green-Ellis (75 yards, touchdown) led a solid rushing attack.
Jason Campbell moved the ball pretty easily, throwing for 344 yards and a touchdown, but was hurt by two interceptions, including one to Pat Chung in the endzone.
A big story coming in, Darren McFadden had a 41-yard run but was held to 75 yards on 14 carries.
Even with the win, the Patriots may have suffered a bad loss. Jerod Mayo went down with a knee injury and didn't return, and was carted to the locker room at halftime. If he misses time, it will stretch an already poor Patriots defense even thinner.
New England 31, Oakland 19, final. That'll be it. Huge win for New England with the J-E-T-S coming up next. It's a tough loss for Oakland, and the Raiders will have to bounce back with a difficult tilt against Houston next week.
Denarius Moore 6-yard touchdown pass from Jason Campbell. The Raiders went 99 yards in four plays. Garbage time, schmarbage time, that's something Bill Belichick won't be happy about. The two-point conversion failed, so it remains a two-touchdown game with 28 seconds left.
Jeez, if Darrius Heyward-Bey broke free from those two defenders, we could have had another 99-yard reception. Don't tell Oakland this game is over.
Patriots turn it over on downs on 1-yard line. Oakland gets the ball on its own 1-yard line with 1:17 to play.
Any Raiders fans want to say what they think about today's game? Lot of stuff to build on (success of passing attack, passing defense downfield), and a lot of things to improve (Campbell's inopportune mistakes, second-half offense).
It looks like that'll do it, folks. Stevan Ridley with a big third-down run to continue what's been an impressive days for the rookie. This has definitely been New England's most balanced offensive showing of the season.
Two straight punts for the Patriots. Oakland has a pulse, however faint.
I'm still shocked. Vince Wilfork has morphed into the rare cover tackle. Meanwhile, Jason Campbell has to be kicking himself. That's a promising drive ended, and valuable minutes off the clock.
Vince Wilfork interception. You've got to be kidding me.
Deion Branch 4-yard touchdown reception from Tom Brady, New England 31, Oakland 13. New England cashes in on an 80-yard drive with 13:43 left and urgency starts to set in on the Oakland sideline. Just when you thought the Patriots had forgotten to pack Deion Branch for their road trip...
End of 3rd quarter. Wes Welker might not make it past the Black Hole alive. He's just killing Oakland on third down. New England's controlling the game on the ground as well, which is probably a reason why the Raiders offense, which has moved the ball easily throughout the game, has only 13 points.
Sebastian Janikowski 26-yard field goal, 24-13 New England. A pass interference call on Kyle Arrington's defense of Jacoby Ford was picked up. Not a lot of argument from the Oakland sideline. The Raiders still get points, courtesy of Jumbo Janikowski.
The Raiders are just marching down the field right now. Every once in a while, the Patriots make a play, but these six-yard runs are adding up and chomping clock.
Jim Rogash/Getty Images
33-yard touchdown run by Stevan Ridley, 24-10 New England. Great drive by the Patriots, capped off by a dazzling run off tackle by the rookie with 11:07 left in the third. Everyone contributed, with Wes Welker making a 32-yard catch on 3rd-and-7 and BenJarvus Green-Ellis jumping over a defender on a 3rd-and-1 run to keep the drive alive. When people refer to versatile offense, this is it.

It's tough to gauge which team has the edge right now, as New England's defense is predictably bad and Oakland's getting big plays, but the Patriots have a seven-point lead and the ball at halftime.
Tom Brady is unusually sloppy, with only eight completions on 17 attempts for 121 yards. Jason Campbell, at 11-of-15 for 144, has been more productive, but mistaking Pat Chung for an open receiver in the end zone was a crucial turnover.
Darren McFadden has been hit-or-miss. His stats are impressive at eight carries for 57 yards, a 7.1 average, but take away a 41-yard gain and his average is a little over two yards per carry. Bill Belichick obvious focused the defense on slowing down the NFL's leading rusher.
Jerod Mayo was carted to the locker room after his knee injury, but was seen strengthening it on the sideline. His return is questionable, but Patriots fans must be concerned that this has season-long implications.
Stephen Gostkowski 44-yard field goal, 17-10 New England. Patriots cash in on the Jason Campbell freebie. It's hard to gauge Brady today. He's looked sharp on the short stuff, but can't even come close to completing anything over 20 yards.
The big plays to keep the drive alive were two first-down completions by...Chad Ochocinco. I know, I'm shocked too.
Jason Campbell intercepted in end zone by Patrick Chung. Wow. Campbell made a terrible mistake, cheating the Raiders out of surefire points just before the two-minute warning. Chung already making his presence felt in his return from a thumb injury.
Jerod Mayo injured. Looks like Mayo hurt his knee on a five-yard Darren McFadden run. This could be devastating.
BenJarvus Green-Ellis 1-yard touchdown run, 14-10 New England. Green-Ellis got in on a second effort with 7:44 left in the quarter, capping off New England's drive following Bush's score. A pretty 21-yard hookup between Brady and Welker along the left sideline, initially ruled incomplete, was the highlight.
There could be a lot more offense coming up, folks.
Michael Bush 1-yard touchdown run, 10-7 Oakland. That was easy. The Raiders needed only six plays to get into the end zone, with Darren McFadden doing most of the work on a 41-yard run.
Patriots held on 3rd-and-14. At least it wasn't Richard Seymour taking Stevan Ridley down for a four-yard loss on 2nd-and-10.
End of 1st quarter, New England 7, Oakland 3. Oakland made third down look easy three times on their last drive before New England finally forced fourth down. On 4th-and-2, you wonder if Hue Jackson thought about going for it at all. The Patriots are probably happy the Raiders didn't.
Tom Brady 15 yard touchdown pass to Wes Welker (7-3 New England): The Patriots needed two personal fouls from Richard Seymour to find their groove, but the offense began to click after midfield. Brady found Welker near the left sideline, and the wideout scrambled and dove in over the pylon for six.
Richard Seymour appears to be a little more pumped for this opponent, but he may be too pumped. Two big personal foul calls are bailing the Patriots out.
Field goal by Sebastian Janikowski, 3-0 Oakland. That's got to be a disappointing drive for the Raiders. They marched down the field, but a holding penalty derailed the progress. Three points is a victory for New England.
This article is
What is the duplicate article?
Why is this article offensive?
Where is this article plagiarized from?
Why is this article poorly edited?

New England Patriots: Like this team?