Notre Dame vs Purdue: Live Score, Highlights and Analysis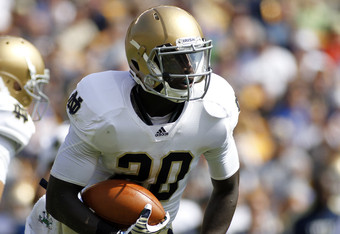 Justin K. Aller/Getty Images
Notre Dame 38, Purdue 10 -- FINAL

Notre Dame takes on in-state rival Purdue on Saturday night as the Fighting Irish continue what they hope will be a resurgence to their season.
After starting the year at 0-2, the Irish have notched victories over then-nationally ranked Michigan State and, last week, at Pittsburgh.
The former was impressive; the latter was ugly. Nonetheless, they both go into the books as a "W," keeping alive the hope that Notre Dame can run the table and reach a BCS bowl.
Purdue is currently 2-1 and not only has the luxury of playing at home, but also of coming off a bye week. The Boilermakers haven't played since a 59-0 victory over Southeast Missouri State on Sept. 17. The Irish will have to contend with Purdue's rushing attack, which is averaging almost 259 yards a game and is ranked 10th in the country.
Keep it here on Bleacher Report for all live scoring updates and instant analysis for the game.
And with that, Notre Dame claims the victory over Purdue by a final score of 38-10.
The offense was hitting on all cylinders as Tommy Rees had the best performance of his career.
Next up for Notre Dame is a home game with Air Force next Saturday.
Purdue scores on a long drive with their first team offense going against Notre Dame's second string defense.
Current score: Notre Dame 38, Purdue 10
David Ruffer connects on his first field goal attempt in three tries tonight.
Current score: Notre Dame 38, Purdue 3
The play of Tommy Rees tonight is certainly worth mentioning.
The sophomore is 21 of 33 for 238 yards and two touchdowns.
The most impressive part of his performance is the fact that he has avoided turnovers.
Also, he has been a cool customer while managing the game.
Despite the fact that Rees is facing a weak defense, his calm demeanor and avoidance of turnovers is something to be celebrated.
It's a welcome sigh of relief after expecting him to turn the ball over during the first four weeks of the season.
Tommy Rees completes his third touchdown pass of the night, connecting with T.J. Jones for the Irish touchdown.
Current score: Notre Dame 35, Purdue 3
With Purdue going with Robert Marve at quarterback, the Purdue offense is showing a bit more of a spark than it did with Caleb TerBush under center.
That should be reason enough to get Notre Dame's defense worried, as Marve had a great outing as the starter at Notre Dame Stadium last season.
Defensive coordinator Bob Diaco employs a "bend but don't break" style of defense that, at times, plays into the hands of opposing offenses.
It's time for the defense to buckle down and put a bruising on the Purdue offense.
One notion that is worth discussion is whether or not the Irish will play with a killer instinct for the rest of this contest.
The best teams in college football have that killer instinct. Take, for instance, Oklahoma. The Sooners are taking on Ball State this evening, and currently hold a 62-6 lead.
It's about time Notre Dame starts to truly hammer undermatched teams into the ground.
Tommy Rees hooks up with his big tight end, Tyler Eifert, for the Notre Dame touchdown.
The drive lasted seven plays and covered 69 yards.
Current score: Notre Dame 28, Purdue 3
Penalties continue to be a chronic problem for Notre Dame. Darius Fleming was called for a facemask penalty after sacking Purdue quarterback Robert Marve.
Also, long-snapper Jordan Cowart was flagged for a personal foul penalty after getting into a bit of a tussle with Purdue linebacker Chris Carlino.
Brian Kelly had a few words for him once he made it back to the sideline.
There's no doubt that he'll preaching discipline and focus in the locker room at halftime.
Since going up 21-0, the Irish defense has been bending a bit too far, and needs to regain its edge.
Halftime should be a good rest.
After a 13-play drive that ate up a large chunk of clock, Purdue settled for a Carson Wiggs field goal.
That's a victory for the Irish defense.
Current score: Notre Dame 21, Purdue 3
Cierre Wood blasts 55 yards for the Notre Dame touchdown.
It was an extremely impressive run that showcased Wood's blazing speed.
Current score: Notre Dame 21, Purdue 0
After being coined "Mr. Automatic" a year ago, Notre Dame kicker David Ruffer has experienced some rare inconsistency that started last week at Pitt.
He missed his only field goal attempt of the day, but converted each of his extra point attempts.
During tonight's game in West Lafayette, Ruffer has had one attempt blocked and narrowly missed his second.
I'm usually not one for quick changes, but it might be time to give freshman Kyle Brindza a shot.
Brindza was recruited to eventually become a three-way kicker (field goals, punting, kickoffs) for the Irish.
Food for thought.
Aside from having problems with turnovers and penalties this season, Notre Dame has struggled mightily with punt returns.
The problems started in the first game of the season against South Florida, with Theo Riddick fumbling multiple times, but only turning it over once.
The coaching staff then turned to fair-catch extraordinaire John Goodman, who seemingly waves his arm on every attempt.
If there's one thing the coaching staff needs to focus on, it's improving the coverage team on punt returns.
Because of the lack of execution, the offense is put in bad field position more often than not.
The ugly play of the punt return team has been on display tonight with John Goodman taking a two-yard loss and Robby Toma getting out the way, letting the ball roll down inside the 20-yard line.
Jonas Gray plows ahead with his 230-pound frame for the Notre Dame touchdown.
The scoring drive was largely helped by a number of Purdue miscues, including an unsportsmanlike conduct penalty on the Boilermakers that gave the Irish a first down inside the 10-yard line.
Current score: Notre Dame 14, Purdue 0
Notre Dame drove drove down deep into Purdue territory, and looked well on its way to a second touchdown.
However, penalties and errant throws by Tommy Rees forced the Irish into a field goal attempt that was ultimately blocked at the line.
As has been the case for a majority of the season, the Irish continually shoot themselves in the foot upon entering the red zone.
They've scored on only eight of 15 fifteen redzone possessions this season, ranking 106th nationally.
Those failed redzone trips may be Notre Dame's demise if they are not eradicated.
During the week, Harrison Smith and Michael Floyd made it clear that they, as well as the rest of the defense, were intent on creating turnovers.
They're off to a great start so far with Gary Gray picking off Caleb TerBush on the first play of the game.
That's likely to be the first of a few turnovers for the Irish defense if it continues to play this way.
The key is having that proverbial chip on its collective shoulder as a unit.
The D showed that against both Pitt and Michigan State, and aren't planning on letting up anytime soon.
As for the offense, it'll be interesting to see how successful it will be against the weakest defense it has seen so far this season.
Stay tuned for updates.
Tommy Rees connects with Michael Floyd for the touchdown pass following the interception by Gary Gray.
Current score: Notre Dame 7, Purdue 0
As I mentioned in my game preview, there are a number of match-ups to look for in tonight's contest.
Perhaps the most significant factor surrounding the outcome will be the play of Notre Dame sophomore quarterback Tommy Rees.
Through three quarters against Pittsburgh, Rees was flummoxed and confused by what the Panther defense was showing. He began the day completing 14 of 30 passes for roughly 100 yards and an interception.
However, he came up clutch on the game-winning drive, hitting Tyler Eifert for the score.
For the Irish to have consistency, Tommy Rees must be fluid from start to finish.
It's a matter of Rees recognizing coverages and being able to distribute the ball to other receivers not named Michael Floyd.
Do that and the Irish offense will be flying. Rely on Floyd, and it will be a trying time for the Irish offense.
This article is
What is the duplicate article?
Why is this article offensive?
Where is this article plagiarized from?
Why is this article poorly edited?

Notre Dame Football: Like this team?