Boston Red Sox Managerial Opening: You Have Huge Shoes to Fill
October 1, 2011
Elsa/Getty Images
Every baseball offseason provides ample opportunity for changes within each organization.
Last offseason offered dramatic changes for the Boston Red Sox. This offseason is less than 72 hours old and already has revealed more change than anyone would have thought just one week ago.
Exit Terry Francona and enter...whom?
That's really the big question, isn't it? No matter who stays on the roster, which big-name free agents are pursued by ownership, and what other major or minor roster moves are made between now and that cold blustery morning in February known as "Truck Day," it's all going to be determined in part by who the new manager is.
The problems with the Red Sox are not nearly as desperate and hopeless as the last month—and especially the last few days—have portrayed them.
Drinking in the clubhouse? Anyone that thinks that's the only incident of clubhouse drinking on a baseball team is probably waiting for the tooth fairy as well.
The simple fact is that if the team doesn't implode down the stretch, then there's probably a Sox pitcher on his off day cracking a beer in a few hours while he awaits the second game of the ALDS to start.
Billy Martin managed the New York Yankees to several World Series titles, and to suggest that there weren't some alcoholic beverages consumed along the way is probably not a safe bet.
The Red Sox do have issues, though.
Unless one is of the opinion that Francona is a vindictive person who would flat out lie while leaving a job that he clearly loved and had totally dedicated the last eight years of his life to, then there are some key truths he mentioned in his exit statements.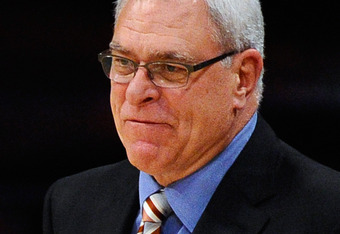 Kevork Djansezian/Getty Images
"I wanted desperately for our guys to care about each other on the field. I wasn't seeing that as much as I wanted to do...When things go bad, your true colors show and I was bothered by what was showing. It's my responsibility."—Terry Francona, September 30, 2011
Big contracts make for nice retirements, but they probably don't make the clubhouse cozier. That's not to somehow suggest that big contracts are ending or even abetting, but it does call into question the amount of scrutiny that the Red Sox upper management places on incoming players and the personalities they bring with them.
Carl Crawford seems to have the correct disposition to operate within the Boston baseball cauldron from at least a public standpoint. In spite of his miserable season, which ended in a miserable fashion, he was among the most upstanding and accessible members of the team.
That's fairly impressive when one considers that for the better part of the entire season he was underperforming dramatically in a town that (as he will very soon find out) follows baseball with nearly the same intensity in December and January as it does from April to September.
Contrast Crawford with guys like John Lackey, who have not been able to adjust on or off the field to the near constant coverage of everything Sox-related in the New England area. 
Baseball clubhouses are notoriously closed. Francona was not forthcoming with names at his press conferences, and we really don't even know if he was forthcoming in the behind-the-scenes meetings he had with management in the hours leading up to his departure.
That means that whoever steps into this job opening had better be prepared. Few other recent coaching vacancies have had a tougher learning curve and higher expectations than this one.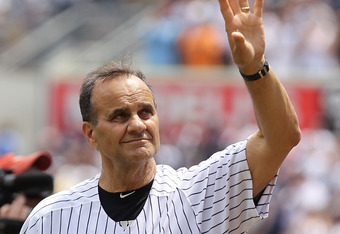 Al Bello/Getty Images
Joe Torre left New York following four world championships, but it was four out of 26. Torre also didn't leave in the aftermath of a spectacular regular-season collapse.
Phil Jackson has twice departed NBA franchises that he had coached to numerous titles. In both cases, his departure had been predicted at various points during the season leading up to his exit.
Jackson's Bulls departure coincided with the breakup of the entire team, and when your franchise loses Michael Jordan, then everyone else's exit seems fairly minor.
In Los Angeles, Jackson has actually now twice played the "my time here is done" game. Both times did in fact come on the heels of major implosions by his Laker teams.
In 2004, the Lakers entered the NBA Finals with no fewer than three first-ballot Hall Of Fame players on their roster and yet were swept by the underdog Detroit Pistons.
In 2011, the Lakers entered the NBA playoffs playing inconsistent basketball, but no one would have predicted that the Dallas Mavericks would have so easily swept them out of the playoffs, nor would anyone have predicted that Lakers players would display the types of immaturity on the court as they were beaten.
Yet the Lakers, like the Yankees, have a long-standing tradition of not just winning but of winning championships. That's ample reason for fans to feel secure about the future title prospects of those two franchises. They've been winning them for decades. 
Terry Francona's shoes are about as difficult to fill as any other major head coach or manager in professional sports history. He managed the most popular team in a region that eats and sleeps baseball. He's the only manager alive to have two World Series rings. In fact, there aren't too many people alive who could recall the previous Red Sox titles before 2004 and 2007.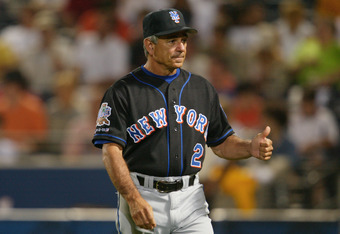 Jamie Squire/Getty Images
The new manager will enter a job that will feature relentless and instantaneous critique. The "honeymoon" period—when the media, fans, players and ownership all seem to unconditionally embrace the new manager—will likely last about 20 minutes.
The names that have surfaced in the immediate aftermath range from former Mariners skipper Don Wakamatsu to current ESPN baseball analyst and former New York Mets and Texas Rangers manger Bobby Valentine. These two men represent the two different tangents by which a new manager will be found.
In Wakamatsu, the Red Sox would be getting a guy with a sterling reputation inside the baseball world. Yet his lack of big-league managing experience and his failures in small-market Seattle would create immediate concerns about his ability to deal not only with Red Sox management and players but also with the day-to-day pressures that the fans, media and region would place on him.
Valentine would arrive with a decidedly different set of potential pitfalls. A Valentine hiring would in some ways be like lighting a fuse. The question would not be one of when Valentine would eventually clash with the owners, media and potentially the players. That would likely be inevitable. The question would be if that would happen before or after one or two World Series rings are won.
Valentine, more than any other managerial candidate out there, can handle the pressure and rigors of managing in Boston. In fact, he would likely embrace it.
Valentine would not embrace being questioned by Theo Epstein, John Henry or any other member of the Boston Red Sox. He would not be a "company man," yet he would operate in a Red Sox organization that is run in a fairly corporate manner.
Valenetine's managing ability is rarely questioned. One needs to only take a glance at the roster of the 2000 New York Mets team he led to the World Series to appreciate Valentine's ability to extract effort and results from players of various skill levels. Yet his combustible manner could also prove to be a distraction. 
The Red Sox say they will take their time and make a well thought-out decision. That would seem to be a no-brainer, but then again if one were to believe that Francona did not leave on his own volition and instead was forced out by management, then perhaps that same measured and thoughtful attitude could have been employed a bit earlier this week?