NHL Predictions: 8 Teams That Will Dominate The Regular Season in 2011-12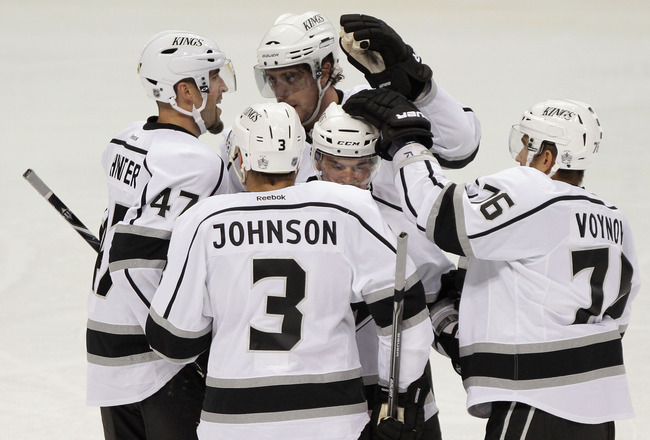 Doug Pensinger/Getty Images
The regular season is less than a week away folks, and it's a very exciting time to be a hockey fan.
Many teams have spent all offseason to try to bring in valuable players who will succeed on the ice and help their team win; however only 16 teams will qualify for the playoffs.
From those 16, a handful will dominate in the regular season and hit the 100-point plateau.
Here are eight teams that will wreak havoc on other teams and net themselves 100 points during the 2011-12 season.
Chicago Blackhawks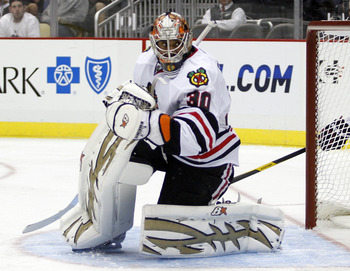 Justin K. Aller/Getty Images
The Stanley Cup hangover is gone, and the Blackhawks are ready to do some damage again. The Hawks are stacked with forwards like Patrick Kane, Jonathan Towes, Patrick Sharp and Marian Hossa.
They had 97 points last season and finished eighth place in the regular season, and this was with a Stanley Cup hangover that had them hitting many rough patches.
The Hawks also are solid defensively. Despite losing Brian Campbell to Florida, they still have Brent Seabrook, Duncan Keith and Niklas Hjalmarsson, who was an integral part of the Stanley Cup run in 2010.
Finally, in net the Hawks have seemingly solved the gaping hole left by Antti Niemi's departure with Corey Crawford. Crawford was 33-18-6 last season with a .917 save percentage and a 2.30 GAA with four shutouts.
The Hawks are pretty much bringing back the same team as last season, except this time around they've had time to rest in the offseason. Expect a big season from Chicago.
Detroit Red Wings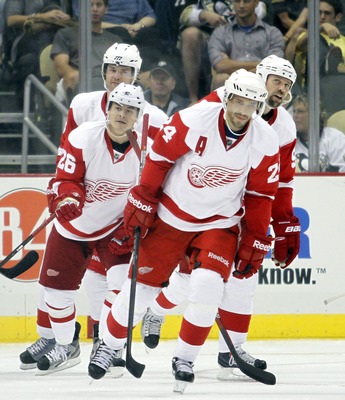 Justin K. Aller/Getty Images
The Detroit Red Wings are easily the most successful franchise in the last two decades. They've made the playoffs every year since 1989-90. They've also had 100-point seasons every year since 1998-99.
There is nothing to show why Detroit can't replicate their success of the past decade this season. Offensively, the Wings are stacked with Valtteri Filppula, Henrik Zetterberg, Pavel Datsyuk and Johan Franzen. They have solid depth with Todd Bertuzzi, Darren Helm and Tomas Holmstrom.
Defensively, they bring back future Hall of Famer Nicklas Lidstrom and hard-hitting Niklas Kronwall. Finally, the Wings coaching staff has gained plenty of confidence in their goaltender Jimmy Howard over the last few years and believe this could be the year he sends the Wings to the promised land again.
The Red Wings have a lot of years in their tires so they might not be a Stanley Cup team, but they will undoubtedly dominate the regular season again.
Nashville Predators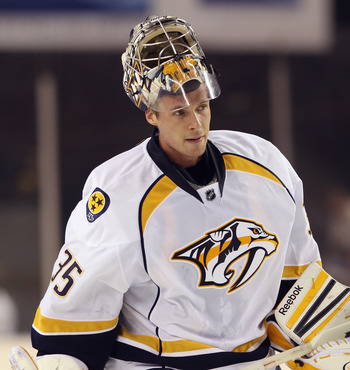 Bruce Bennett/Getty Images
The Predators are slowly captivating the hearts of the city of Nashville. Last year's playoff run for the Preds was something to see to believe. Hockey truly can work in a non-traditional market like Nashville if they have a winning team.
In the last seven seasons, the Predators have made the playoffs six times, and for the first time last year, they advanced to the second round.
They had 99 points last year, and there is no reason why they shouldn't be able to top 100 points this year and perhaps capture their first Central Division title.
The Predators have one of the best defensive pairings in the league with Shea Weber and Ryan Suter. They're also backed up by one of the best goaltenders in the league in Pekka Rinne. Rinne had six shutouts last year with a 2.12 goals against average.
Offensively, the Predators have solid scorers like David Legwand, Sergei Kostitsyn and Mike Fisher. They don't really have an eye-opening scorer, but this team is built around Weber and their defense. They'll be involved in a lot of low scoring games, and because of their defense, they will also make a great run for the Cup.
Vancouver Canucks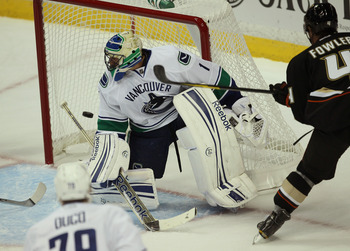 Stephen Dunn/Getty Images
Ingrained in the mind of every Canuck and Canuck fan is the Game 7 collapse in Vancouver last June in the Stanley Cup Final. The Canucks might start slow because of the Stanley Cup hangover, but they should be able to win the Northwest Division.
They probably won't eclipse the 117-point mark they put up last season, but they will pass 100 with ease and host a first round playoff series.
Vancouver brings back pretty much the same team from last season. Henrik and Daniel Sedin will be there along with Alexandre Burrows, Ryan Kesler, Mason Raymond and Mikael Samuelsson. Defensively, Dan Hamhuis, Alex Edler and Kevin Bieksa will be strongholds. Finally, Roberto Luongo, possibly the best regular season goaltender of the last decade, returns for another run at the Vezina.
Los Angeles Kings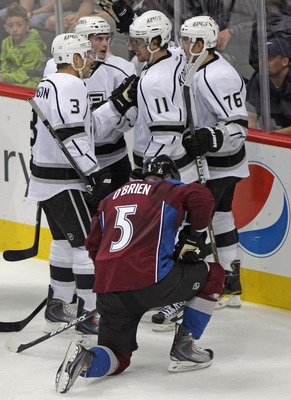 Doug Pensinger/Getty Images
The Los Angeles Lakers most likely will not be taking the court at Staples Center this season because of the NBA lockout. This means for once all eyes may be on the Los Angeles Kings in downtown Los Angeles when spring rolls around.
And the Kings are ready to make a huge run. In the last two seasons, they've made huge strides and last year they came to the precipice of 100 points. This year they made key additions and brought back valuable players and look scarier than the 1993 team that went to the Stanley Cup Final.
Recently, the Kings inked Drew Doughty to a long-term deal to bolster their defense. It doesn't stop there. The Kings have Jack Johnson, Matt Greene and Stanley Cup winner Rob Scuderi to make one of the best defenses in the league.
Jonathan Quick in net is no slouch either. The American goaltender had six shutouts last year and is ready to exorcise his postseason hexes.
Offensively, the Kings present one of the most dynamic offenses in the league. Anchored by newly acquired Mike Richards and Anze Kopitar, the Kings will be a prolific scoring team. They also have Dustin Brown, Simon Gagne, Justin Williams, Dustin Penner and Jarret Stoll.
Still need a reason to believe in this team?
Pittsburgh Penguins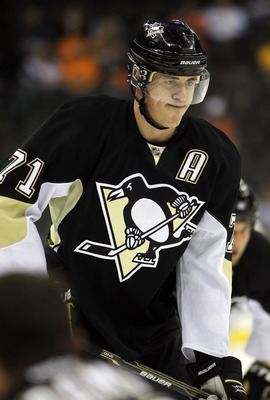 Jamie Squire/Getty Images
Here's a bold statement:
Even if Crosby does not play this season, the Penguins will still record 100 points.
Problem for the rest of the league is that Sidney Crosby will probably make his return at some point this season.
Evgeni Malkin has showed this preseason that he's more than capable of leading the Penguins on his own. He's back from his terrible injury from last season and he looks better than ever.
The Penguins were able to record 106 points last season without having Crosby or Malkin for half of the season. They have plenty of other parts like Tyler Kennedy, Chris Kunitz, Steve Sullivan and Pascal Dupuis that can supplement Crosby and Malkin.
Their defense is also a major reason why they will be one of the best teams in the league. The team set a goal to allow less than 200 goals this season. With Zbynek Michalek, Paul Martin, Brooks Orpik and Kris Letang, this goal is very tenable.
Oh yeah, let's not forget Marc-Andre Fleury in net.
The Penguins are a front runner for the Stanley Cup. They can win the conference without Crosby in the regular season (even though he will most likely play), but they will definitely need No. 87 to stay healthy if they want to win the Cup.
Philadelphia Flyers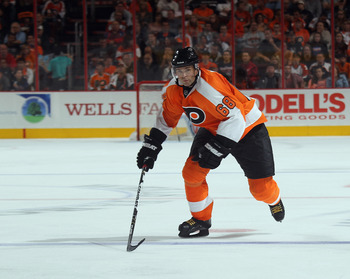 Bruce Bennett/Getty Images
Jaromir Jagr has showed this preseason that he's not too old and that he can compete in the NHL. He hasn't missed a beat, and he's showing a great deal of motivation thus far.
But how much does he have left in the tank? Can he continue to be dominant throughout the 82-game grind?
That being said, the Flyers are still loaded to succeed in the regular season. They addressed their biggest concern during the offseason by bringing in Ilya Bryzgalov to be their starting goalie.
They also have several other offensive threats like James van Riemsdyk, Claude Giroux, Scott Hartnell and Danny Briere who will provide a scoring punch for the Flyers.
Defensively, the Flyers present one of the most potent pairings in the league with Chris Pronger and Kimmo Timonen. Let's not forget the shot blocking Andrej Meszaros, Matt Carle and Braydon Coburn.
The Flyers have made a transition from being an offensively minded team to being a defensively minded team this offseason. They may have lost Jeff Carter and Mike Richards, but they still have plenty of scoring options on offense so they won't miss a beat. Expect the Flyers to make a run for the Atlantic Division title and the first seed in the East.
Buffalo Sabres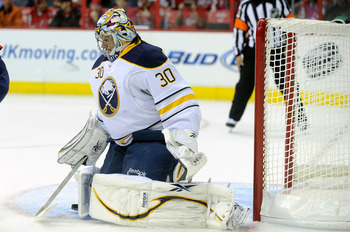 Greg Fiume/Getty Images
What?
Buffalo?
Really?
Sure. Why not?
The Boston Bruins will take a step back this year in the Northeast Division. They're not as hungry as last year because they just won the Cup. It's only natural for them to slow down a bit.
The Montreal Canadiens, on the other hand, may be a playoff team but Buffalo edges them in terms of talent.
The Sabres signed Christian Ehrhoff from Vancouver this offseason to bolster their defense. Paired with Tyler Myers, the Sabres can now boast one of the better defensive pairings in the league. It doesn't stop there. Andrej Sekera, Robyn Regehr and Jordan Leopold round out the Sabres sturdy defense.
Offensively, the Sabres went after Ville Leino. Many feel he was overpaid, but when paired with Derek Roy and Thomas Vanek, Leino can really become a huge threat. The Sabres also have solid depth guys like Drew Stafford, Paul Gaustad and Jason Pominville.
Ohm and don't forget Ryan Miller, possibly the best American goaltender of all-time. He'll definitely be on his game all year long for Buffalo.
Expect a strong season from the Sabres, but perhaps a quick postseason exit unless Ryan Miller gets hot. They're in a weak division and they have a solid team, but they're limited. These weaknesses can be exposed in the postseason in a seven-game series.
Washington Capitals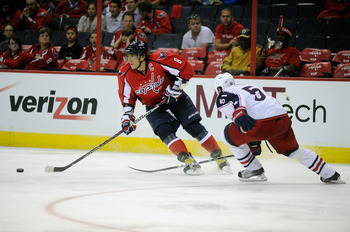 Greg Fiume/Getty Images
The Capitals are in the weakest division in hockey. They get to play the Winnipeg Jets, Florida Panthers and Carolina Hurricanes six times this season. They also play the Tampa Bay Lightning six times who will probably take a step back this season especially since they don't have a goaltender.
The Capitals improved at the goaltender position this offseason by signing Tomas Vokoun. In the last two seasons, they've made a huge transition from being offensively minded to being a strong potent team on defense as evidenced by Bruce Boudreau's coaching style.
With Alex Ovechkin leading the offense along with Nicklas Backstrom and Alex Semin, the Capitals will still put up plenty of goals despite being more defensively minded. They are only more powerful now because of their balance.
They might be lacking in a shutdown defensive pair, but that won't become a problem until the playoffs. Until then, expect the Caps to continue to be dominant in the regular season, especially since they are blessed with an easier schedule.
Keep Reading