Washington Redskins vs. St. Louis Rams: Live Score, Highlights and Analysis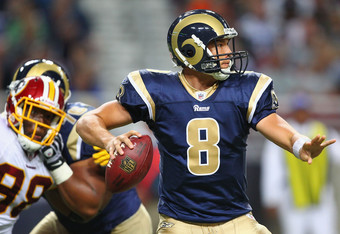 Dilip Vishwanat/Getty Images
This week, the Washington Redskins travel to St. Louis to play the struggling 0-3 St. Louis Rams.
Many people had their doubts about the Redskins in the offseason, but the Redskins have silenced their critics so far, starting off their season with a divisional win against the New York Giants, and narrowly losing in Dallas in a Monday night divisional matchup where the Cowboys were kept out of the end zone and had to score six field goals to beat them.
It will be interesting to see how both teams respond to their Week 3 losses.
The Rams have struggled all year and are in serious danger of getting knocked out of playoff contention early in the season. However, they do have the fortune of playing in the weak NFC West, so a loss this Sunday may put them at 0-4, but in a division where it may only take seven wins to earn the NFC West crown, the Rams might not be in as much trouble as other 0-4 teams.
The Redskins are favored to win this one, especially considering their solid play for the last three weeks. Can they surprise many doubters and get to a 3-1 start to their season, or will they be upset by a desperate Rams team?

Updated Score: Redskins 17, Rams 10

The Rams had one last shot to stop the Redskins on 3rd down, but failed, and this game is over. The Rams are 0-4, and the Redskins are 3-1.
Some final thoughts:
The Rams did show a little heart in the middle of the fourth quarter, but choked on three different occasions. They have to avoid the stupid mistakes like the drops and penalties, and they have to protect Sam Bradford better. If they can do that, they may be able to turn their luck around. But their next three games are against Green Bay, Dallas, and New Orleans, so at this point, an 0-7 start looks likely.
The Redskins played well, but Grossman made some mistakes that almost gave this game to the Rams. Grossman has to play better if the Redskins are going to be successful. Overall, the running game and the defense was what impressed me most, and if Grossman avoids mistakes, that might be what keeps them in contention.
Thanks everyone for reading, and enjoy the rest of Sunday football.
This has got to be heartbreaking for the Rams. They had several opportunities to tie it, and even win it, but failed to capitalize,and it looks like the Redskins are going to escape with a win this week.
The Rams are at 4th and 13, with just about 2 minutes left to play. Last chance right here...and incomplete.
Rex Grossman overthrows Santana Moss, and the Rams will get the ball with 3:30 left on the clock and one timeout.

Redskins punt, Rams have it on their own 28.
Rams actually decide to punt, which actually may have been a good decision, as they pinned the Redskins at their own 2 yard line. They also have 2 timeouts left.
The Rams had their chance, but squandered it. A penalty and two sacks take them close to out of field goal range, and it is fourth down. So now they have to decide whether or not to go for a 4th and very long, or a field goal.
Wow. Rex Grossman just made the worst decision I've ever seen. When you're up by a touchdown, and you're running the ball well, you do not try a 50-yard pass. Intercepted by James Laurinitis, who puts the ball in field goal range. If the Rams receivers can hold on to a pass, all of a sudden this game could be tied.
The call has been confirmed, touchdown for the Rams, and they are trailing 17-10.
The touchdown is now under review. This may be overturned, and if it is, it is 4th and goal at the 1 yard line for the Rams.
A penalty by Lance Kendricks, then a dropped pass by Kendricks that would have been a touchdown has put the Rams at a major disadvantage.
But as I am writing this, Sam Bradford throws to Steven Jackson, and finally, the Rams have a touchdown, and if the Rams defense can hold the Redskins, this is all of a sudden a very interesting game.
Redskins 17, Rams 10.
Bradford and his receivers finally look in sync, as they are now 1st and goal after a Redskins penalty. If the Rams offense steps it up and gets that touchdown, this could all of a sudden be a very interesting game.
The Redskins having a short three and out, and interestingly enough, if the Rams actually score on this drive, they are still very much in this game. If they don't, it's pretty much out of reach as the Redskins would be smart to run the ball, which they have done well so far.
With about 10 minutes left in the fourth, the Rams kick a field goal and are down 17-3.
Sam Bradford has to be frustrated. I can no longer count how many times his receivers have dropped catchable balls. If Bradford's receivers actually did their job, they might even be ahead at this point.
The Rams get close to a touchdown (they even convert on a third down), but two drops later, and it looks like they are going to have to settle for a field goal.
Possible game-changer (but probably not). Rex Grossman throws an interception that is nearly returned for a TD, but Hightower saves the score by tackling him.
Now its up to the Rams to turn the interception into points.
The Redskins have dominated time of possession with 27 minutes over 17, and total yardage, where the Redskins have over 300 and the Rams have under 100.
The third quarter ends as the Redskins lead 17-0, and appear to be running clock mixed in with a few short passes. Doesn't look like the Rams are going to come back in this one.
Another three and out for the Rams, with Bradford taking his fourth sack and yet another dropped pass. With 5 minutes left in the third, it's getting less and less likely that the Rams are actually going to make this game interesting.
Sam Bradford may have injured his hand as he is getting it looked at on the sideline. Doesn't surprise me considering all the hits he's taken.
Rex Grossman has made a few questionable throws that have almost been intercepted, but the Rams have failed to capitalize on them.
While Grossman has made a few good throws, their running game is what has impressed me so far, particularly Ryan Torain's performance.
The Redskins failed to convert on third down after Rex Grossman almost lost the snap, and they will punt. It's time for the Rams offense to finally show up and play some football.
Another big run by Torain that puts them at mid-field. If anyone is winning the position battle at runningback, its certainly Torain.
Another failed drive for the Rams. The Rams are really lucky this game is closer than it should be.
The Redskins drive stalled, but Torain had them in field goal range, so they settled for a field goal. Redskins lead 17-0, and the Rams have got to step it up on their next drive or it's pretty much over.
Torain just had another big-time run. This guy is looking good. The fact that they are splitting carries between these three runningbacks may serve well for the Redskins in the future, as they will have three runningbacks to play with rather than one or two that may be banged up by the end of the season.
After success at the end of the first half, the Redskins are using Torain more. So far, he's off to a good start.
And the third quarter begins. Enjoy.
This article is
What is the duplicate article?
Why is this article offensive?
Where is this article plagiarized from?
Why is this article poorly edited?

Washington Redskins: Like this team?