Zydrunas Ilgauskas Retires: A Look Back at the Big Lithuanian's Time in the NBA
September 30, 2011
Elsa/Getty Images
Earlier today to no fanfare, no press conference, just himself talking to a few reporters before the opening of an urgent care center in Cleveland owned by he and his wife.
That's the kind of guy Zydrunas Ilgauskas was in his 15 years in the NBA.  Never one to grab the headlines, just the guy to do more than what is asked of him and commit himself to the greater good.  
He didn't think of himself first until the final year of his career, and by that time, he had earned it, the people of Cleveland would have felt bad if he would have stuck around for the past season to struggle through such a dismal season.  We would have appreciated it, but secretly, we would have wanted him to go elsewhere, chase that final chance at getting the ring he deserved.
Big Z played 13 seasons in the NBA, wrought with problems in his feet and ankles, Z played just five games in the lockout-shortened NBA season, missed the entire 2000 season and played just 24 games in 2001, then was used mostly as a backup to Chris Mihm the following season.
There was a lot of controversy surrounding Big Z in the early parts of his career.  After a rookie season that saw him make the All-Rookie Team, Cleveland foolishly extended his contract, making him worth nearly $71 million over six years.  Of course, with Cleveland being what Cleveland is in terms of luck, Ilgauskas broke a bone in his left foot five days into the next season.
In all honesty, he should have been done right then and there.  He was part of a team that had the worst luck of any NBA franchise since 1980 not named the Clippers.  Z would have been written off as a bad draft pick and just another promising young player lost to injuries.
For a guy standing 7'3" breaking the same bone in your foot twice usually means curtains.  There is so much impact on the lower half of the body on a man that size when he runs up and down the court 82 times a year plus whatever practices and involvement with the Lithuanian basketball team that it seems impossible that he even came back and did what he did.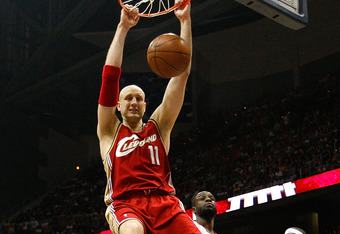 Andy Lyons/Getty Images
Z returned to be the Cavs full-time center during the 2003 season, which also happened to be the same year that I saw the big Lithuanian live for the first time.  I remember it like it was yesterday, the Cavs were in the midst of their worst season since 1982 when Ted Stepien ruined the team and were 5-24 coming up against the 18-9 Celtics.
Cleveland put up quite the fight against the Celtics, up 10 points going into the fourth quarter, but Cleveland being Cleveland, they collapsed in the fourth, but there was Big Z, still putting up a fight in the fourth when the rest of his team was keen to shoot like Shaq from the three-point line.
Early in the quarter, Z blocked a shot back into Paul Pierce's face (hilarious) and happened to follow through a bit too aggressively, walloping Pierce in the face.  Pierce whirled around and did his bet to intimidate Z, pushing him hard.  Z took none of it, lunging at Pierce as the two had an old-fashioned NBA fight before the refs stepped in.
Fists flew, and both men had to be held back by referees and teammates.  Both knew what they were doing and had no problem going toe-to-toe.  It wasn't like an NBA fight normally goes today where everyone rumbles into a jumble of people pushing and shoving like a little league soccer game, it was a fight that gets the point across and ends it there.
Z and Pierce were ejected, and the Cavs continued to shoot poorly and ended up losing the game, as the Cavs were prone to do before LeBron James.  Even so, that game sticks with me more than any other Cavs game that I had been to in the past decade.  
I think that says more about Ilgauskas than LeBron or any of the other Cavs to come in the nearly nine years since that game.  When he played that's all he did.  There was a truth about the way he carried himself on the court.  When he was on the court, Ilgauskas had one thing on his mind, playing basketball and winning the game, you could see nothing else bothering him, nothing else in his mind.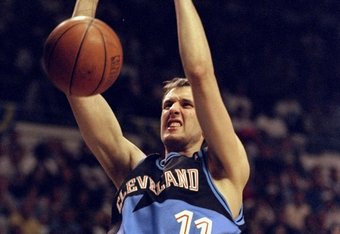 Vincent Laforet/Getty Images
However, it's Ilgauskas off the court that intrigues me even more than the one that was on the court.  In no way does he fit the mold of the average NBA player over the past 15 years.
As a Lithuanian man coming to Cleveland to play basketball professionally, it may seem like a culture shock, but according to Z, he didn't feel as out of place as you would expect.  Cleveland, he said, has many similarities to his native Kaunas, Lithuania, as a blue-collar, diverse town full of friendly people (contrary to popular belief, people in Cleveland are good people, you have to actually go there to get a feel for the city) with scorching hot summers and freezing winters.
It's not like he was immediately at home, however, although a girl that lived across the hall definitely helped him get used to his new city, state and country.  He met his future wife, Jennifer, in his first few months in the states as she helped him get used to the country, and like Ilgauskas' career, the two had their own ups and downs.
They were married in 2004 and set to have their first children in 2007 as Jennifer was pregnant with twins.  The two lost the twins, as they were born four months premature, but they didn't let that stop them from having children.  They ended up adopting two children from Lithuania in 2009 to complete their family.
The thing is, few people know these things about Ilgauskas. They know he can shoot from an impressive distance for a big man, and they know he had his injury problems. They mostly know about his life on the basketball court.
Big Z may not have put up the numbers in his career to get him into the Hall of Fame, being a two-time All-Star and numbers to put him in the top 50 for offensive rebounds, blocks and blocks per game, but he is the most important player to come out of Lithuania.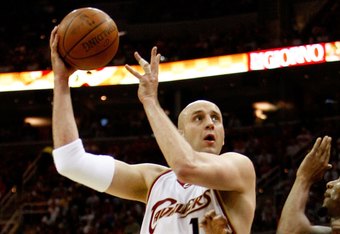 Gregory Shamus/Getty Images
I don't think Z will be a Hall of Famer, but in the end, I don't really care that much. So long as his jersey is hanging in the rafters at The Q, it's plenty, because for me (and I say this with complete honesty and indifference to what LeBron James has done), he is my favorite Cavalier in my lifetime, and I would have said that in 2008 the same as I am saying it today.
This morning, I didn't expect to sit down and write 1,000 words about Zydrunas Ilgauskas, and I knew that his retirement was really a foregone conclusion at this point, but I'm still sad to see him go, even if seeing him stay would mean seeing him in a Miami Heat uniform for another year.
I think that's how you know you truly love a basketball player as much as one could love a basketball player without it seeming weird.  He was wearing the jersey of my least favorite team last season, and yet, I'm sorry to see him take it off.
I like to tell myself that I root for the name on the front of the jersey over the one on the back, but with Z, that would never be true.  I always wanted the best for this man, whether he played for the Cavs, Heat, Lakers, Wizards, Pistons, the Calgary Crush, BC Zalgiris or the Guangdong Southern Tigers.  This is the only player I've ever felt this way toward.
To me, Big Z was always true, always honest and always a competitor, and for that, Cleveland will always love him.  Endless thanks to the native Clevelander via Lithuania for his time in the city. There may be plenty basketball players like you, but there will never be another person quite like you.