Texas A&M vs. Arkansas: Live Scores, Highlights and Analysis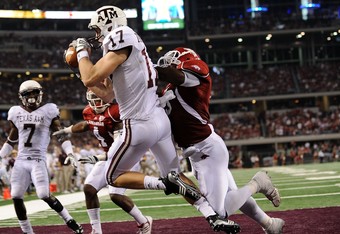 Ronald Martinez/Getty Images
Texas A&M 38 Arkansas 42 Final
The No. 13 Texas A&M Aggies take on the No. 18 Arkansas Razorbacks in Arlington at Cowboys Stadium. Both teams enter the game after a loss last week. The Aggies lost a close one to Oklahoma State 30-29 while the Razorbacks dropped a 38-14 decision to Alabama.
This is a must-win game for each squad if they want to remain in contention for a BCS bowl game. Both teams are likely to end the season ranked in the top 20 so a win would look great on a bowl resume.
A&M and Arkansas both enter the game with dinged-up squads. Arkansas lost starting defensive end Tenarius Wright for four to six weeks due to a broken arm suffered against Alabama. A&M starting DE Jonathan Mathis injured his leg against OSU and will be out for the rest of the season.
The Aggies leading WR Ryan Swope is questionable for the game after suffering a concussion on an illegal hit against OSU. Arkansas RB Broderick Green is questionable after suiting up but not playing against Alabama.
These two teams match up pretty evenly. Whoever can limit turnovers and play the best on special teams will likely win the game.
The Aggies simply need to learn how to finish a game.
Mike Sherman played not to lose so he lost the game.
Aggies need a season defining drive right here.
They ran a two minute drill without taking a timeout before the half by running the ball.
They need to do the same in 1:41 today.
Killer penalty against Jonathan Stewart.
Dennis Johnson is running over defenders. More importantly he is bleeding the clock.
A&M simply needs something good to happen for them.
Arkansas really has to like their chances throwing against a tired defense.
Have no idea why A&M is running a hurry up offense.
If A&M does not win this game everyone is going to ask Mike Sherman why he did not go for it on those three 4th and shorts.
The Arkansas OC has to be laughing every time he sees zone coverage.
Dennis Johnson has given Arkansas a nice power running game.
Wild play where Arkansas recovers a fumble in the endzone for a touchdown.
Lionel Smith has had a terrible day in coverage for the Aggies.
Mike Sherman is playing not to lose. A&M is running the ball for 5-8 yards a clip and three times he has refused to go for it on 4th and short.
As a coach you know that your punter is not very good. Why not try to take some momentum back?
Mike Sherman is coaching like he is in the NFL and not in college.
Aggies need to create a turnover if they want to win this game.
The ESPN announcer sure seems excited every time Arkansas makes a play.
It does not matter how many sacks you get if you cannot get off the field on defense.
Tyler Wilson is the second QB in two weeks to throw for over 400 yards against A&M.
Very poor decision to run the ball out of the endzone by Cyrus Gray.
Aggies have punted twice while on the Arkansas 40 yard line. The defense has not stopped Arkansas yet. Better off just going for it.
Terrible punt after the decision to punt on 4th and 1.
Arkansas OL doing a better job against the blitz this half.
Aggies decide not to go for it on 4th and 1 and kick a 12 yard punt. Arkansas drives the length of the field and scores. Could be a turning point in the ballgame.
This is the kind of ballgame where a turnover can decide the outcome of the game.
Anyone know what the pads on the biceps are for?
Must be Big 12 officials. SEC refs do not care about a little shove out of bounds. They officiate a lot like the NFL.
Arkansas defense obviously is fired up to play the run this half
You rarely see a DB offsides but you just did with Terrence Frederick.
Tyler Wilson appears to be bailing out on pass plays now.
Joe Adams was curiously silent in the first half. Think he was telling Wright to let him catch some passes too?
Aggies had the most success in the first half when they ran the ball on offense, and blitzed on defense. Will be interesting to see what kind of adjustments they make in the second half to their zone coverage scheme.
A&M ran the ball 8 times in the second half last week including sacks. They need to run it at least twice that many times today.
Texas A&M 35 Arkansas 17 Halftime
Last week the Ags led by 17 at halftime and had a meltdown in the 3rd quarter. We will see how they respond this week.
The Aggies have been running a two minute drill without taking a timeout. Never seen one run where the offense runs this much.
Nate Askew with a big catch and run to set up a 1st down TD run by Cyrus Gray. Cannot believe they did not call a timeout.
The Aggies finally brought pressure on 3rd and long and got a stop. Deruyter needs to figure out that this is not OSU and come after the QB on 3rd down.
Arkansas defense is a lot like Oklahoma State's defense. They will give up yards but will attack the ball when they tackle you.
I would not go hurry up if I was A&M. Need to slow the pace down and let the defense get some rest.
Spencer Nealy is seeing a lot of playing time at DE for the Ags today.
Jarius Wright is eating the Aggis zone for lunch. Over 200 yards receiving in the first half!
Big swing of momentum there. You are looking at 2nd and 5 and instead give up 20 yards in penalties. Will be interesting to see if the Aggies can capitalize.
Aggies are gashing Arkansas with the run. No reason to go away from it until they stop it.
Arkansas is having a lot of trouble with the crowd noise. Four false start penalties so far.
The Aggies have dropped three interceptions in the past two games. Have to make those plays if you want to win.
Arkansas fans cannot complain about Tyler Wilson throwing the ball short this game. He has gone deep three times in the first half.
Arkansas is picking apart the Aggies zone coverage. The Aggies would be better off simply playing man and taking their chances.
Aggie ILB Garrick Williams is playing his second strong game in a row.
Christine Michael has come back from a broken leg as a faster football player.
Aggies are having a lot of success running the ball against the Hogs defense. Will be interesting to see if they stick with it in the second half. They failed to do that against OSU.
Trent Hunter has played as well as you could ask for so far this year. The senior safety has made big stops in every game this year. After a subpar sophomore and junior season Hunter has really stepped up.
Poor pass by Ryan Tannehill leads to an interception. He threw the ball inside and the WR was on the outside. Jeff Fuller really needs to learn to become a DB in those situations.
Broderick Green is in at RB for Arkansas. I believe this is his first playing time this season.
Aggies need to continue to bring pressure on 3rd down. Twice they have dropped back and twice Tyler Wilson has burned them on 3rd and long.
This is the earliest Christine Michael has appeared in a game for the Aggies this year. He responds with a 48 yard TD run.
Aggies playing a lot of nickel defense against Arkansas one back offense.
Urban Meyer is a brilliant coach. He should know the difference between a defensive end and a 3-4 outside linebacker.
Aggie offense is running some hurry up of heir own.
Ryan Swope makes a Sam McGuffie-esque hurdle and run. Guess he recovered from the concussion.
Ags are up 14-0 early. In 2009 A&M took an early 10-0 lead before Arkansas opened the floodgates.
Ben Bass is starting at DE for the Aggies.
Coryell Judie is playing this week.
Chris Spielman and Urban Meyer should be able to offer much better insight than Matt Millen did last week.
It is game day.
No news yet on which injured players are going to go for the Aggies.
Steven Campbell and Jonathan Mathis should be out. The big question is whether Ryan Swope will play today.
Expect Ben Bass and Gavin Stansbury to split time with Mathis' absence.
I expect Jake Bequette to play for Arkansas.
This article is
What is the duplicate article?
Why is this article offensive?
Where is this article plagiarized from?
Why is this article poorly edited?

Texas A&M Football: Like this team?