Wes Welker: New England Patriots Need to Keep Slot Machine in Foxborough
September 30, 2011
Tom Szczerbowski/Getty Images
Two images define Wes Welker as a New England Patriot.
One has occurred many times, the latest instance being last Sunday in Buffalo. That's the image of Welker juking, cutting and scurrying down the field, jumping and diving for passes, sliding through coverage, popping back up after hits and doing anything he can to help the Patriots win.
Sometimes, rarely, it isn't enough. Welker couldn't beat the Bills by himself on Sunday. But damn if he didn't try.
The other image occurred once, Jan. 3, 2010 in Houston. Welker's knee was in pieces after he viciously tore his ACL and MCL on a cut into the Reliant Stadium turf. Welker wanted to go, but knew there was no way he could. He buried his head in his hands, underneath a towel. He couldn't be there for his team and he couldn't bear the disappointment.
That's Wes Welker. Bill Belichick has made it clear that he wants players who put the team before the individual. The Patriots have one in Welker. It needs to stay that way.
There's the chance it could not. Welker's contract, a deal the Patriots got good mileage out of with Welker's three Pro Bowl selections, is up after this year. The rumor mill has been quiet on extension talks, partly because Welker isn't bringing it up, preferring to focus on the season.
But it needs to get done. The Patriots cannot let him get away.
Why? Where to begin? How about on the field, where Welker makes offense look easy. He's a first down in pads and cleats, as comfortable running a five-yard out on third-and-three as going over the middle for 13 yards on third-and-10.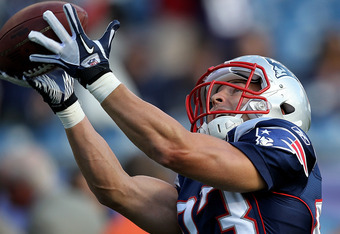 Jim Rogash/Getty Images
He makes the team better. You can neutralize him, sure, but not without some over-commitment on defense. With a Patriots team that has weapons in Aaron Hernandez, Rob Gronkowski and Deion Branch, that opens up mismatches that Tom Brady loves.
He's clutch. He was the largely unheralded hero of Super Bowl XLII, bailing out an out-of-whack offense with 11 catches for 103 yards and setting it up for a moment where the vaunted Brady-to-Moss connection could finally happen for what was supposed to be a game-winning touchdown.
He saved the day against Seattle in a tense 24-21 win in 2008 with 12 catches for 134 yards. He saved the day against Rex Ryan's Jets a year later with 15 catches for 192 yards in a 31-14 win. He saved the day with 10 catches for 105 yards a month later in a 20-10 win over Carolina. He almost saved the day last week. It's not his fault that he didn't.
And yet, it may all be for not. The receivers in the NFL that get signed to long contracts are the home run hitters, the Andre Johnson and Larry Fitzgerald style players who race and jump past defenders to haul in touchdowns. Welker is a singles hitter. He lives at the first down marker, not 30 yards down the field.
That's not the only obstacle between Welker and his due extension. The knee injury was scary for a receiver of his skill set, and entering this season, he was 30 years old with a 2010 below the standards of his decorated 2007, '08 and '09. It made sense for an organization to be hesitant about offering several years to a player who still appeared to be adjusting to a devastating injury.
But Welker has shown that he's completely back and he may be better than he's ever been. He's on track for 165 catches and 2,442 yards for the season. Those numbers won't hold up, obviously, but it reflects a return to prominence as Brady's go-to guy in all situations.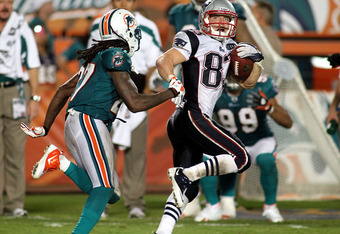 Marc Serota/Getty Images
It also reflects the need for the Patriots to capitalize on what they have. Pay him. Keep him.
There's no reason not to. Welker is a player that helps the team whenever he's on the field and is crushed when he can't. The Patriots need those character guys. Welker proved worthy of that distinction when he elaborated on his contract situation after last year's playoff exit against the Jets.
He had something to say, but it wasn't what most receivers would offer up about their value.
"I think everybody wants a new deal," he said, "but I wouldn't say anything I did this past year would warrant one or anything like that."
You've earned it, Wes. Hopefully the Patriots realize it too.