NFL Picks Week 4: Bold Score Predictions for All 16 Games
September 30, 2011
Rick Stewart/Getty Images
Much like every week, fans all over the country are making their picks for the upcoming NFL games.
Also, you can be sure to expect a day filled with excitement, drama and pandemonium because that's what pro football brings us each week.
To that end, here are the scores for each game in Week 4.
Lions at Cowboys
Tony Romo and the Dallas offense doesn't get completely shut down, but neither does the Detroit offense as they are much better than Washington's.
Detroit 27, Dallas 20
Panthers at Bears
It's a must-win game for the Bears, while the Panthers are feeling confident coming off their first win.
Chicago knows a loss here might be the last straw for 2011, and they escape the pesky Panthers at home.
Chicago 24, Carolina 20
Matthew Stockman/Getty Images
Bills at Bengals
Until the Bills' offense gets shuts down, they're going to keep winning games.
And although the Bengals have a solid defense, they haven't played an offense quite like Buffalo's.
Buffalo 30, Bengals 17
Titans at Browns
Cleveland gets RB Peyton Hillis back this week, whereas the Titans just lose their best WR in Kenny Britt.
In addition, RB Chris Johnson continues to feel the aftermath of holding out on camp.
Cleveland 21, Tennessee 17
Vikings at Chiefs
It's bad enough that RB Jamaal Charles and safety Eric Berry are out, but it's also not looking good for Chiefs' DB Brandon Flowers (ankle injury).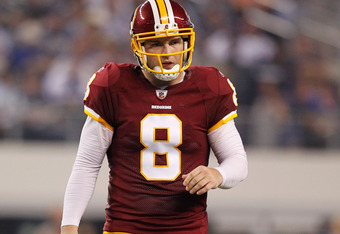 Tom Pennington/Getty Images
That said, RB Adrian Peterson remains in Minnesota and thanks the front office for his new contract by dominating once again.
Minnesota 34, Kansas City 10
Redskins at Rams
Right now, it's gut-check time for the Redskins, because despite losing to Dallas, how you respond is what matters.
However, St. Louis knows they're vulnerable and takes advantage of Rex Grossman's decrease in confidence that carries over from Week 3.
St. Louis 20, Washington 17
Saints at Jaguars
Although the Jags' have a solid defense, the Saints' offense is much, much more high-powered than anyone else they've played.
QB Drew Brees shreds on the road, and the Jacksonville drops their third straight.
New Orleans 38, Jacksonville 20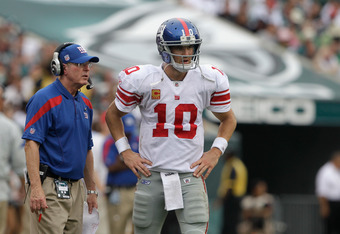 Rob Carr/Getty Images
Steelers at Texans
The Steelers got away with one versus Indianapolis, but that won't fly this week in Houston.
The Texans know they played well in the loss to New Orleans, and they're eager to get back in the win column, while Pittsburgh has yet to fix the offensive line.
Houston 31, Pittsburgh 21
49ers at Eagles
This is a statement game for the Eagles since they've underachieved through three games.
San Fran, however, is feeling good after getting a road win in Cincy after a tough home loss to Dallas.
Philly get the W though, because they're frankly just too talented for San Fran, and the defense finally steps up big.
Philadelphia 23, San Francisco 14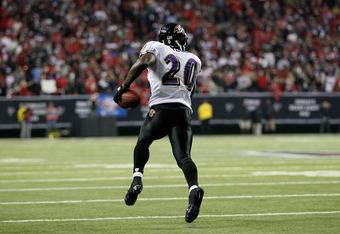 Kevin C. Cox/Getty Images
Giants at Cardinals
After three games, the Arizona Cardinals have not been playing up to expectations, especially with all their offseason acquisitions.
The Giants on the other hand, have played very well since after Week 1, are coming off a big win in Philadelphia and simply have more confidence in getting the job done.
New York 26, Arizona 23
Falcons at Seahawks
Last week, Seattle won a big divisional game at home, while the Falcons lost a big divisional game on the road.
This week, the two clash in The Great Northwest, but the Falcons pull away late as the Seahawks offense continues to struggle despite having an underrated defense.
Atlanta 27, Seattle 9
Dolphins at Chargers
Miami is currently on a six-game losing streak and isn't feeling very confident, whereas the Bolts are starting off slow in terms of performance, but still have a winning record.
San Diego continues to build momentum for midseason, while the Dolphins continue to look for a new head coach.
San Diego 28, Miami 7
Patriots at Raiders
Arguably the game of the week with so many critics hopping on the Oakland-bandwagon, New England needs a road win to get reestablished in the AFC.
But, thanks to Darren McFadden controlling the time of possession, Tom Brady's opportunities are limited despite his great play, and the Silver and Black get the upset W.
Oakland 27, New England 23
Broncos at Packers
Slated to be the biggest blowout of the week, the Denver Broncos look to be at war with themselves.
The defense has improved, but they're still no match for Aaron Rodgers and company, while the offense continues to struggle, however it won't matter who's under center because the Packers defense is getting back to normal.
Green Bay 35, Denver 14
Jets at Ravens
At first glance, it looks to be a great defensive battle like it was in 2010, except this time around the Jets rush defense has been severely exposed thanks to Oakland, and Baltimore is beginning to come together.
Also when the two met last season, Ed Reed was out, and Mark Sanchez still only threw for 74 yards.
This time however, Sanchez finds out what the Ed Reed experience is all about.
Baltimore 24, New York 10
Colts at Buccaneers
The Colts continue to get thunder struck by injuries, while the Bucs' manage to win despite not playing up to their potential.
Something has to give in this one, and unfortunately for the Colts, Tampa Bay gradually pulls away after another slow start.
Tampa Bay 28, Indianapolis 13
Be sure to check out John on Bleacher Report.
And you can follow him on Twitter @ Sportswriter27.