Michigan Football Update: Benching Denard Robinson and Other Notes
September 30, 2011
Leon Halip/Getty Images
It is always difficult to predict what a team is capable of heading into a season with a new coach at the helm, but I cannot remember a more challenging team than this year's Michigan Wolverines. I keep telling myself that just one more week will give me a good feel for this team.
Well, we're at Week 5 now, and for the most part I am still telling myself the same thing.
Like any other fan, I have been trying to figure out the running back situation, the linebacker situation and the passing situation since Week 1, and to be honest, that is way too many situations to feel comfortable heading into conference play. 
The running game is getting a little better with Fitz Toussaint and Vincent Smith settling into their roles, but the offense is still the Denard Robinson show and there isn't a ton of reason to believe that it will be any more effective in Big Ten play than it was last year. In fact, many would argue that it is a worse offense than it was last year because of the lack of a passing game.
The passing game has been so dismal that many have suggested what any logical coach should do; bench the sixth-place Heisman Trophy finishing, two-time Big Ten Player of the Week, reigning Big Ten Player of the Year Denard Robinson in favor of backup Devin Gardner. I cannot overstate how ridiculous this is. And yes, it is still just as ridiculous if you are just saying that Denard should be moved to running back instead of the as yet undefined mystery position where Denard would always have the ball in space.
Denard has struggled, there is no questioning that, but it is not all on him. Receivers and tight ends have split their time fairly evenly between dropping balls and running poor routes. It is almost like they are all learning a new offense. These are issues that even the best of Devin Gardner cannot fix.
Don't get me wrong here, Devin Gardner is and will continue to develop into a special player, but he is not the best chance that Michigan has at winning games. As good as he has been in practice, and he has been very good, it is still not his time.
You can put me firmly in the camp that would love to get him in the games as soon as possible this week with a 28-0 lead. He needs to get some real game experience if Robinson were to get hurt, but with Denard still struggling to find his rhythm, there is a decent argument for why Borges hasn't put him in.
For those that still think having Denard and Devin on the field at the same time (outside of the occasional trick play), what do you do if they both get hurt? That is a season-over type of scenario. Russell Bellomy could very well turn into a very good player in a couple of years, but we do not want to see him on the field yet, I can promise you that.
Fans are calling for new Offensive Coordinator Al Borges' head as well, but he has done a good job balancing his offense with what this team is suited for. This first few weeks had been a lot of Borges testing to see what his team can and cannot do. I expect to see them settle into a more productive set of plays this week.
The goal for this week and going forward should be to allow Robinson some easy passes early on. His receivers had better catch the ball too, because the passing game needs a confidence boost as much as anything else.
I think the largest problem with the receivers right now is that they aren't ready to catch the ball. How many great catches were made in the Notre Dame game when they knew they had to pass the ball? They have to understand that they need to be ready to make plays for their QB all the time.
Leon Halip/Getty Images
In more positive news, the offensive line seems to be coming a long. They have not lived up to expectations yet, but they seem to be coming together and playing more physically as the weeks progress.
Ricky Barnum is still questionable for this week, which is unfortunate because he played some great football until he was injured last week against San Diego State. I wouldn't expect him to play this Saturday either, as he still has yet to practice this week. It's more important that he gets healthy for the games to come anyway.
Michael Schofield will likely get the start for Barnum, as he is really the only trusted member of the unit outside of the starting group, but expect Elliot Mealer to see some time as well.
It continues to be a joy to watch this Michigan defense come together. They still give up way too many yards—375 YPG, 71st in FBS—but they are allowing under 13 points a game and creating almost three turnovers a game. Don't kid yourself, either. This team still has a lot of depth and talent issues, and the improvement is almost entirely due to coaching and schematic improvements.
The Michigan defense is going to be fun to watch, and they will continue to get better as the year progresses. Mattison's in-game adjustments are a lot of fun to watch, and something that has bee sorely lacking for a long, long time.
This week should be a big opportunity for the defense to create some more turnovers and play their best game of the year. Minnesota's quarterback, regardless of who plays, is prone to turnovers and seemed to be unable to properly diagnose the defense in their loss to FCS opponent North Dakota State last week. Mattison's perchance for disguising coverages and moving players around pre-snap should create a lot of opportunities for his squad.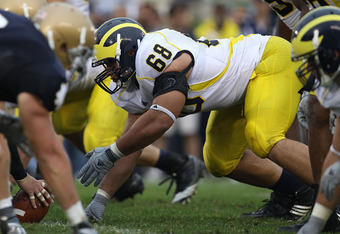 Jonathan Daniel/Getty Images
Notes from practice
A lot of people (myself included) were expecting Chris Bryant to make the two-deep this year. He came in a little out of shape, but his pure strength continues to impress. Hopefully, there won't be any reason to play him this year, but he will be a force down the road.
Mike Martin was a force last week for the first time in awhile. He looked unblockable for most of the SDSU game. Another great week of practice leads me to believe that the senior is ready to make the most out of his final year as a Wolverine. He's healthy, and becoming a more vocal leader.
True freshman corners Raymon Taylor and Blake Countess are impressing me lately. Look for them to see more of the field. Countess played exceptionally well last week, and should get some more playing time because of it. Coaches love Taylor's athleticism and speed in the slot, and are trying to get him more experience as they head into the thick of conference play.
Punter Will Hagerup is back from his four-game suspension this week, but will not be handed the position. Freshman Matt Wile has done a nice job filling in, but expect Hagerup to win out eventually. He is an outstanding punter that just has some maturity issues. Issues that I wouldn't expect to bubble up again.
Check out my website, www.5thQuartersports.com, which features this story along with other articles and reports on college and other major sports. You can also follow me on Twitter for real-time updates on recruiting and other breaking news, @5thQuarterMatt.