WWE: The Rock's Greatest Victims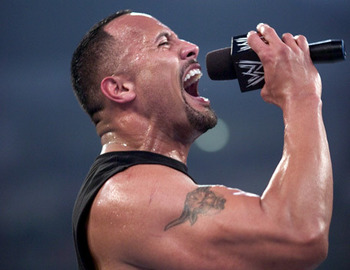 What is the most exciting prospect in professional wrestling?
Some may say a heavyweight championship bout between two stars, some may say a dream match between two men of different eras and some may say the return of a legend.
But one thing all wrestling fans love to see is The Rock with a microphone. Rocky can electrify the people and bring them to the edge of their seats just with his words.
So in honor of The Great One and his unparalleled mic skills, here are some of The Rock's greatest victims of verbal abuse.
Michael Cole
Yes, Michael Cole was as nerdy as he is now.
And as a backstage interviewer, Cole was certainly one of The Rock's biggest punching bags.
Kevin Kelly
Some may know him as Kevin Kelly. But thanks to Rocky, we always refer to him as "Hermie."
Jonathan Coachman
Jonathan Coachman is arguably Rocky's greatest victim.
From making Coach sing Barry Manilow, to forcing him to pray to "G", and to having him dance the Charleston as you see here, The Rock truly owned him.
Toronto
The Rock's wrath doesn't just apply to individuals. It can also reach a group of people, more specifically the city of Toronto.
Watch as The Rock lays down one of the greatest in-ring promos of all-time.
Cleveland
The Rock doesn't limit his victims to just Canadian provinces.
He also brings the verbal abuse to the United States. Here, he plays a little song he made for Cleveland.
Sacramento
While we're still on this city theme, here is The Rock giving it to Sacramento.
On an episode of Raw, Rocky decides to give an impromptu concert to the people of Sacto.
Armageddon Hell in a Cell Opponents
In one of the greatest promos of all-time, The Rock insults all five of his Armageddon Hell in a Cell opponents.
Kurt Angle, Triple H, Undertaker, Rikishi and Stone Cold Steve Austin are all served in this classic backstage interview.
nWo
Just as the rest of his victims, The Rock could care less about how intimidating they may be.
And even against the most powerful faction in wrestling history, the nWo, The Rock delivers.
Lilian Garcia
No one said women were exempt from this list.
Watch as The Rock accuses Lilian Garcia of having certain fantasies of the People's Strudel.
(Notice how the crowd reacts to when The Rock says "wet." As if they were telling him he crossed the line.)
Eddie Guerrero
May he rest in peace, but Eddie Guerrero runs into The Rock in this segment. The Rock decides to serenade Guerrero with a Mexican-style tune.
Booker T
What's 2+2? 4, right?
Well according to The Rock, Booker T thinks it's Thomas Jefferson.
(Your welcome for the added bonus of Chris Jericho ridiculing Stephanie McMahon. 2+2 may not equal Thomas Jefferson, but The Rock + Jericho + 2 mics = Greatness.)
John Cena
And more recently, The Rock has turned his attention to John Cena.
Rocky says what we've all been saying about the PG Era hero.
What Do You Think?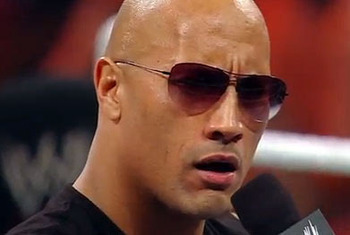 Think I missed any of your favorite victims of The Great One?
If so, feel free to add a comment or link below.
Keep Reading