Ranking the Entire UFC Lightweight Division
The fifth installment of the UFC divisional rankings finds itself rolling down to the lightweight division.
The lightweight division consists of 54 fighters and is one of the most competitive divisions in the UFC.
This division also hosts several top contenders who have been sitting patiently through a draw and injuries for their opportunity to fight for the championship.
The same rules from my prior articles apply here. I hope you enjoy.
For rankings of the other divisions, click the corresponding links below.
http://bleacherreport.com/articles/869287-ranking-the-entire-ufc-welterweight-division
Begin Slideshow

»
Edward Faaloloto (2-2) was added to the UFC roster thanks to the WEC merger.
Faaloloto has had one fight each in the WEC and UFC in which he was finished.
Its no secret that Faaloloto needs a win to remain on the UFC roster.
Dan Downes (8-2) was part of the WEC transition, and in his first UFC fight, he found himself getting out-pointed to Jeremy Stephens.
Downes has displayed some punching power in notching five wins by some form of knockout.
Downes will look to rebound at UFC 137 against Ramsey Nijem.
Michael Johnson (10-6) was a runner-up on The Ultimate Fighter as part of Team GSP, defeating Nam Phan and others.
Johnson has recorded a 1-2 UFC record officially and will need to earn another victory, as he finds himself on the cusp of being cut.
Shamar Bailey (12-4) competed on The Ultimate Fighter as Team Dos Santos' first selection—but lost to Chris Cope in the semifinals by unanimous decision.
Bailey has since gone on to record a 1-1 UFC record, losing his debut lightweight match against Evan Dunham.
Ramsey Nijem (4-2) was the runner-up on The Ultimate Fighter as part of Team Dos Santos, defeating Clay Harvison and Chris Cope on his way to the finals.
Nijem is now looking to start his career by moving to lightweight and attempting to climb up the ladder, bringing a solid wrestling game that should help him along his way.
T.J. O'Brien (16-5) has posted a 0-2 UFC record, but people might be amazed to know that all of O'Brien's wins have come by way of submission.
O'Brien obviously has a better-than-average submission game but will need to expand his arsenal to be successful in the UFC.
Aaron Riley (30-13-1) is in his third stint as a UFC fighter, posting a 3-5 UFC record combined.
Riley is a decent matchup for most fighters and is best described as a gatekeeper on the roster.
Riley has earned 14 wins by way of submission, but lately has been mainly involved in decisions when he wins.
Mitch Clarke (9-0) has recorded six wins by way of submission since starting his MMA career.
Clarke is a former King of the Cage fighter and will look to begin his UFC career on the right foot against John Cholish at UFC 140.
Rafaello Oliveira (14-5) just lost his second consecutive match in his second tour of duty with the UFC. The loss brings his overall UFC record to a dismal 1-4.
Oliveira has a Brazilian Jiu Jitsu Black belt. Considering his skills, his UFC career can be summed up in one word—disappointment.
John Cholish (7-1) has been trained by Renzo Gracie—so his four submission wins are no surprise to anyone. I expect Cholish to climb up the UFC rankings.
Cholish has a good overall game, being a former wrestler and displaying a solid striking game.
Cholish will be set up against Mitch Clarke at UFC 140 in his first UFC bout.
If you want to see a nicely-executed rolling kneebar, check this out:
Cody McKenzie (12-2) has recorded 11 wins by way of submission, but both of his losses have also come by submission. Of his 11 submission wins, 10 of them have been by Guillotine Choke.
McKenzie has proven himself a tough competitor in the UFC, earning Submission of the Night and Fight of the Night bonuses.
Anthony Njokuani (15-5) has talent but hasn't been able to secure the win that could catapult him to the top.
Njokuani will face Paul Taylor on November 5th.
Danny Castillo (11-4) is another fighter that simply hasn't grabbed his opportunity. He has been in the ring with top fighters such as Anthony Pettis, Donald Cerrone, Shane Roller, and Jacob Volkmann—but has lost to all of them
Castillo now should be considered a gatekeeper to the top—until he proves otherwise.
Paul Sass (12-0) just earned a huge win over Michael Johnson to begin his UFC career with his second straight victory.
Sass, who has earned 11 of his wins by submission, is a strong grappler who should face a considerable step-up in competition in his next fight.
Bart Palaszewski (33-13) is a tough veteran who holds notable wins over Alex Karalexis and Anthony Pettis.
Kamal Shalorus (7-1-2) has already shown tremendous promise, lasting three rounds with top-10 UFC lightweight, Jim Miller.
Shalorus is a fantastic ground fighter, so it's surprising that he only has one win by submission.
Tony Ferguson (13-2) is currently riding a five-fight win streak and is slowly moving up the lightweight rankings.
Next up is Yves Edwards at TUF Finale.
Spencer Fisher (25-8) has had a rough fall from the top, only posting a record of 1-4 in his last five fights.
Fisher is still a tough fighter and his losses have been to mostly notable opponents but at age 35, he appears to be on the downswing.
Mac Danzig (21-8-1) is a former TUF winner, but he's had serious problem putting everything together in the UFC.
Danzig has posted a 2-5 record in his last seven fights—but his losses have come against strong competition.
Danzig may not always win, but he provides exciting fights to spectators, posting two Fight of the Night bonuses since winning TUF.
Vagner Rocha (7-2) is a Brazilian jiu jitsu specialist who is coming off of a win over Cody McKenzie.
Rocha has the submission skills to take him to the top of the rankings.
Mark Bocek (9-4) has lost to Frankie Edgar, Mac Danzig, Ben Henderson, and Jim Miller.
Bocek is a good challenger to any fighter in the UFC.
Ross Pearson (14-5) is another TUF winner and has posted a 4-2 UFC record.
Pearson is a solid performer inside the Octagon and has collected two Fight of the Night bonuses.
Shane Roller (10-5) looked to be going straight up after a big win over Thiago Tavares—but two straight losses have sent him backward quickly.
Roller has been finished in back-to-back fights against Melvin Guillard and TJ Grant.
John Makdessi (9-0) has posted a record of 2-0 in the UFC and will face Dennis Hallman in his next fight.
To say the least, a win against Hallman could catapult him into the top 10—definitely into the top 15.
T.J. Grant (17-5) collected his biggest career win over Shane Roller on October 1st.
I don't expect Grant to continue his success against larger-named fighters.
Paul Taylor (11-6-1, 1 nc) has been a solid competitor but hasn't had a lot of success.
Taylor has posted a 4-5 UFC record. Most of his losses have been to top-ranked opponents.
Thiago Tavares (20-4-1) is a solid competitor in the UFC. He suffered a setback when he was knocked out by Chane Roller—but has bounced back since then.
Tavares rebounded nicely with a TKO win over Spencer Fisher and looks to move forward.
Edson Barboza (9-0) is a 25-year-old fighter who has already posted a 3-0 record in the UFC, with wins over Mike Lullo, Anthony Njokuani, and Ross Pearson.
Not to mention that Barboza has collected two Fight of the Night bonuses so far.
Terry Etim (14-3) has posted a 5-3 UFC record and is looking to break into the top 25.
Etim has wins over Sam Stout and Shannon Gugerty.
Yves Edwards (41-17) is a 35-year-old veteran and probably won't improve his ranking much before the end of his UFC career.
I consider Edwards good competition with a chance to move up—but he is more suited as a gatekeeper.
Cole Miller (18-5) collected a win over TJ O'Brien in his last fight and now awaits his next challenge.
Miller has notable wins over Dan Lauzon, Ross Pearson, Jorge Gurgel, and Leonard Garcia.
Takanori Gomi (32-8) is best known for his days in Pride and has only posted a 1-3 UFC record.
His three losses have come at the hands of Kenny Florian, Nate Diaz, and Clay Guida—with his sole win over Tyson Griffin.
Matt Wiman (14-6) has been riding a wave of recent success, posing a record of 4-1 in his last five fights.
Wiman looks to continue to improve and possibly break into the top 20.
Sam Stout (17-6) has had his ups and downs, but he's currently riding a two-fight win streak, defeating Yves Edwards and Paul Taylor. He also holds wins over Spencer Fisher, Matt Wiman and Joe Lauzon.
Stout has all the tools to make a serious run—can he string together enough wins to do it?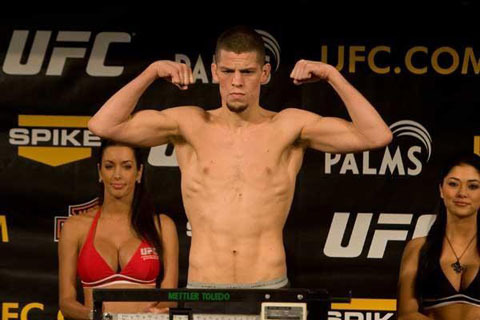 Nate Diaz (14-7) is a very difficult fighter to rank. Unlike his brother, Nate often faces sturdy competition. He has been successful on many occasions—but has come up short on others.
Diaz scored a big win over Takanori Gomi, putting an end to a two-fight losing streak.
Look for Diaz to appear in a high-profile fight in the near future.
George Sotiropoulos (14-4) was just shy of earning a title shot, as he rode an eight-fight winning streak.
Now, Sotiropoulos is riding a two-fight losing streak, including a knockout that took just under a minute,
If George wants to get back into the top 10, he needs to pull off some quick finishes over quality fighters.
Evan Dunham (12-2) has recently ended a two-fight skid, rebounding with a win over Shamar Bailey.
Dunham has the tools to climb up the ladder, proving his skill in a narrow split-decision loss to Sean Sherk.
Jacob Volkmann (13-2) may be best recognized for controversially claiming that he would fight Barack Obama in an MMA fight—which is sad because he is a talented competitor.
Riding a four-fight winning streak, Volkmann is quickly moving up in the rankings.
Nik Lentz (21-3-2, 1 nc) is surprisingly riding a 15-fight unbeaten streak, posting a record of 12-0-2 with 1 nc.
Mark Bocek is next up for Lentz at UFC 140.
Jeremy Stephens (20-7) is another fighter that is difficult to rank.
Stephens has shown the ability to knock off top fighters—but has also shown the tendency to lose to lesser fighters.
Stephens is a great gatekeeper for breaking into the top 15.
Charles Oliveira (14-2, 1 nc) is only 22 years old and is mixing it up with some of the highest-ranked fighters at lightweight.
Oliveira still has room for improvement, but he reminds me of a younger, more-talented Diego Sanchez.
Rafeal Dos Anjos (15-5) has posted a 4-1 record in his last five fights.
Dos Anjos faces Gleison Tibau in his next fight at UFC 139.
Gleison Tibau (23-7) has 10 wins by way of submission.
Tibau will face Rafael Dos Anjos in his next fight—surprisingly, a win probably will not improve his ranking.
Will the real Melvin Guillard (46-10-3, 1 nc) please stand up?
Guillard has amazing stand-up skills and size—but he consistently fails when you think he will succeed.
Guillard was probably two fights away from a title shot before he was upset by Joe Lauzon.
Anthony Pettis (12-2) kicks off the top 10 lightweight-division fighters.
Pettis' "Showtime Kick" catapulted him into stardom, earning him recognition among even the most casual mixed martial arts fans.
Though Pettis has the obvious skills needed to succeed, he lacks the big name wins. His best win was over Ben Henderson in a very close contest.
Since that fight, both of their careers have gone in different directions, with Henderson rising into the top 5 and Pettis finding himself at the rear of the top 10.
Sean Sherk (36-4-1) may be the forgotten lightweight of the bunch. There's hardly a bad thing to say about Sherk—his only losses have come to Matt Hughes, Georges St. Pierre, BJ Penn, and Frankie Edgar.
Sherk also has his share of quality wins, beating Nick Diaz, Kenny Florian, Hermes Franca, Tyson Griffin, and Evan Dunham.
Sherk might never get another shot at the championship due to his age, but don't count out the "Muscle Shark".
Joe Lauzon (21-6) is back and seems to be on a mission.
Since returning from injury, Lauzon has competed in two fights, just 105 days apart, against Curt Warburton and lightweight title contender, Melvin Guillard.
Total time needed to win both fights by submission: 2:45.
With his 0:58 win over Guillard, Lauzon finds himself in the contender mix.
Jim Miller (20-3) was the fans' dark-horse pick for a title shot for a long time.
Miller was on a seven-fight win streak and brought a 15-1 record into a fight with Ben Henderson.
Though Miller's resume looked good, there weren't many top-10 caliber fighters on his record.
Henderson went on to defeat Miller in a one-sided contest, resulting in Miller's removal from the top four fighters at lightweight.
Donald Cerrone (16-3) has been on a tear since joining the UFC ranks. He is currently 3-0 in the UFC, with a big win over Charles Oliveira. He is currently riding a five-fight win streak.
Cerrone will be tested in his next fight with top-5 lightweight, Dennis Siver.
Considering the way Cerrone has looked played lately, Siver might be in for a long night.
Dennis Siver (19-7) finds himself in the top 5 after some shakeup in the lightweight ranks, with Jim Miller and Melvin Guillard losing their most recent bouts.
Siver, who is 8-1 in his last nine fights, will find out if he belongs at the top of the division when he squares off with Donald Cerrone at UFC 137 this weekend.
If any non-title holder should be ranked No. 1, it might be Gray Maynard (10-1-1, 1 nc).Maynard just suffered his first MMA defeat at the hands of current UFC Champion, Frankie Edgar.
Maynard drops back to 4th in the division and will look to rebound in his next fight.
Ben Henderson (14-2) has been on a roll since losing the WEC championship to Anthony Pettis. Henderson has passed several tough UFC tests, beating Mark Bocek, then knocking off top-5 lightweight contender Jim Miller.
Henderson now gets what will basically be a title-shot eliminator with Clay Guida at UFC on Fox—a fight that will potentially contend for Fight of the Year.
Always one of the most popular fighters in the UFC, Clay Guida (29-11) has followed a long road to the top.
Guida has flirted with title opportunities on several occasions but this finally seems to be his time.
He still faces one final challenge against Ben Henderson, before he gets his shot at Frankie Edgar's Lightweight Championship.
Guida is possibly the only fighter who can match or exceed division champion Frankie Edgar's pace during a fight. Guida brings a non-stop mentality and a solid wrestling game that could lead him to a championship.
The reigning Lightweight Champion takes the first spot—to nobody's surprise.
Frankie Edgar (14-1-1) avenged his only blemish by defeating Gray Maynard in his third title defense since becoming champion.
As great as Edgar has been so far, he still has a tough road in order to top this division of diverse fighting styles.