Iowa Hawkeyes Football: Now Is the Right Time to Bye
September 30, 2011
Christian Petersen/Getty Images
After a somewhat rough, somewhat shaky 3-1 start, the Hawkeyes get a much-needed bye week before heading to Happy Valley to take on the Nittany Lions.
Starting a season at 3-1 isn't necessarily a terrible thing. Louisiana-Monroe presented a few interesting challenges—on paper at any rate. Iowa State is always an uncertain, and sometimes messy, affair. Pitt forced Iowa to find out just how deep and resilient they were on both sides of the ball.
Even before the season started, I mused that Iowa could win all of those games, but that they could just as easily have gone 1-3. Only Tennessee Tech could have been considered a truly comfortable victory.
So, perhaps it's a positive note that the Hawkeyes are on the upper side of .500, rather than the lower.
Ahead of them is a tough Big Ten schedule that includes Michigan, Michigan State, Penn State and Nebraska. While it's not the toughest schedule they could have drawn, for a young team trying to put their best foot forward, it's tough enough.
In that light, the bye week came at a great time for Iowa.
Time to reassess their season to date
I'm no particular expert on the intricate goings-on within the Hawkeye training facilities or practices. However, my limited and meager playing days (not at this level, obviously) taught me that there's little time to take stock in the fullness of what has transpired.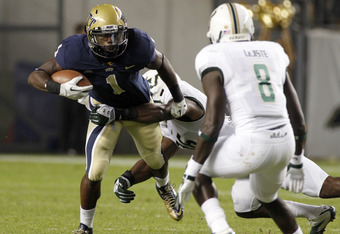 Justin K. Aller/Getty Images
Typically, as I understand the process, players will look at game film of their last game to learn from what went right and what went wrong. They also look at game film of their upcoming opponent to get a feel for the players they'll match up against and the system they operate under.
There's very little time for looking at the entire picture.  It gives them little time to see just what those performances meant on the bigger scale.
The loss to Iowa State is bitter in many Hawkeye fans (and players) eyes. However, the Cyclones are 3-0 and hosting Texas this coming weekend. How bad was that triple-overtime loss, really?
On the surface, it doesn't look good, but what if Iowa State defeats Texas and advances to 4-0? Would that loss look a little better then?
How about the loss to Pittsburgh? After the Iowa game, Pitt lost a narrow 15-12 heart-breaker to Notre Dame.
Think about that one a second. Notre Dame, who picked apart Michigan State and lost a thriller to Michigan, only barely defeated Pitt.
At the moment I'm writing this, Pitt is leading No. 16 South Florida 34-17.
Does that, in any way, make Iowa's come-from-behind victory even more impressive?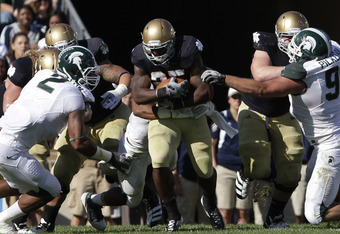 John Gress/Getty Images
The point to all of this is that we fans, and the team itself, can look at what's going on with the teams they struggled the most against and find a measure of confidence that they've played tough with teams that are doing good things in their own right.
I realize that such comparisons are sometimes ineffective. Just because Notre Dame beat Michigan State handily, then struggled to put away Pitt does not in any way mean that Iowa will defeat Michigan State based on the way they played against Pitt.
That would be a ludicrous comparison. But it can help Iowa to see that they're not alone in their struggles against the Panthers. Should Iowa State defeat Texas on Saturday, then Iowa is in good company.
It can provide an extra measure of motivation to know that they've done as well as other respected teams against similar competition. The bye provides us a little time to actually track such things. 
The Pieces can come together
Before the first ball was snapped on Iowa's 2011 season, Marcus Coker was the focus of the offense, Micah Hyde was a strong safety and the defense was a smoldering pile of question marks.
In just two games, Coker unwittingly uncovered a burning need to find a strong back-up for him, Hyde showed that he was more comfortable at corner than safety and the defense became an even bigger mish-mash of uncertainties.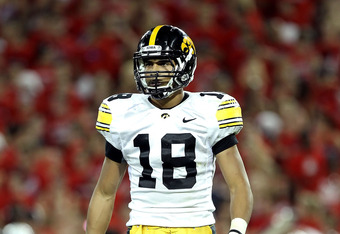 Christian Petersen/Getty Images
Over the last two games though, a lot of questions have found some unexpected answers.
The pass attack is Iowa's forte. Whoda thunk?
Jordan Bernstein is back in the mix and Hyde is back at corner and suddenly the defensive secondary looks much, much more dangerous than it did a couple of weeks ago. Tom Nardo has become a strong addition to a defensive line that got burned badly against Iowa State.
Keenan Davis has become a solid and relatively consistent contributor and Kevonte Martin-Manley has likewise stepped up to round out a receiving corps that can keep defenses stretched trying to cover all of the viable threats on the field.
Oh yes, and James Vandenberg has answered definitively that he can be as effective as Ricky Stanzi was—and just as cool under pressure.
The only quasi-problem is that Iowa hasn't really had a lot of time to get all of these pieces worked out and melded. Many of these situations have come to light by necessity and the Hawks have had to put it together on the fly.
Now they'll get an extra week to work on solidifying these changes and getting everyone comfortable with where they are and what they're doing.
They still need to identify exactly who will be spelling Coker, though.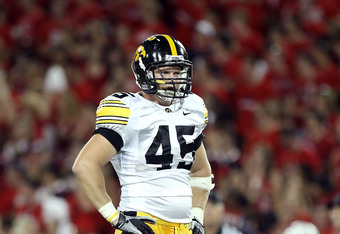 Christian Petersen/Getty Images
Hopefully will get another piece back in the game
The bye week buys Iowa a little time to potentially get some injured guys back on the field.
OLB Tyler Nielsen has been nursing an ankle injury. While James Morris has been as good as expected and Christian Kirksey has been better than advertised, getting Nielsen back would make that unit exceptionally good.
Given the inconsistency of the line to this point, a fully rounded linebacker corps would be a godsend.
There's no official time frame for the return of OG Nolan MacMillan. The bye week doesn't necessarily mean that MacMillan will return to the field any sooner, but it's one fewer opponent Iowa has to face without him. Hopefully his hernia situation will heal soon and Iowa's offensive line can improve even more. 
Time to regroup and get nasty
It has been a rocky start to the season, as I mentioned before. Iowa's loss to Iowa State put all of the Hawkeyes' deficiencies on display and the slow start against Pitt left many wondering if Iowa would even achieve bowl eligibility.
There's a lot of hope. The great win over Pitt also showed Iowa's heart. The convincing win over ULM showed Iowa's renewed strength.
Now come the real tests.
The conference schedule starts with a road trip to Penn State followed by a home date against Northwestern. Neither of those are easy opponents, even on a good year.
November kicks off with back-to-back meetings against Michigan and Michigan State. Then of course, the season ends on the road against Nebraska.
Iowa could win any of those games. Then again, they could lose all of them.
This bye week provides time to regroup, catch their collective breaths and get ready for what's ahead. They can refocus and look forward with a clean conference slate.
I'm not usually a great proponent of early-season bye weeks. However, with everything Iowa has already been through and with the youth this team has to still coach up, it couldn't have come at a better time this year.
Now is Iowa's perfect time to bye.