MLB Playoff Predictions 2011: Picks and Analysis For Every Series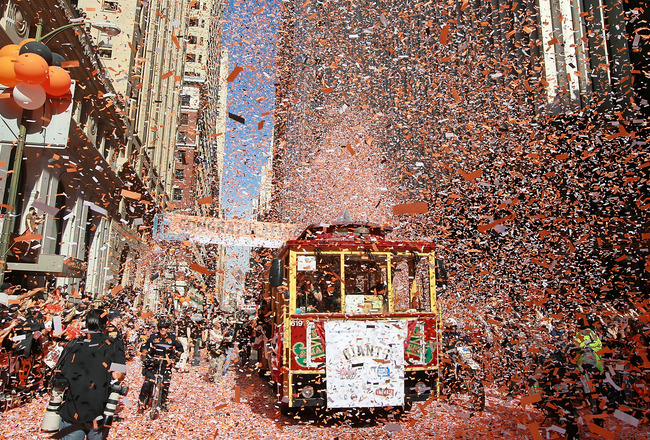 Justin Sullivan/Getty Images
It's that time of year again. The leaves change, the weather gets colder and for one terrific month, eight teams will battle for the rights to be crowned baseball's World Champions of 2011.
Wednesday night was arguably one of the most exciting nights in the history of baseball.
The Tampa Bay Rays capped off an incredible seven-run comeback within minutes of a Boston Red Sox ninth inning collapse to clinch a trip to the playoffs for the third time in four seasons. Meanwhile, the St. Louis Cardinals finished off a historic month of September by beating out the Atlanta Braves for the National League Wild Card.
The best part of all is that Wednesday night was just a one night sample, a one night precursor to the excitement that will be happening for the entire next month.
The great thing about baseball playoffs is they are almost completely unpredictable. Who would have expected the 2006 Tigers to reach the World Series? The 2007 Rockies? The 2008 Rays?
And who would have expected that the 2010 World Series would be between the Rangers and Giants, with the Giants winning in five games?
And what will happen in 2011?
Can the Diamondbacks prove they are here for a reason? Will Tampa Bay and St. Louis ride their momentum to playoff success? Can Texas repeat their success from 2010? Will Detroit translate second half success into playoff success? Can Prince Fielder carry the Brewers in what could be his last year with them? Or will the Phillies and Yankees use their blockbuster acquisitions to bring themselves more and more victories?
This slideshow will break it all down, so enjoy.
ALDS: New York Yankees vs. Detroit Tigers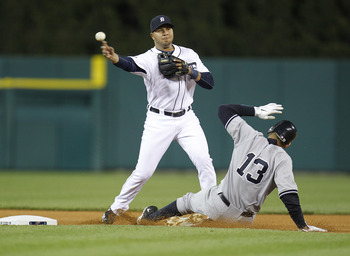 Gregory Shamus/Getty Images
These teams met back in 2006, when the Tigers shocked the world with a 3-1 series upset over the Bronx Bombers.
The Yankees had the best record in the American League this season due to their seemingly unstoppable offense and ace pitcher C.C. Sabathia. It was a milestone year for New York, as Derek Jeter got his 3,000th hit, Curtis Granderson shocked baseball by hitting over 40 home runs and Mariano Rivera broke the all-time saves record.
And in my opinion, this Detroit Tigers team is even better than the 2006 team.
Instead of faltering down the stretch, Detroit picked up their play and had easily their best second half in decades. This was due in part to probable Cy Young winner Justin Verlander, AL batting champion Miguel Cabrera, the clutch hitting of Victor Martinez and the 49-for-49 closer Jose Valverde.
They were also aided by trade deadline acquisition Doug Fister, who has gone 8-1 with a 1.29 ERA with Detroit. This team always gets the big hits when they need them and may have the best pitching staff in the American League.
While the Yankees have a terrific offense, the pitching does not have a lot of depth past Sabathia. If Detroit's dominant rotation can stop New York's offense, the Tigers should be able to get enough hits to take this series.
Prediction: Detroit Tigers in four
ALDS: Texas Rangers vs. Tampa Bay Rays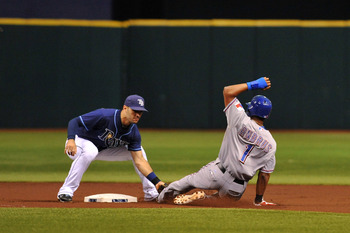 Al Messerschmidt/Getty Images
These teams met in the first round last year, and the away team won every game of the series. Home advantage has been reversed this year, with Texas playing three of five at home, but will it make a difference this time around?
The Rangers were the unexpected American League Champions last year and have basically the same team returning to the playoffs this year. Well, except for Cliff Lee.
Texas has an amazing offense led by Nelson Cruz, Josh Hamilton and Michael Young. Cliff Lee is not in the rotation, but the Rangers have not had a lot of pitching issues this year.
Tampa Bay pulled off a miracle comeback Wednesday night, rallying from a seven-run deficit and watching the Red Sox lose in order to clinch the Wild Card spot without needing a playoff game.
Tampa has a great pitching rotation, but their offense is not overly impressive. Nevertheless, they get the big hits when they count and can be dangerous on offense if they need to be.
This should be a tight series, but the Rays are going in with a lot of momentum and confidence. Joe Maddon is probably the best manager in baseball, and I cannot see them losing to Texas for the second year in a row.
Prediction: Tampa Bay Rays in four
NLDS: Philadelphia Phillies vs. St. Louis Cardinals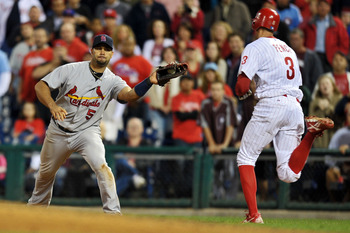 Drew Hallowell/Getty Images
Each of these teams have won a World Series since 2006, and they are both hungry for another championship.
The Phillies were not satisfied about their playoff performance last year, so they went out and reacquired Cliff Lee, who had led them to a National League Championship in 2009. The pitching rotation now consists of Lee, Roy Halladay, Cole Hamels and Roy Oswalt—only one of the best rotations of all time.
The Phillies' hitting is decent and has improved since the addition of Hunter Pence at the trade deadline, but the team does not need an absolutely explosive offense with that type of rotation.
St. Louis had an unbelievable month of September. After falling completely out of the race for first in the NL Central after the All-Star break, they battled back to win the NL Wild Card.
Although the Cardinals have not had ace pitcher Adam Wainwright the entire season, the rotation has been decent and has found a way to win with an above average offense.
While I believe the winner of this series will win the National League Championship, the Phillies seem to be the better team despite the Cardinals' unbelievable late season heroics.
Prediction: Philadelphia Phillies in five
NLDS: Milwaukee Brewers vs. Arizona Diamondbacks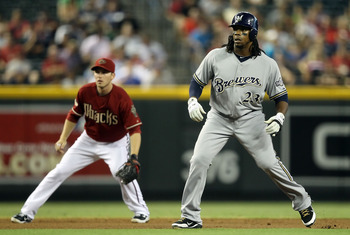 Christian Petersen/Getty Images
The last time either of these teams made the playoffs was 2008. The many new faces to the playoffs should help make this a terrific series.
Milwaukee has an extremely well-rounded team. Their offense is led by Ryan Braun, Prince Fielder, Rickie Weeks and Corey Hart, while the pitching rotation consists of Zack Greinke, Yovani Gallardo and Shaun Marcum.
The Diamondbacks were clearly the surprise in baseball this season.
Potential Cy Young winner Ian Kennedy came out of nowhere, while the young offense always seemed to come through in the clutch. Arizona completely rebuilt their team over the offseason, but nobody seemed to expect this kind of success.
The Diamondbacks have been a terrific story this season, but the Brewers have too much talent for Arizona to put up with. While this should be a very close series, Milwaukee seems to have more overall talent.
Prediction: Milwaukee Brewers in four
ALCS: Detroit Tigers vs. Tampa Bay Rays
J. Meric/Getty Images
Many agree the turning point in Detroit's season was taking three of four in Tampa Bay in August. Will there be the same result despite a more confident Rays team?
What this series really comes down to is how Max Scherzer pitches for Detroit. Tampa has two terrific starters in James Shields and David Price, while Detroit has two in Justin Verlander and Doug Fister.
If Scherzer can also shut down the Rays' offense, the Tigers' bats should be good enough to deal with the Tampa Bay pitching and win the pennant.
Prediction: Detroit Tigers in five
NLCS: Philadelphia Phillies vs. Milwaukee Brewers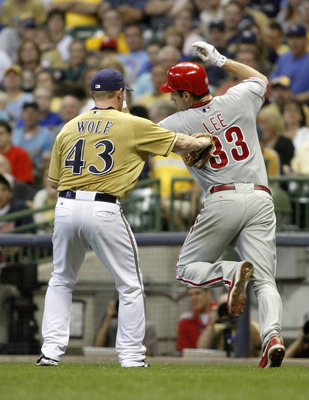 Mark Hirsch/Getty Images
The Phillies and Brewers are two very similar teams. While the Phillies have a slight edge in pitching, the Brewers have a slight edge on offense.
Which one will matter more?
Milwaukee has probably the best lineup in the National League, and it will be interesting to see how they perform against Philadelphia's pitching. The Phillies' offense, however, has been in this situation before, while the young Milwaukee pitching may be in over their heads.
This series will be very close, but pitching is what wins baseball series.
Prediction: Philadelphia Phillies in six
2011 World Series: Detroit Tigers vs. Philadelphia Phillies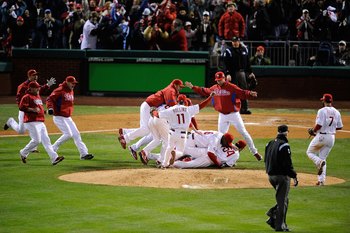 Jeff Zelevansky/Getty Images
Both of these teams have been to the World Series in recent years. The Tigers lost to St. Louis in 2006, while the Phillies beat Tampa Bay in 2008 and lost to the New York Yankees in 2009.
These are both very good teams that get clutch hits when they need to and have terrific pitching rotations. In fact, these are probably the two best rotations in baseball, and despite two great offenses, this should be a fairly low-scoring series.
It will be very close, but the Phillies' edge in pitching will be the difference as they will win their second World Series in four seasons.
Prediction: Philadelphia Phillies in six
Keep Reading