FC Debate: San Diego Chargers vs. Miami Dolphins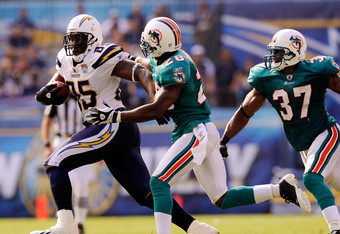 Kevork Djansezian/Getty Images
The San Diego Chargers will be facing the Miami Dolphins this Sunday in San Diego, California. While the Dolphins are a measly 0-3, they are still a talented team on the offensive and defensive side of the ball, and match up with the Chargers relatively well.
Cameron Wake, Brandon Marshall, Anthony Fasno, Karlos Dansby and Jake Long will all look to make an impact on their side of the ball as they try to exploit the Chargers' weaknesses and their favorable matchups.
If the Chargers and their fans think this game will be a cake-walk, they have another thing coming.
Scroll down to see Chargers' featured columnists Cameron Ward and Peter Kleiss debating some of the key questions going into Sundays match up.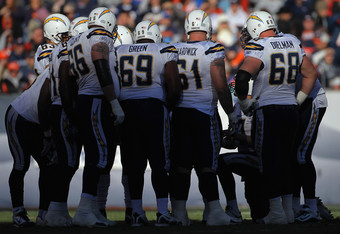 Peter Kleiss
In my previous article I bemoaned that Philip Rivers was being forced to throw the football sooner than he would like. The main reason for this was that his pass protection was breaking down a fraction of a second quicker than in years past.
To help out the pass defense, the Chargers should design more plays that take less time to develop. Slants, screens and short outs and crosses come to mind. The Chargers are already employing these types of plays, but they are also looking for deeper, longer developing plays, that simply haven't worked so far this season.
Too often Rivers either has to throw the ball away or look for his check down receiver. Instead, these play calls should include more routes between five and 15 yards from scrimmage. Instead of using the running back as a check down receiver, there should be more plays designed to get the ball into Ryan Mathews or Mike Tolbert's hands coming out of the backfield.
Cameron Ward
Since the departure of L.T. to the Jets, the Chargers run blocking, and running game in general, has been suspect. While it looks to have been improved since an abysmal 2010 campaign, the Chargers run blocking has still a lot of work to do.
Having a strong run game against the Miami Dolphins this Sunday will go a long way to securing a win and improving the confidence in the run game along the offensive front. Also, a strong showing on the ground will slow down players like Cameron Wake, who looks to have a favorable matchup against Jerome Clary, a player who has struggled in pass protection as of late; Tamba Hali had his way with Clary last weekend, Wake will look to do the same.
This will be a key match up to watch when the Chargers take on Miami.
This article is
What is the duplicate article?
Why is this article offensive?
Where is this article plagiarized from?
Why is this article poorly edited?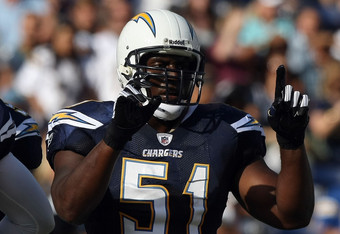 Peter Kleiss
With Bob Sanders gone for the season, the biggest hitter left on the Chargers' defense is Takeo Spikes. He will need to have a huge game against the Dolphins.
Miami will be featuring two quality running backs in Daniel Thomas and Reggie Bush. They will also bring the league's seventh best running game, with 129.7 yards per game, to Qualcomm Stadium.
It's imperative that Spikes and the Chargers keep these two rushers from becoming factors in the game. The longer they stay out of the end zone, the better the Chargers chances of winning become.
Spikes needs to dominate the Miami running backs and force Chad Henne to win the game for them. That should spell disaster for the 'Fins and lead to turnovers.
Cameron Ward
My feeling is that Weddle will have another good showing on defense and build off his success in week three against the Chiefs. His interception late in the 4th quarter sealed the game as Weddle, once again, came up big when it mattered the most.
Weddle, who has been criticized for his weak play against tight ends, will have his hands full with Anthony Fasano, who is one of the more underrated players at his position. Except for Brandon Marshall, Fasano is the Dolphins only other deep threat.
He will also be relied on more now that Bob Sanders is out for the year.
Keep an eye on Weddle and Fasano as another big match up this week.
This article is
What is the duplicate article?
Why is this article offensive?
Where is this article plagiarized from?
Why is this article poorly edited?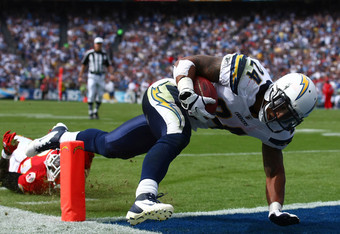 Peter Kleiss
The Dolphins won't be able to keep up with the Chargers if the game involves lots of scoring. For Miami to come away with the win, they will have to hope for a low scoring game.
Miami features the third worst pass defenses in the league, while the Chargers, though banged up quite a bit, are ranked in the top 10 at ninth. They would be even higher if it were not for the foolishly soft defensive scheme Greg Manusky chose to play against the New England Patriots.
The Dolphins have trouble converting third downs. They are ranked 30th in the league at 25.6 percent. Conversely, the Chargers are first in the league at 61.5 percent. That equates to more Miami punts and longer San Diego drives.
Clearly, the Chargers are going to get more redzone opportunities than the Dolphins. If the Bolts turn those chances into points and score in the mid-20s or higher, there is simply no way for Miami to keep up.
Cameron Ward
While a low scoring affair leaves less room for error, I think that if the Chargers get caught in a shootout, they will stand a better chance at losing this game. The Dolphins proved in week one that they can hang with a high powered offense like the Patriots; on the offensive side of the ball at least.
Usually, when Chargers' games turn into high scoring affairs, the Chargers tend to trail early like in the Vikings and Patriots games, forcing a late game comeback attempt. Rarely do the Chargers find themselves ahead early (in the Norv era at least) and having to keep a lead. That only happened in the good ol' days with Marty when he would implement the "Marty Ball" technique and give away series with 3-and-outs late in games when the Chargers were ahead.
A score of 20-10 will be much more favorable than a score of 35-27. Allow Rivers to kill the clock in the 4th quarter; a quarter in which he has the highest passer rating in the NFL.
This article is
What is the duplicate article?
Why is this article offensive?
Where is this article plagiarized from?
Why is this article poorly edited?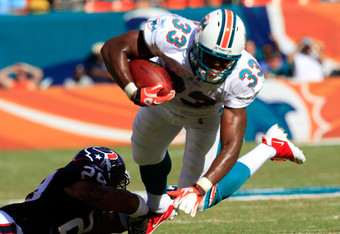 Peter Kleiss
The biggest factor contributing to a San Diego loss would be a big game by Miami running back, Daniel Thomas. Thomas is averaging 101 yards per game—that's fourth best in the league.
The Chargers have a spotty run defense that is ranked 19th overall. Oddly, Miami's rushing attack picks up lots of yards but has scored only one touchdown and that was a nine yard scamper by quarterback Chad Henne.
It's imperative that trend does not Change this Sunday. Keeping Thomas and Reggie Bush frustrated and out of the endzone will be San Diego's No. 1 priority on defense.
Cameron Ward
For the Chargers to have success on Sunday, they will need to stop Brandon Marshall, who is very familiar with the Chargers from his days in Denver. Marshall is the most dynamic player that the Dolphins have on their roster and will look to go to him early and often.
Especially if Quentin Jammer is unavailable to play, forcing Antoine Cason to line up on the 6'4" product out of Central Florida. In 7 games against the Chargers, Marshall has caught 48 passes for 495 yards and one touchdown.
That is 6.8 catches and 71 yards per game, an average that the Chargers will look to decrease in San Diego this weekend.
This article is
What is the duplicate article?
Why is this article offensive?
Where is this article plagiarized from?
Why is this article poorly edited?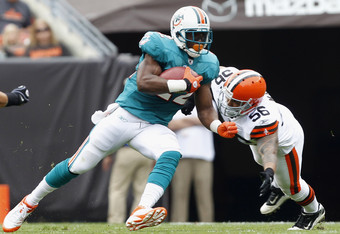 Peter Kleiss
After six years as a pro, San Diego native Reggie Bush will make his debut against the Chargers.
Much of his career, Bush has been more hype than hope. The 2005 Heisman Trophy winner has never been much of a threat running the ball in the NFL. His 551 lifetime carries for 2,159 yards and 17 touchdowns doesn't impress anyone.
He isn't even Miami's featured back. Those duties fall on Daniel Thomas' shoulders.
Where Bush has shown some spark is with catching the ball. He has 305 career receptions for 2,213 yards and 13 touchdowns. So far this season, Bush has carried less than 10 times a game and averaged 2.6 yards per rush.
There is little evidence to support that Reggie Bush's homecoming will be anything more than a footnote on the bottom of the box score.
Cameron Ward
As much as I would love to see Reggie perform to his potential this weekend (Always got to root for the San Diego natives), I just don't see it happening. Bush has been demoted to a sort of 1b running back behind the rookie Daniel Thomas, and is almost exclusively receiving looks in the passing game.
In both games that Daniel Thomas has started, he has ran for over 100 yards, so I doubt the Dolphins will look to stop that trend by giving Bush more carries just because he is back in San Diego.
Plus, Bush is just averaging 2.6 YPC as he is still struggling to be the in between tackles running that the Dolphins need.
This article is
What is the duplicate article?
Why is this article offensive?
Where is this article plagiarized from?
Why is this article poorly edited?

San Diego Chargers: Like this team?